1959's Nanavati Case is not to be forgotten easily. Two Bollywood films (Yeh Raaste Hain Pyar Ke, Achanak) have already milked its possibilities. The case is a thesis for public relations and media students on how a tabloid phenomenally staged a media event thus manipulating public opinion. With the verdict being declared by an autonomous jury, credibility of this judgement alleviated further. Tinu Suresh Desai's Rustom is the latest to join the Nanavati bandwagon. This fashionable story of power, uptown relationships and deceit holds abundant dramatic possibilities.
Akshay Kumar plays naval officer Rustom Pavri who is accused of murdering his wife's lover. Cynthia, his wife, is a UK-bred woman full of guilt and is projected as a victim of circumstances. What we have in store is a theatrical courtroom drama that lets Rustom pave his way out of this mess.
Rustom, for starters, is an entertaining film – very much in the superstar Akshay Kumar space. That is also partially the film's undoing. We, the viewers, have absolutely no clue on how Rustom collects his evidences. There are attractive women cheering outside the court with placards that say, "Marry Me Rustom" but the context is amiss. Having read about the original case and the media manipulation around the same, we do guess why. Desai's lazy screenplay offers no explanation whatsoever. Akin to the tabloid Blitz in the early 60s, there's a publication headed by a Parsi gentleman trying to sell perceptions. The character (Kumud Mishra) doesn't really work as he ends up a comic relief. There are subplots that run parallel and few land up at the nth hour. Among those, one that involves a massive transfer of INR 5 crores is the biggest blunder.
Another fact that we notice is how staged is Rustom – almost like a mediocre stage play. We see vintage cars, crisp satin outfits and gloves, ballrooms, pretty buildings! Basically the tony old Bombay and the works. Rustom stays in police custody but is always seen well-ironed uniform with medals in place – in and out of the cell. This is too well-dressed a film to be taken seriously.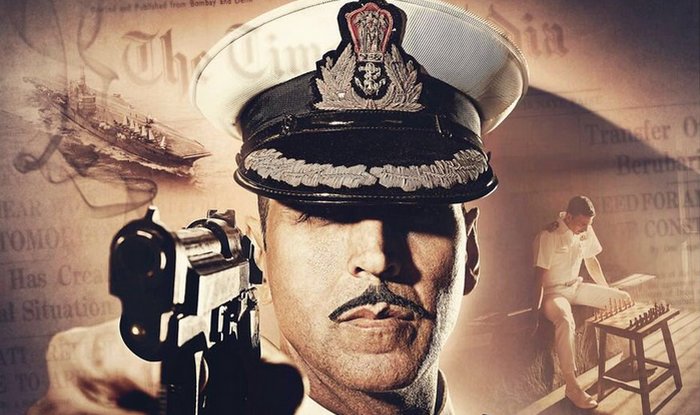 On the plus side, there's a definite intrigue that runs all through. There's Akshay Kumar who puts in a winsome effort. The courtroom scenes, though predictable, do not bore you. There are crowd-pleaser characters who do rather well – Pavris' housemaid being my favourite. There's an impressive soundtrack by a bevy of composers. Though none of them matches the film's dressy, period aura, it's a pleasure to have a film begin with Atif Aslam's voice. Especially when the song happens to be as melodious as 'Tere Sang Yaara'. Santosh Thundiyil's cinematography is a treat and the editor does a kickass job.
The supporting cast is led by the lovely Ileana D'cruz in an effective, restrained turn. Her classic face and elegant demeanour further accentuates Cynthia Pavri's appeal. Esha Gupta's is one unintentionally hilarious character, much like Arunodaya Singh in simultaneously released Mohenjo Daro. Supposed to be bereaving her brother's death, Gupta has all time in the world to wear the sexiest of outfits and team them up with garish makeup and loud red lip colour. Her expressions are so out of place that her acting school dean is bound to knock her off the alumni records! There's one scene where Rustom cross-questions her and there she stands, suggestively, in the witness box almost ready to break in to a Piya Tu, Ab Toh Aaja... Pawan Malhotra and Parmeet Sethi are royally wasted. Kumud Mishra successfully pulls off his half-baked character. Anang Desai proves why he will never come out of the 'Babuji' tag – if you know what I mean. Arjan Bajwa does reasonably well as does Sachin Khadekar. Usha Nadkarni gets some great lines and walks away with applause.
Overall, Rustom isn't really a regrettable watch. There is a patchy script and over-the-top direction to blame on. The lack of layers on our smart-ass lead man's character is bound to bother you. We wish there were more shades to him than mere patriotism. Still, the ever-dependable Akshay Kumar holds together Rustom that works rather well as a time-pass weekend fare – memories of which wouldn't go beyond the multiplex's exit.
Rating: ★★ 1/2