'Rocketman' review – a less guarded take on Elton John's life that merits to be 'loved properly'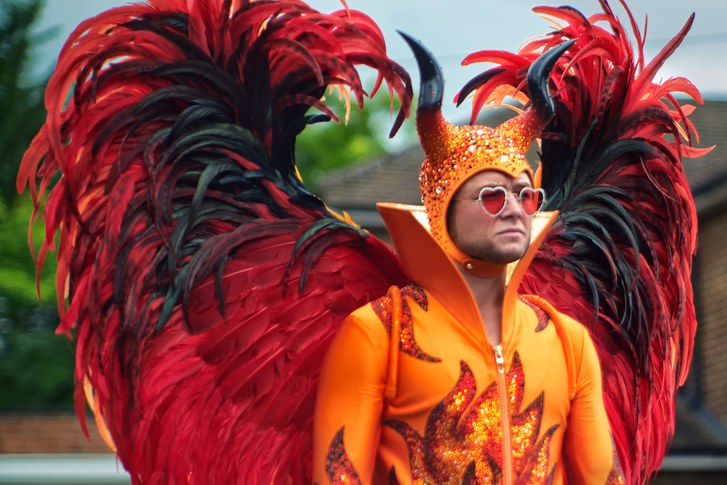 A blingy tangerine catsuit, a headgear with feathers, horn, and an outrageous, ballsy gait. As Rocketman opens, we see Elton John (Taron Egerton) waltz through a feebly lit corridor. As if he is all charged up to set another stage afire. Not surprisingly for a film of this realm, he lands up at a setup that resembles a professional rehab. With him immediately kicking off to recap his life story, director Dexter Fletcher's adaptation of the living legend's life takes off in great style. Now, now… this is a story that most of us are aware of – various versions of it, from the media or through plain hearsay. To lend a spin of freshness to this plot takes infinite amounts of creativity, and to Fletcher's credit, Rocketman develops gorgeously to become a zingy and surprisingly sparkling splendour on the pop star's life which takes fewer stops to draw a halo around him. The film, despite all the liberties, is honest and the storytelling is clearly a cut above the ordinary.
For starters, Elton John's appeal is time-tested. A millennial kid and his grandparent could easily share a drink over his music. From vinyl records to the days of online streaming, the man could remain relevant. A bona fide jukebox musical, Rocketman's first act chronicles Elton's childhood (Matthew Illsley as the young Reggie Dwight) in a distressing home where his icy mother Sheila (Bryce Dallas Howard) and unloving father Stephen (Dick James) are seen to have frequent squabbles. His affectionate grandmother becomes the messiah here, though the young boy still feels that the love that he receives is not sufficient. "I wish I was someone else," declares the little guy and we can't tend to overlook the generic-ness that the superstar biopic subgenre packs along. The episode also gives us a brief flash of his emerging homosexual traits. Despite the screenplay (Lee Hall) bearing trajectories that are unsurprising, the shooting script and the resultant flow of the narrative add the necessary layer of edginess to the proceedings. No, the idea of a musical instrument and a little child does not result in the finesse of something like a Steamroller and The Violin out here. However, Reggie's transformation is seamless and you wouldn't realize the way it glides to the second act, which is the film's most fascinating stretch.
ALSO READ: 'Blinded by the Light' review – Gurinder Chadha's glowing Bruce Springsteen tribute has a beating heart
Rocketman picks up once the adult Reggie (Egerton) is introduced. The star-making journey feels organic as compared to Fletcher's own 2018 blockbuster Bohemian Rhapsody. There is warmth in their interactions and some of the characters have relatable human traits. The incidents are of the sorts that can be seen coming from a distance but Fletcher's decision to lace the narrative with elaborate (and delightfully revamped) musical numbers add the much-need tint of drama.
One must also owe it to the film's confident musical format which keeps melodrama at bay. The concert scene where Elton is seen balancing on the piano with his hand, followed by the audiences rising from the aisles in slow-motion is going to be amongst the year's most snazzily picturized scenes. Through newspaper montages, change in the protagonist's behavioural patterns, and clothes that get extra flamboyant with every passing concert, Fletcher makes sure that we get a grasp of Elton's gradual to ascend to the throne if there existed one.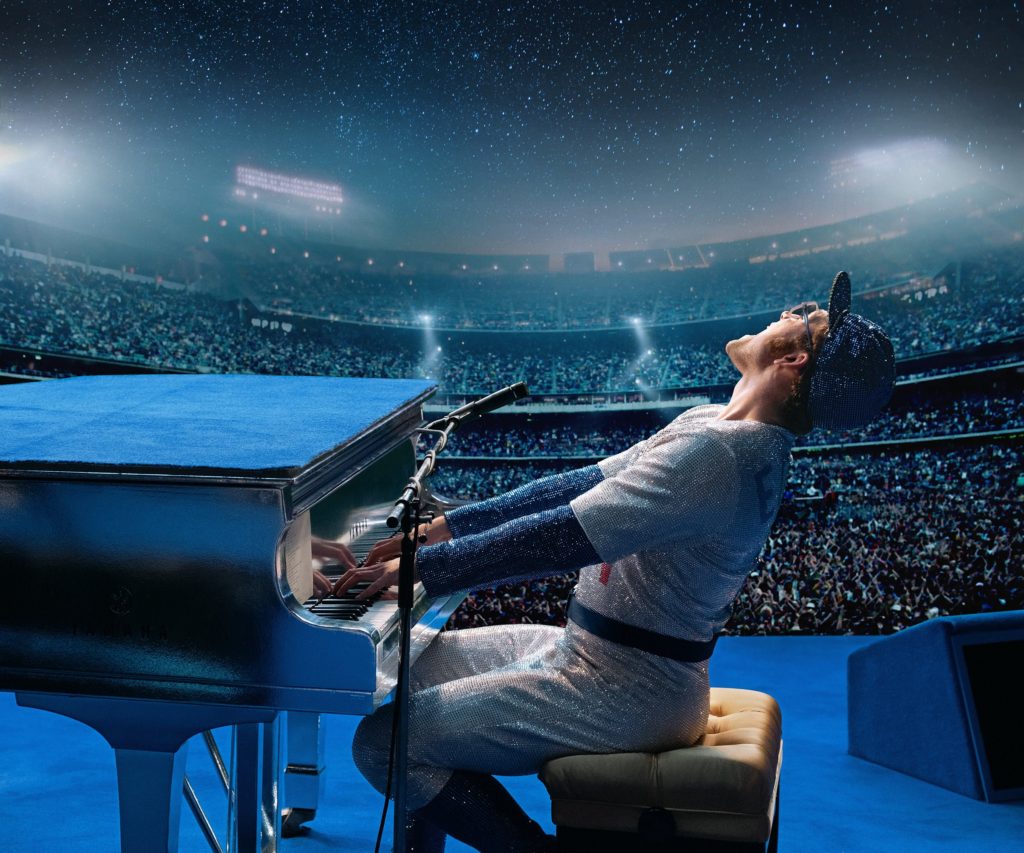 Rocketman later progresses to show Reggie's journey to becoming a millionaire superstar, his coming to terms with homosexuality, the toxic association with his lover turned manipulative manager (John Reid, played with immaculate flair by Richard Madden), and certain essential confrontations with his family. The manager track, perhaps, is the film's most generic (and one-dimensional) segment of all but it does add up to compiling the way Elton's life changes over in his quest for love. For once, I was impressed by how Rocketman is not the usual rise-fall-doom-rise tale that is very common in the said genre. The minor doom passage is streamlined in a way that it does not throw us and the film's subject into an abyss of sorrow. Instead, the swiftly-paced musical number lets the passage unfold in an empathetic yet glamorous fashion.
In a film that's hogged almost fully but a spectacular Taron Egerton, the film also offers an astounding friendship track – between Elton and his long-time songwriting partner, Bernie (Jamie Bell). The startling scene where Elton's sexuality is revealed publicly, followed by him approaching to kiss Bernie is an absolute stunner. It is clear how Elton would have desired to have him as his soulmate but Bernie chooses to become the brother he never had. The equation is part sad, part groundbreaking (for mainstream Hollywood standards), provided how the friendship and its sanctity remains intact throughout. Though conventional, their final meeting is one that fills your heart with an incredible feeling. Every time Bernie goes, "I love you," it hits you as wonderfully as it would have if uttered by a romantic partner. In comparison, Elton's family equations work only in a sporadic fashion. The mother's outburst in the pre-climax fails to lend her share of objectivity. Rocketman, seen entirely through Elton's eye, often leaves its ancillary characters (such as the mother) with glaringly broad-stroked shades. On the plus side, the musical numbers, unlike Bohemian Rhapsody, seldom become celebratory modules. Instead, they contribute to mirroring Elton's mindscape – sometimes perplexed and almost all the time, lonely.
ALSO READ: 'Bohemian Rhapsody' review – Rami Malek smashes the film's semi-synthetic surface in a career-defining turn
Dexter Fletcher's film, among other things, functions less like a standard biographical film. There is no rush that Rocketman exhibits to cover every event in Elton's life. The film more or less works like a first-person account about himself and of certain key people who make him who he is. There is negativity, volatility, sex, drugs, and a plethora of colours and shimmer. If at all I missed anything in this dazzling two-hour-long feature, it's got to be a look into Elton's music room. Then again, Rocketman has its focus firmly on its people and music is a mere, albeit highly operative, cinematic device.
Writer Lee Hall's approach to portraying the musician's homosexual identity, again, emerges from a more comfortable space as opposed to a similar scenario in Bohemian Rhapsody where Freddy Mercury's characterization implied how he was regretful of his sexual identity. That way, Rocketman will be embraced by the LGBTQ community despite the presence of a brief passage involving a marriage, which, anyhow, is given solid footing with the way it pans out. A visual treat with some sparkling cinematography, especially in the portions involving Elton's hallucinations, and editing that knits the plot spotlessly with myriad songs and an assortment of volatile sequences, Fletcher's film is more than a genre representative. So, to sum it up, this glamourous chronicle on the life of a piano prodigy turned legendary queer musician is going to be 'loved properly' by millions of film lovers, unlike its subject in his evolutionary years.