Rangeela (1995) – Munna's love story!
Here's a confession! I watched this film a decade after its release. The cassette inlay card and posters cheated me to believe it is an adult film, which kids weren't allowed to watch (ouch! 😉 ) The film wasn't that frequent on TV either and one fine day, Filmfare gifted me it's DVD. After multiple watches, Ram Gopal Varma's Rangeela eventually became a very special film owing to various reasons. They follow, in that order!
Munna!
Rangeela, for me, is Munna's love story as I view the film through his eyes. I haven't watched a more adorable male lead in a Hindi film ever since or ever before. Aamir Khan must have spearheaded heavy-duty projects like Lagaan and Rang De Basanti. Yet, Rangeela, I believe, is his most heartfelt performance to date. Loud, brash but equally vulnerable and insecure in matters of the heart, Aamir Khan wins you over with his splendid tapori act.
Varma doesn't let his character come across as a whining loser. Munna is a guy who ends up questioning his self-worth. Munna is caring, values relations (noticed his bond with Pakya?), is generally not-fuck-with-able, and gives a damn to the the world! Kudos to Aamir for pulling off those knitted vests, pink shirts and the cult yellow ensemble which even Ranveer Singh would've thought twice before wearing. Ahhh… the gold standard Aamir! 🙂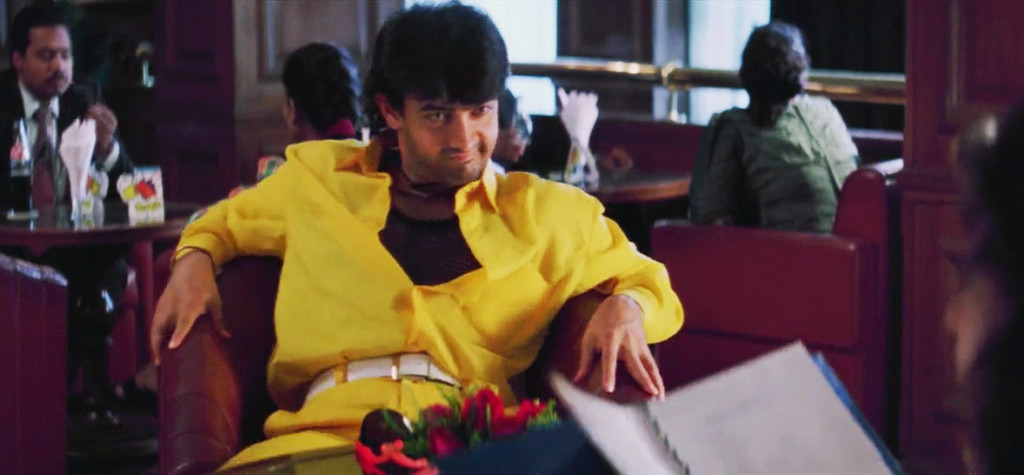 When Urmila set the temperatures soaring
The recently married Urmila Matondkar, made her first big splash with Rangeela. I am not sure how many will remember films prior to this (excluding Masoom, of course). We don't even remember her name or her character traits as much as her aura in the film. I remember watching 'Tanha Tanha' on TV when nobody was around (I guess, on ATN 😛 ) Her spunk and the way she gyrated on the beach… these are moments that would go into annals of Bollywood history. In short, a star was born… to never look back. One glance at Jackie Shroff's face and you would know why! 😉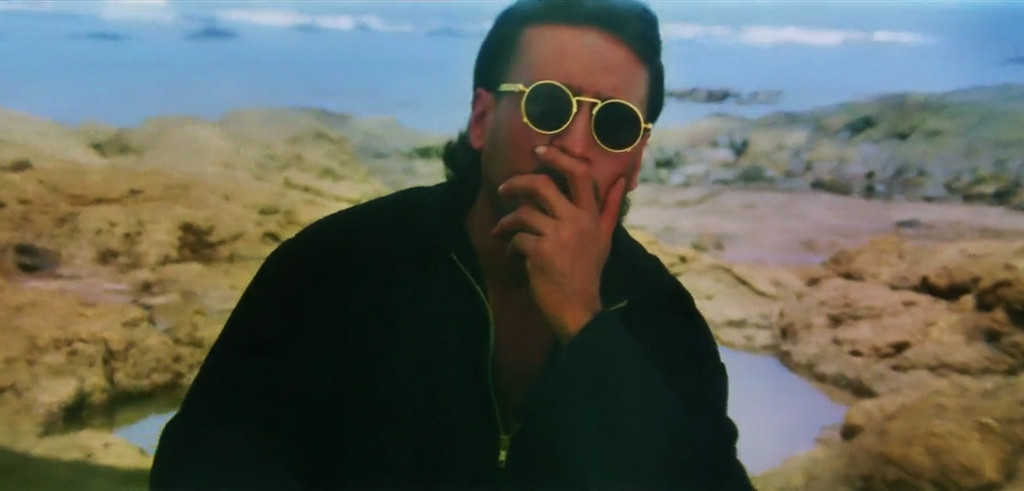 Rahman's arrival to rock the B-Town
Was there a more sensational Bollywood debut in that whole decade? I swear, this was one Bollywood soundtrack that I and most of the 90s generation had helluva fun with as we grew up. There was this cassette tape that I played till it eventually broke. I had to purchase a new one in 1998 (ah, those days!) to keep the madness intact. Oh yes, the revealing pictures on the inlay card continue to scandalise me, but thank you Manish Malhotra: D
Coming back to the soundtrack, every song stood the test of time. From Asha Bhosle's spirited title track to Udit Narayan – Chitra's energetic 'Yaaron Sunlo Zara', this album has something for everyone. Well, my current favourite is the deep 'Pyaar Yeh Jaane Kaisa Hai' ever since I was told that I sound like Suresh Wadkar while singing. Okay then!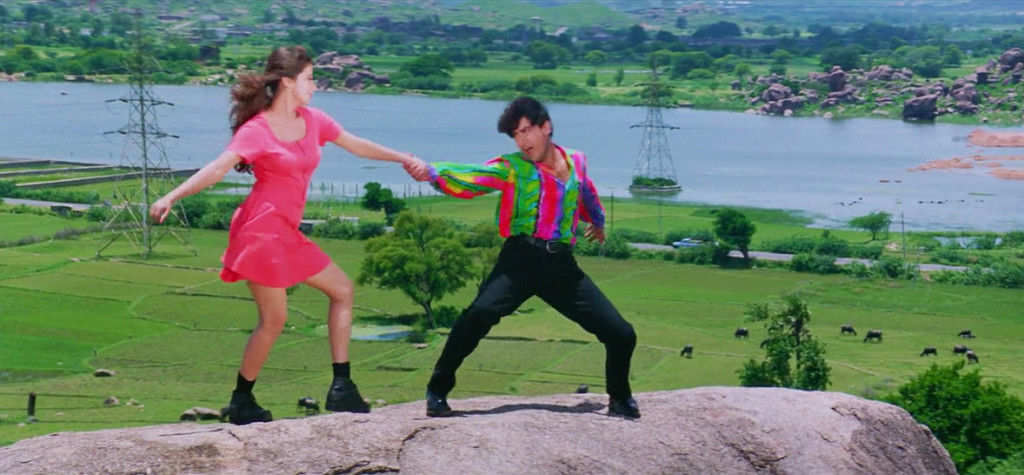 My first stage performance 😐
So, I was very much into singing back then. Well, even today I am but those were the days of sheer confidence. I remember belting out a medley of the title song and 'Kya Kare Kya Na Karen' at my school annual function with another kid on keyboard. This is one memory that'll remain etched forever. We did quite well, considering the day, age and the crowd present. Well, well…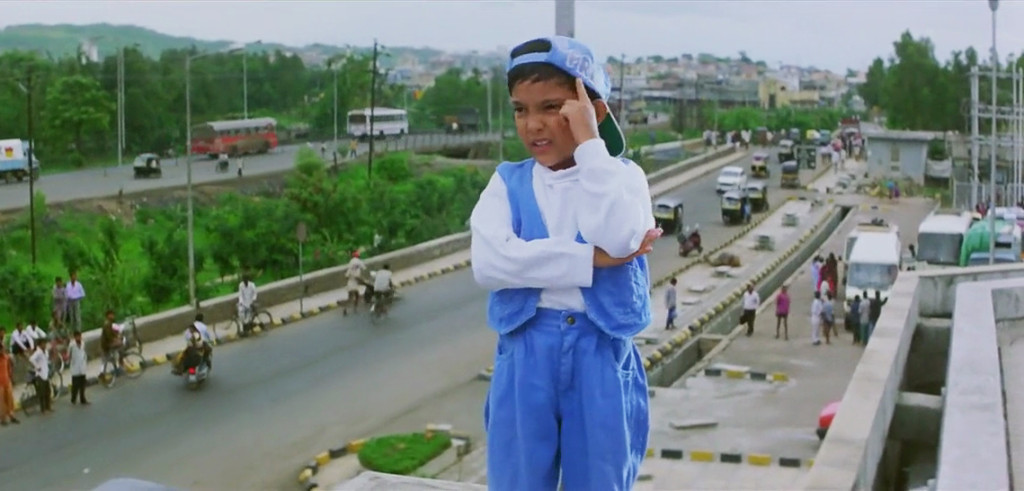 For portraying cinema as just another profession
We are so used to Madhur Bhandarkar and the likes for showing our heroines as a disturbed, scarred lot. "Kaam par jaane keliye late ho rahi hai…" says Mili's mother. We tend to think she is a sales girl or a regular office worker, but NO! Mili is a junior artiste who works in the industry she is passionate about. Her family doesn't stop her from chasing her dreams. There aren't accompanying mommas and uncles on the sets when she becomes a leading lady. Plus, the digs taken at film industry folks are neat. Talk about advanced thinking, Mr. Varma 😀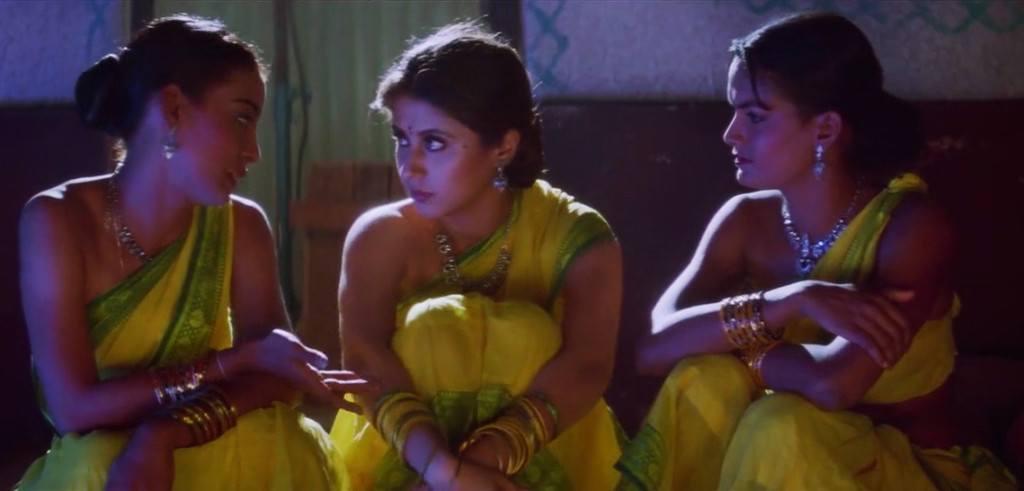 The filmy family!
I can't describe how much I love the super-filmy Mr. Joshi (Achyut Potdar) and the ever supportive Mrs. Joshi (Reema Lagoo). The equation they share with their children is warm, but empowering and natural with their middle-class values intact. Even the younger brother Motilal (Suman) is a big roar with his constant bickering. An early predecessor of Dum Laga Ke Haisha's Samar perhaps…
Special appearances that weren't forced
Shefali Shetty (now Shah) plays Gulbadan, who is this tantrum queen of a heroine who later marries her driver. Giving her company is her mother, played by the lovely Shammi ji. Gulbadan works for a seemingly passionate filmmaker Steven Kapoor, played with aplomb by Gulshan Grover. Then there is renowned choreographer Saroj Khan playing herself. We also have the young Aditya Narayan making an appearance in the title track lip syncing to his own song. Nice!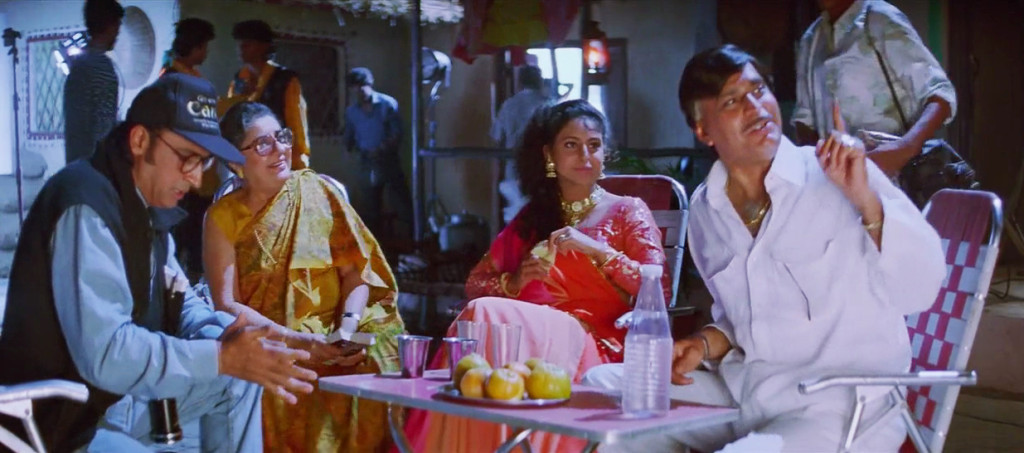 Mangta Hai Kya?
Now… this one deserves a special mention. I remember, as a kid, I used to get annoyed to the hilt when my brother played it on loop for days. I never quite understood the 'point' behind this song. Very quickly, it grew on me and this remains my most favourite Bollywood dance track till date. We even made embarrassing videos and pictures of me dancing on it! (ouch 😐 ) 2 decades later, whenever I come across a long empty hall… I attempt to do the very same jig which I tried to master over the years. Oops! 😀 Let's watch it once again.
Rangeela, for me, is the finest Ram Gopal Verma film! The best frame in the entire film? This lovely ode to Varma's favourite screen goddess: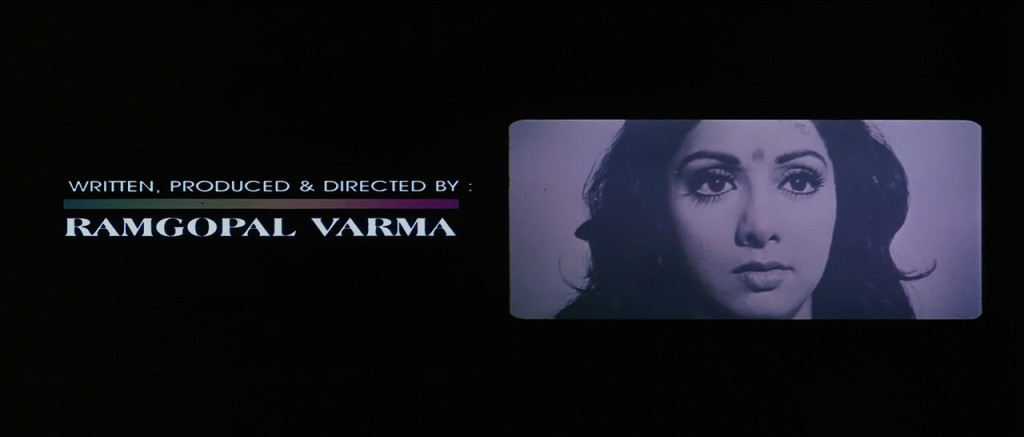 Picture courtesy: Jhamu Sugandh, Varma Creations and my DVD!
Tagged:
A R Rahman
Aamir Khan
Happy Birthday Aamir Khan
Jackie Shroff
Mehboob
Ram Gopal Varma
Rangeela
Tanha Tanha
Urmila Matondkar