Like Nargis Fakhri stated in her 'Koffee with Karan' talk show, "India is a culture that is so different that it takes some time for anyone to settle down here." Pretty much same is the case with Indians who set out to travel abroad. How about that delightful little moment when Rani (Kangana Ranaut) tilts Italy's flag and remarks, "This is how India's flag looks like". And imagine you are put up in that one off country where you won't spot an Indian for weeks on end and suddenly you listen to one of those gross Bollywood item numbers? Eclectic and near-orgasmic for a proud Indian, I would say. You would feel like shouting to the entire world, "Heyyy, here is OUR song! Shut the f**k up and listen to our song!!!" Okay, so Vikas Bahl's Queen is hardly about patriotism or any related sentiment. It is an unconventional journey that Rani traverses to get over a bad phase in her life, while ultimately ending up discovering herself. Here I list 10 elements that you would spot in Queen, but no other film!
The chauvinist pig of the Indian breed, presented as they are!: He is someone who does the cheesiest things to "pataofy" the girl he is interested in. He's the guy who goes to London and returns with a fake accent and displeasure towards his fiancée. That guy who insists his girl to get a tattoo on his name while he himself wouldn't do that for her. The one who prevents the girl from working although she's academically stronger than him and is glad stalking into her 'home science' classes. The man who makes the lamest of apologies as he realizes that the girl doesn't give a sh*t about him any more. India is conservative to the limits that there are women who actually appreciate such maniacs terming their actions as "love". Rajkummar Rao with his sly, full-toothed grin is simply perfect for the part.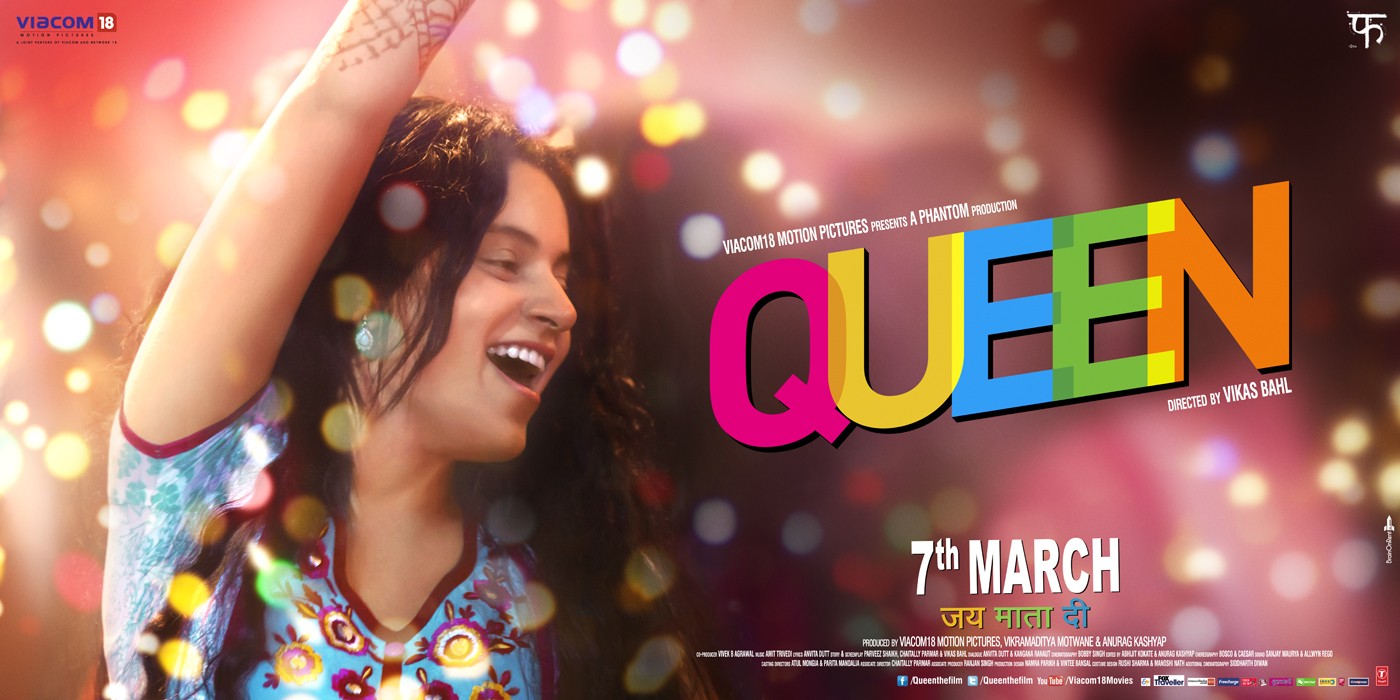 Alice in Wonderland: That is what Rani's t-shirt reads in one scene. Ideology-wise, we saw Sridevi's "English Vinglish" which was on similar lines but was centred upon domestic issues and had a conservative (and of course, appropriate) ending. We have also watched Kajol chasing her straying boyfriend in "Pyaar To Hona Hi Tha" (remake of French Kiss), which was more about discovering true love in the process. Here we see Kangana making a random journey without any mission or vengeance as such. By the time, the film reaches its finale, we feel as if we have completed the journey with her.
That wild, raring-to-go, non-judgmental friend: Every girl must have an unassuming female friend like Vijaylaxmi (Lisa Haydon). She is nothing like Rani. Plus, Rani never judges her for whatever she does in life. But a bond is formed where Rani explores things that she'd never thought she would, share Santa-Banta jokes and what not. The Skype chat sequence and the resultant comedy track are amongst the funniest parts of Queen! If you have travelled to a foreign country (apart from the Middle East which should ideally have been an Indian state), you would easily connect to the sudden culture shock that Rani goes through. Vijaylaxmi is a single mother who lives alone, does random jobs, and has sex with random people, takes off her lingerie to appeal to the guys in the club, drinks like a fish. She is everything that an Indian mother would advise her daughters to stay away from. And boy, does Lisa nail the character. Her chemistry with Kangana is sizzling and we shed a tear once they bid goodbye. Oh by the way, the two appeared together in (ahem!) David Dhawan's grotesque "Rascals".
Phoren-settled Punjabis: They are Indians, still not Indians. 'Wannabe' is the word. We see them everywhere around. These are of the NRI variety who send 'Eiffel Tower' sovereigns to India and not to forget, the traditional 'Bakshish' to Rani.
Nomadic Travellers: Talk about sharing a room with a person from the opposite sex, I can vouch 100% Indians tabulate the supposed "possibilities" that one can explore there. There ain't a thought beyond physical proximity at all. Rani herself announces to Vijaylaxmi, "Mujhe lagta hai, Vijay ne na London jaakar sex karliya hai!" Then we witness her meet three diverse traveller guys in Amsterdam and how their platonic yet affection-filled bond develops.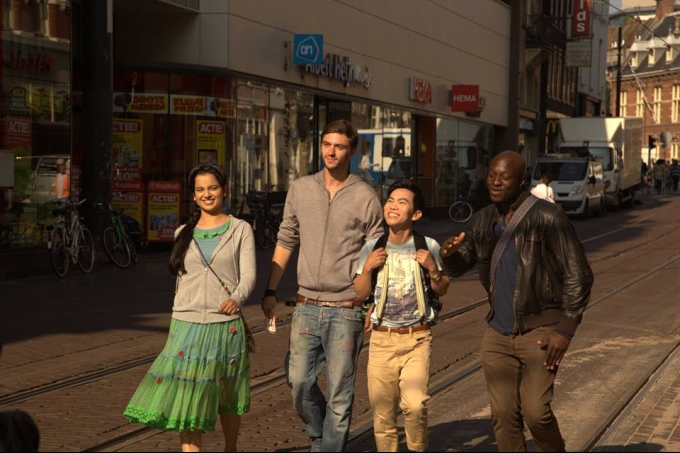 The chubby little bro or child from the neighbourhood: Middle-class, small town girls will definitely relate to this! "Chintu ko saath leke jaa" must be an oft-repeated suggestion by our Indian parents. Remember Basu Chatterjee's "Chitchor" that came three and half decades ago? The situation has not changed much, I say.
The useless gyan-feeding BFF: Most girls maintain this female friend who has her own opinions and judgements on what is right for her friend. Often this partner in crime ends up catapulting her BFF(Best Friend Forever, lol) to a point of no return. But in 'Queen', we see her feeding fundas at one point of time and she herself ends up changing nappies while Rani enjoys her European holiday.
'Phir bhi dil hai hindustani' effect, naturally so!: As I had mentioned earlier, the little 'I am Indian' moments are heart-warming. Remember the scuffle with the thief and Rani's confident retort later, "He won't dare mess with a Delhiite again!". Remarkable writing there! But they do backfire as well. How much you may endorse Indian food, it is not for the masses outside the subcontinent. So the 'Golgappa' creating a sensation is quite far-fetched. It could have worked in a more commercial setup like 'Kal Ho Naa Ho' but not at all here.
An authentic wedding milieu: Well, this film has a wedding backdrop but unlike the Bollywood glossies that we see, Queen is unbelievably realistic with a handful of everyday characters. If you are a resident Indian there would not be a single character here that you haven't already encountered. Ahh, the affectionate grandmother. (smiles)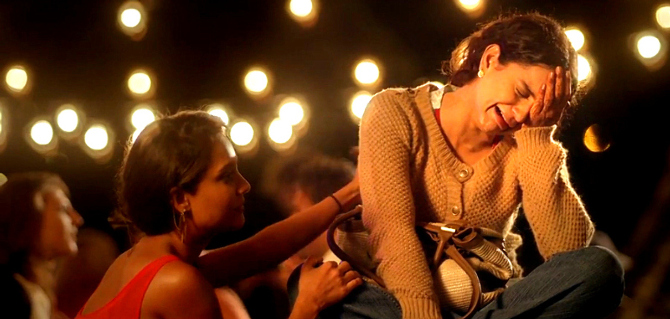 A normal, everyday Indian girl: She's doesn't come out of Karan Johar's camera frame even if her wedding is a day away! She wears a thick sweater over her "Mehendi" outfit to combat Delhi's biting cold. Still she expects her mom to change into a saree, her little brother to click pictures for Facebook while being skeptic about her first night. Kangana Ranaut fills the screen with her girl-next-door charm. The moment where she runs away from Eiffel Tower itself is enough to establish her understanding of Rani Mehra. Not once does she look ditzy or her friends exploit her naivety. That 'Lajpat Nagar is in Delhi' simply brings the house down. The emotional moments tug your heart strings. Particularly the one where Rani realizes the secret about her Japanese friend Taaka and the subsequent jig to "London Thumakda" which makes her realize how life is way more precious than cry over being ditched by a man.  Also, the side-track involving the stripper makes an impact though slightly manipulative from the writer's point of view.
Having said all this, I must add that if you miss out on this film still bicker on how India doesn't produce quality entertainers, YOU HAVE NO LIFE! "Queen" is the highest magnitude of genuine fun I have had watching a light-hearted comedy, in a long long time! So in love with Rani… "Rani Queen from Rajouri, New Delhi."
Image Courtesy: Viacom18 Motion Pictures, Phantom Films and the film's DVD!