"Qarib Qarib Singlle"… A fun rom-com that pays no heed to gender equality!
About 20 years ago, Kamna Chandra penned simple love story of an irresponsible manchild and a meek girl-next-door. Kareeb. The film's plot revolved around a man finding his resourcefulness so that he is capable to take care of his ladylove. Albeit its slightly patriarchal base, Kareeb was still an adorable love story. Cut to November 2017, a different story by the same writer is used by her filmmaker daughter Tanuja Chandra. Result? Qarib Qarib Singlle – an edgy travelogue romance with a similar foundation and a substantial dose of comedy.
Chronicling the impulsive escapade of an unlikely couple, Qarib Qarib Singlle is told through its widowed heroine's eyes. A successful Malayali woman, Jaya (Parvathy) is shown to be a workaholic who has got no sincere friends to count on. Even though she hardly looks like one, Jaya is pitched to us as a 35-year old lonely woman. Her primary conversations go on the lines of 'phir se virgin ban gayi toh? Darwaza bandh ho jaata hai' among other things. I had a pointless hope on how Jaya would confront the other woman like Rani Mukerji's Rhea did in Hum Tum. She doesn't. Rather Jaya resorts to a dating site Ab Tak Singlle (creative name, I admit). That's where she meets her knight in shining armour – clad in a rather gaudy red tracksuit – Yogi (Irrfan).
It took a while for me to concur with the fact that the film wants Jaya to be a damsel in distress. The man in question – extremely goofy and confident – is not shown to have a deficiency by the absence of a woman in his life. He is a mystery person throughout with a vague source of affluence and he tries to make intrusion appear cute (although not at problematic levels like many of our mainstream romances). While all of this is fine, the woman here is akin to a stranded ship that desperately needs to get ashore.
If you are cut for content like this, that deeply (or rather unknowingly) underlines inequality, Qarib Qarib Singlle will be a helluva entertainer for you. Because given their natural differences, Jaya and Yogi make for a couple worth investing in. There are refreshingly cute moments where Jaya – like most Hindi film heroines – threatens Yogi's confidence with absolute abandon and irreverence. In a very likely instance, Jaya is proven right as one of Yogi's not-so-svelte exes addresses him as a brother equivalent. The situation is the opposite, later, when the woman in question is attractive (bombshell, in far more relatable terms). In doing so, the film ascertains the ageing hero's desirability quotient and the former female character remains more or less a comic relief. Couldn't it have been the other way round too? Just broadly thinking.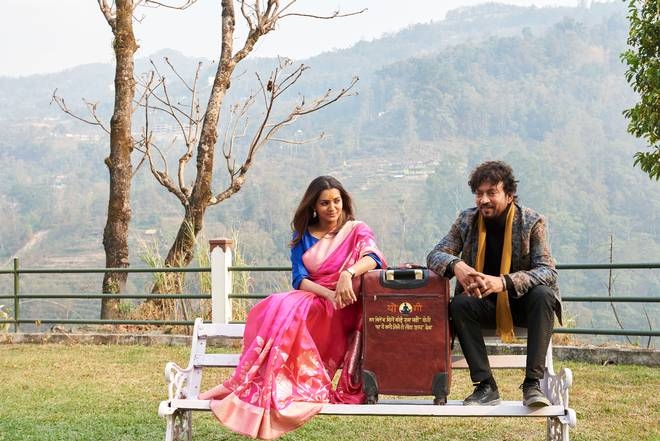 Very ably performed by Irrfan, many of the initial scenes work. He hums Bade Achche Lagte Ho leaving a gap between the lines so that the girl could fill in a word just as the original song. He organically gets along with her family, as if nothing had happened – like how it is with most of us revisiting elements from our long-forgotten past. This is precisely the reason why the film involves us significantly in the first half. Soon, Qarib Qarib Singlle goes on a weird trajectory of narcissism that serves no justice to the dew-fresh Parvathy and her stupendous effort. There's a long, excuse of a sequence where an OTC tablet of hers turns out to be a hallucinogen of sorts leading the film to a never-ending drag of needless exposition. Even as we see Jaya casually hit it off with a handsome stranger and more so with a suitable ex-beau, the film projects her through a lens of guilt. When the man does it, the very same film turns indifferent. As if Jaya didn't exist.
I would have still bought the Qarib Qarib Singlle's intrinsic goofiness and the terrific lead acts if the film wasn't so dull to sit through in the latter half. We so observe how uninvolved writing is the culprit here as Tanuja Chandra surprises us with a bunch of fresh directorial touches – be it Jaya breaking the fourth wall, the carefully planned half-empty frames or the occasional zooms on her facial expressions. Unfortunately, the screenplay (Tanuja Chandra, Gazal Dhaliwal) writers look at the film as a winning proposition than a definitive idea. The formulization makes it a Jab We Met with its genders reversed. Well, almost.
Rating: ★★ 1/2
Tagged:
Irrfan
Parvathy
Qarib Qarib Singlle