Piya Ka Ghar – Big City Woes!
binary options demo account nadex http://missionnorman.org/emiios/5548 Rajshri Productions takes the cake and the whole bakery when it comes to upholding traditional Indian values. Piya Ka Ghar directed by doyen http://joetom.org/masljana/1134 Basu Chatterjee heralds Rajshri values in all glory while staying intact to the kind of story-telling he is known for.
ambw online dating This simple, little tale makes you relate to the quintessential lower middle class lifestyle. The backdrop is that of a very basic 2-BHK house (a Bombay chawl to be specific) that homes a family of seven members – where privacy ceases to exist.
http://ebbandflowdesigns.com/?ruioed=recherche-un-bon-site-de-rencontre-gratuit&81b=32 The basic premise revolves around the petite, homely Malti ( http://acps.cat/wp-content/uploads/2015/02/121028-DIARI-ARA-Perdre-la-por-a-parlar-del-Suè‰ªå © Jaya Bhaduri) from a village being married off to Lal Kishen ( go here Anil Dhawan) whose family is settled in Bombay. Till then, Malti lived comfortably in her modest yet spacious home. Kishen, on the other hand, is a hard-working employed youth who finds it effortless to adjust in a crowded house which is often swarmed with neighbours and other uninvited guests. The twist in the tale comes in form of the marriage that obligates Malti to adapt in a place where the couple finds it tough to consummate their marriage.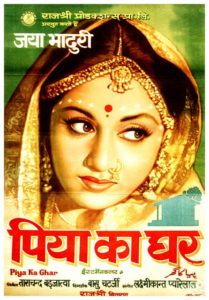 The plot is rather simple and is told in trademark source url Basu Chatterjee style. The characters are very well-etched but, at times, too good to be true.  The screenplay is amusing and equally saddening for the 'fate' of the couple. The dialogues are smartly penned whereas the editing is crisp. On the negatives front, the movie just wanders along the extremes. Neither do they explore a solution of renting a house nor do the family members show sensitivity to the couple and their needs. Also, the character of Malti's Tauji is the sore thumb amongst characters as he miraculously reforms his beliefs towards.
Music by köp Viagra på nätet Goteborg (Göteborg) (Landvetter) R D Burman is beautiful from the word go. You will most probably find yourself humming "Yeh Zulf Kaisi Hai" by the end of the movie. Cinematography is extremely functional as every other Basu Chatterjee's film.
Among actors, Jaya Bhaduri is sensitivity personified. An able performer, she stands out confidently from the talented ensemble cast. Anil Dhawan suits his character to the T. Why didn't we see more of this charming after ever since? The chemistry between the lead pair is the icing on the cake. follow site Paintal is funny as the supportive friend while go site Asrani shines in a neat cameo.
To sum it up, http://www.mentzer-consult.de/?afinoes=markets-world-binary-review&0e8=b2 Piya Ka Ghar questions our perception of an ideal home and successfully so. What the film tries to communicate is the very filmy line, "Jagah to dil mein honi chahiye… aur kahin nahi" which our traditional viewers will lap up any day.
Watch the full film on Hotstar!
Tagged:
Anil Dhawan
Bombay
Jaya Bachchan
Jaya Bhaduri
Mumbai
Piya Ka Ghar
Rajshri