'Pink' review – A powerful tale that gives women the respect they deserve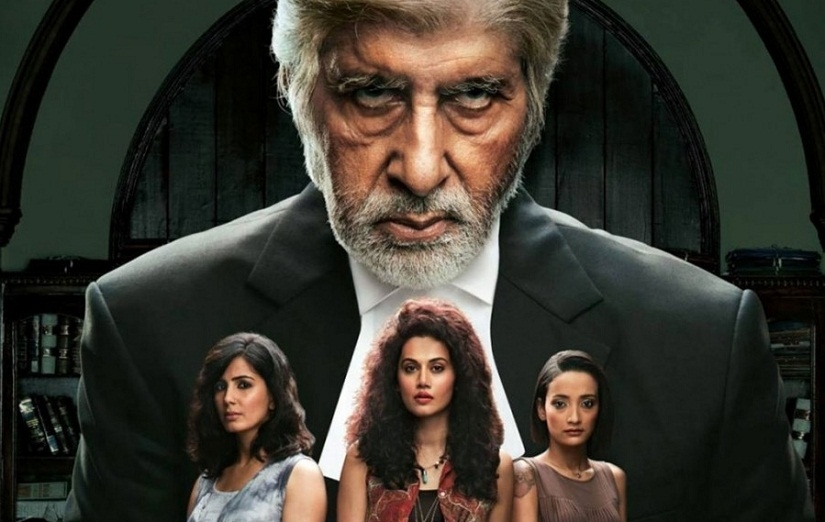 There are colours of all shades and then there is pink – hopelessly stuck. Ostracized by the male kind, pink is forced to be in a woman's territory. Even if it tries to be versatile, the gender badge is a liability. Aniruddha Roy Chowdhury's Pink makes quite a statement on this very fact – on women, labels, morals, and judgments.
For a fact, once the show ends, we ponder on how generic (or rather generalized) are the lives of regular Indian women. Smile, laugh or be playful, you are being suggestive. Be two tones louder, you aren't being ladylike. Consume alcohol, you have fallen morals. Put across your points to your male counterparts, you are conceited. Wear a tight shirt to work, you are all set to entice your boss. The list is endless. As the film fairly states, our rules are consciously designed to keep male hormones in check. And are men judged strongly enough? Not quite unless they decide to live off their spouses' income or, worse, adopt sartorial choices similar to women. A regular working man, however, can afford to flirt around, be famously flamboyant, and still not pigeon-holed.
Let's get to the film now! Pink is about three working women (from different religions, the film underlines) – Minal, Andrea, and Falak and how a casual night out goes terribly wrong. The film puts a spotlight on misogyny at large and how society conveniently balances things off by often showing women their 'aukaat' and asking them to be within 'limits'. The narrative surfaces like a sharp thriller and it is no easy watch. Still, howsoever anti-feminist our audiences are, they do care for a film's lead women characters. There were sighs galore from the viewers – all at the right moments. Roy Chowdhury's execution is so deft that we are on tenterhooks throughout the first half.
The second half promises to be a gripping courtroom fare and it actually turns out so (akin to another favorite, No One Killed Jessica). Given Bollywood's penchant to parody the court of law once the scale goes up (case in point being the recent, Rustom), we are glad Pink is relatively small-budget. Having said that, the writing and execution are sufficiently dramatic and suitably flings subtlety out of the window. With the country's biggest star at their disposal, can they let go of those thunderous claps across the aisles? There are several 'statements' being made during the court proceedings. It is as if the screenplay was crafted around 10 such lines – all of which are thought-provoking and, I dare say, massy. The writer luckily (Ritesh Shah) doesn't singularize the male sex while sensitizing them on their outlook towards women.
Among the interesting touches in Pink, one notices how oppression begins at home. The pre-climax scene where the antagonist reacts furiously upon seeing a photograph of his sister (with an alcohol bottle) is fantastic. Oppression, they say, is also reaffirmed when we conveniently follow the bandwagon. We have a lady police officer filing the FIR, who seems well aware of 'us type ki ladkiyaan'. Wait, is there even an acceptable phrase called 'us type ke ladke'?
Are there hiccups? They do and mostly in Deepak Sehgal's (Bachchan) characterisation. His personal life remains majorly underdeveloped. Plus, why is it a mandate to be eccentric or jobless (Jolly LLB, Veer-Zaara to name a few) to be a righteous lawyer? Sehgal is former. He wears a pollution mask, shadily follows, and stares at women, and his mental health is being written about. He has a bedridden wife to take care of. All of these layers aren't really warranted in a film that is starkly on point. Having said that, there's this warm scene where the girls meet Sehgal's wife in hospital. The lady takes an effort to give them a pack of biscuits, almost metaphoric to an agile housewife serving them tea and snacks. Random, yet moving! Another grudge is that the courtroom drama conceals characters who could have given the girls a positive 'character certificate' – the kind landlord, Minal's supportive employer. Despite that brilliant scene where he walks out of the court, Minal's father's point of view is largely unexplored. Ditto for the antagonist's practical friend (Tushar Pandey) who is given a clean chit in the end. Would addressing them have affected the script's dramatic tonality? Not really.
Slickly edited (Bodhaditya Banerjee), Pink is predominantly a dialogue writer's dream. More so because it is an experience to hear some of those lines in the famous baritone. Also remarkable is the cinematography (Abhik Mukhopadhyay) that doesn't distract one bit. The background score (Shantanu Moitra) is excellent and the sound design (Dipankar Jojo Chaki and Nihar Ranjan Samal) is noticeably well-done.
Amitabh Bachchan is tremendous as a conscientious lawyer. Not one Bollywood actor can play to the gallery as Bachchan does. Damn, it has been decades. The girls (Taapsee Pannu, Kirti Kuhari, and Andrea Tariang) are brilliantly real. Taapsee delivers great stuff as expected while Kirti and Andrea surprise. The former shines in the breakdown scenes she is entrusted with and her sidetrack adds a neat layer to her characterization. Andrea on her part is superb all through, particularly in the courtroom when she quips in with reactions. Angad Bedi puts in a great show and Dhritiman Chatterjee makes for a realistic judge. Last seen in the dull Happy Bhag Jayegi, Piyush Mishra is not bad either. The supporting cast is equally efficient.
Besides gender bias, India is also one nation that is caught up in wrong notions about empowering women. A fortnight ago, we saw Akira that more or less validated this argument. In an attempt to retell Indian society's perception of women and how equality should be the catchword as opposed to empowerment, Pink questions your conscience. If not anything else, the unending applause, in the end, bears testimony.
Rating: ★★★★
Pink is now streaming on Disney+ Hotstar.