A night of Mumbai's torrential rains. I was at this uptown theatre, half-drenched watching a film that called itself Parched. Food for thought? Well, the film gives you more, although on a different tangent. Set in a western Indian village, Parched traverses through lives of three bold women – Rani, Lajjo and Bijli – who defy social rulings and conventions. Yet another 'you go girl' tale on cards?
Director Leena Yadav seems to know her women very well. Their needs, aspirations, pains – she gets most of them right. All three women gain catharsis in their own unique way. The best of the lot would be the battered Lajjo discovering sexual ecstasy with a mysterious man. Tantric sex or whatever they perform, this is one the film's beautiful scenes. It is surreal, tender and larger-than-life. Even the scene that succeeds is not something you would expect, given the rough milieu and everyday agonies these women face. Another sequences has our women set out on a Thelma and Louise-like road trip aboard Bijli's funky scooter. They wonder why all cusswords are centered on sexually abusing a woman. They flip genders around and cuss away to glory. These moments, in all their over-the-top splendour, are tastefully done. It is just that they are way too different from what the film is otherwise. Plus, Parched is all the more self-conscious of the persistent 'festival film' course it chooses to take.
Amongst the three, Lajjo's (Radhika Apte) story is the finest. A rewarded employee at the garment unit, she is helpless and unsafe within four walls of her home. Lajjo's pain is all the more affecting when she often turns up at Rani's home for solace. Kudos to that one priceless, delicate moment between the two that underlines their never-ending agony. Dedh Ishqiya anyone? Even the culmination to her story stands more or less justified. Needless to say, Radhika Apte lives her part. So much so that it is impossible to take our eyes off her. Even brief reactions like the ones in the wedding party bus are invaluable add-ons. Easily, there is not one Indian female actor in today's time who could pull off diverse films like Phobia, Kabali and Parched with no inhibitions whatsoever.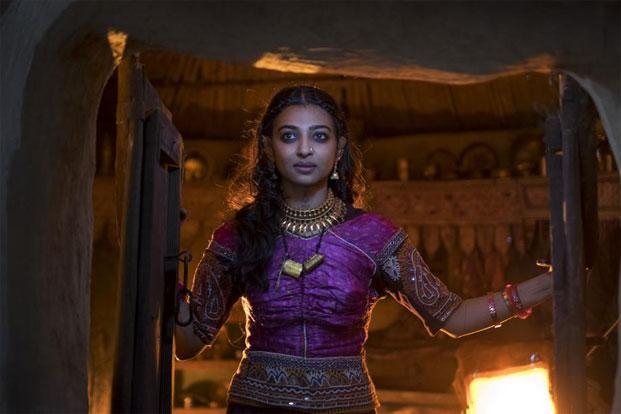 Surveen Chawla's Bijli is village exotica. Her tamboo (tent) is a popular haunt for the sex-starved and Bijli, understandably, is looked down upon in daylight. Suitably cast, Surveen Chawla is every bit of the raunchy siren. While her story stands out, it fails to bring in the much-needed freshness. There is a romantic angle, that is unbelievably generic and the competitor track is again so done to death. Certain moments quickly call for a déjà vu to Vidya Balan's The Dirty Picture even. The dance performances come dangerously close to Yash Raj's polished nautanki number Bhangra Bistar (Dil Bole Hadippa!) meant to be in a similar setup. Where's the ruggedness? Where are the real people? At least the staged rustic appeal of Omkara's 'item numbers' could have done better justice to Chawla's terrific performance.
Of the three women, it is Tannishtha Chatterjee who hogs most of screen time as Rani. High priestess of contemporary art cinema, Chatterjee performs with all sincerity and her track has its moments too. Yet, one crucial question that arises is – Did Rani acknowledge herself to be a bad parent? Think about it, she is not a regular village woman. A single mother, Rani is employed and is progressive enough to bring home a bald daughter-in-law. Shouldn't this woman have brought up her son with better values? We see nothing good in her son Gulab (Riddhi Sen, first-rate), not even an iota of affection for his only parent. Rani eventually breaks all shackles of patriarchal norms, sells off her home and sets out for a new life but we don't feel like rooting for her. Not that we expected a Mirch Masala! The subplot involving her timid daughter-in-law (Leher Khan, very good) is interesting, though the education angle is rather force-fit.
Cinematography is one of Parched's high points. The night sequences are shot with true Russell Carpenter finesse. Soundtrack (Hitesh Sonik) leaves a lot to be desired. Dialogues are the film's mainstay and keeps us hooked throughout, although the writer flips uncomfortably from a regional dialect to proper Hindi. Editing by Kevin Tent is notable.
Agreed, Leena Yadav's Parched has an important message. However, its pro-women narrative is diluted by a philosophy that is suspiciously anti-men. Certainly, this scenario offers a stark contrast to what the protagonists go through but a liberal male stance is conspicuous by its absence. There are essentially three good men in the film. The progressive, educated Sumeet Vyas who ends up being beaten to pulp. The mysterious cave man (Adil Hussain), I dare say, is more of an unreal catalyst. If women could make babies themselves, Yadav would have avoided this kind, sensitive character (wink). The third is the 'Shahrukh Khan' in Rani's life. A lovely track that had great potential that the writer didn't pay much heed to. Strangely though, the film's approach reminded me of Rajkumar Santoshi's ensemble cast melodrama Lajja lead by Manisha Koirala.
To give out a tiny spoiler, Yadav's idea of liberation is to flee the scene. The women anyway are kicked by the idea of a new place, new life. The progressive employer couple leave too. One can't resist thinking about the women they left unemployed in a place full of violent, miserable men. Nevertheless, Parched does move you to a great degree – with its honest intentions and spotless lead performances. The lack of objectivity in writing is compensated by rather tenacious direction. You see Yadav's passion seethe out of every frame, thus making Parched an engaging watch!
Rating: ★★★
P.S.: We are also reminded this is an Ajay Devgn FFilms production. Few minutes into the film we have U Me Aur Hum's 'Saheli Jaisa Saiyyan' playing in the background. That was a pleasant surprise!