'Mulk' review – Anubhav Sinha powerfully exposes deep-rooted Islamophobia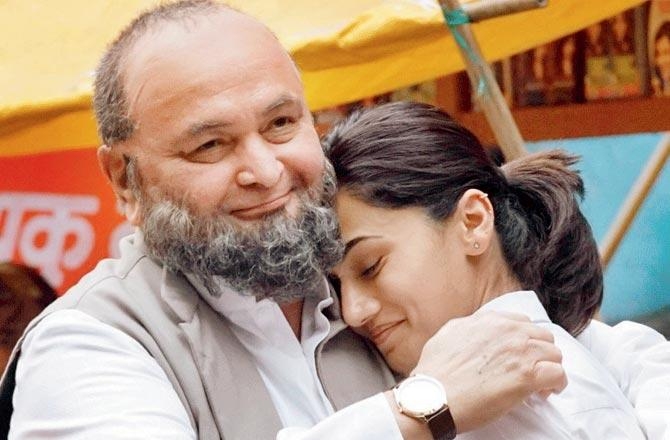 Read Time:
4 Minute, 53 Second
Quite early in Anubhav Sinha's Mulk, we see a celebration happening in a Muslim household. It is the lead protagonist Murad Ali Mohammed's (Rishi Kapoor) birthday and the function has several of his Hindu well-wishers in attendance. We see a middle-aged lady being offered food by one of the hosts which she politely refuses, only to make a comment later, "Singing and dancing are fine but how can I eat anything from their house?" The film's central theme is this 'normalized' prejudice against Muslims wherein the proximity to them comes with a hint of caution. It is always the battle of "us" and "them". And the catchword here is terrorism.
Set in Banaras, the immediate premise is around Murad's family when one of its young members, Shahid (Prateik Babbar, effective) gets embroiled in terrorist activity. The family soon becomes the center of attention with media flashlights hogging them and friendly neighbors turning hostile. Forming an interesting element in the narrative is the Hindu daughter-in-law of the household, Aarti (Taapsee Pannu) who also happens to be their lawyer.
Sinha's screenplay, for starters, is direct. It leaves no room for subtexts and understated ways of putting its points through. Mulk offers less respite as it exposes one social reality after the other with noteworthy objectivity. To point out one, the investigating officer (Rajat Kapoor, first-rate), who is a Muslim himself, fumbles at the very concept of terrorism and is easily more prejudiced to members of his religion than anybody else is. The film effectively propagates how the 'good Muslim versus bad Muslim' debate keeps aside a necessary sentiment of humanity. Even though several of its characters are by design, Mulk plays off well in interlacing them to the plot. The weakest link in the enterprise, however, is the prosecution lawyer Santosh Anand who is severely one-note and looks straight out of the '90s. Ashutosh Rana's loud interpretation of the character only adds to the wound.
READ MORE: 'Thappad' review – Taapsee-starrer tells us to re-evaluate the way we treat women
On the writing front, there are a handful of angles that look a little too contrived to be true. For instance, Bilal (an excellent Manoj Pahwa) borrowing money from his relatives in Pakistan is an ill-conceived plot pointer. The bitter equation shared by the brothers (Kapoor and Pahwa), again, is not established well before the story takes unruly turns. We see a traumatized Bilal echoing the same line repeatedly, claiming his innocence – which is something that (probably) is too theatrical to belong to a film as this.
What pushes the envelope for the film is an hour of powerful courtroom sequences. Not one to involve powerful revelations, these portions rely heavily on monologues. In moments where she could have equally gone overboard, Taapsee Pannu holds herself like a veteran and delivers a bravura performance. Equally remarkable is Kumud Mishra as the stern judge, even though one wishes that he had more to add to the proceedings. Rishi Kapoor, too, does not let Murad become a whiny old man. He lends heart and layers to his part as a doting father, husband, and more importantly, a law-abiding citizen. He emotes like magic in the scene where he refuses to accept his nephew's corpse, knowing that he has betrayed the nation.
While deconstructing Islamophobia, Mulk also throws light on the possibility of a more inclusive society where members of all faiths coexist in peace. The existence of a Hindu daughter-in-law doesn't threaten Murad's family. The presence of a Hindu place of worship in the same lane as theirs is no point of worry to them either. It is only when the underlined bigotry is exposed in court in form of Quran interpretations and easily assumed statistics that film comes into its own. The investigating cop performs an encounter on the terrorist when he could easily have arrested him. This might have been an intrinsic cleansing process for him, essentially borne out of his own prejudice against the community he belonged to. The film, rightfully, chronicles the gullible ways of today's youngsters and how religion can effectively be used to manufacture hate, making way for a society that is excessively divisive. The tiny commentary on saffron terrorism is also a noteworthy touch, further enlightening what terrorism actually stands for.
Mulk could easily have been a two-and-half-hour long lecture, given the material that is high on activism. Yet the film holds ground and gives us a social lesson that was long due. The film poses disturbing questions as to how a Muslim citizen of the country should be proving his love for the nation. Due credits to Anubhav Sinha for orchestrating some of these spine-chilling moments with neat attention to detail. The penultimate monologue where Aarti bursts out at the prejudice with a heavy heart and sunken voice is one that merits instant applause apotekerendk.com. The portion, indeed, is about the actor playing the gallery but the process doesn't appear synthetic – which it could easily have. Any major complaints? Not quite, except that Mulk refuses to make its landscape come alive. Given the social syntax and diversity that the city of Banaras has to offer, one wishes that it was an element of significance in the immediate narrative. Nevertheless, Mulk is one film that truly justifies its rather weighty Urdu title. It asserts how running away to a different country is no solution if one has the willpower to fight for an identity in his own motherland. Not to mention how incessantly entertaining it is in absence of several ingredients that you associate with commercial cinema, making the film a neat win for the makers and viewers alike.
Rating: ★★★ 1/2
Mulk is now streaming on ZEE5.