Rape incidents infuriate, perhaps more than any other crimes. We hear widespread opinions on how capital punishment for tormentors, if proven guilty, has to be mandated. An idea that is conflicted by many, we can easily picture how the masses and their emotions work. They tend to draw connections between the happenings and the resultant anguish to the women in their own lives, and understandably so. This is precisely the space that umpteen filmmakers have explored incessantly over the years. Spearheaded by superstar Sridevi, director Ravi Udyawar's debut venture Mom, too, is this familiar avenging angel saga.
Let's begin with the good bits. Mood is one of the few things that works in favour of Mom. Cinematography (Anay Goswamy) sports a perennially gloomy shade, one that underlines tension – some of which is also familial. There is some deft editing (Monisha Baldawa) that keeps us on tenterhooks, even as the not-very-convincing drama develops. There is a dulcet A R Rahman melody ('O Sona Tere Liye') that appears at a very apt, emotional juncture blending smoothly with the film's grim trajectory. Technicalities aside, writers (Ravi Udyawar, Girish Kohli, Kona Venkat Rao) tone down the regression quotient as the rape victim is not projected as a worthless vegetable – a mistake that Indian films popularly commit. There's a ray of sunshine that the family awaits, and the victim derives strength from sources we are not told about. Fair enough!
Another interesting touch is where the writers bring in an angle of personal vendetta. We are introduced to a backdrop of the thoughtfully named Devki's (Sridevi) sour relationship with daughter Arya (Sajal Ali). Devki constantly feels the need to prove that she cares. Be it her timely handling of perverts or respecting the teenager's personal space (something that not many parents do), Devki is forever an approval seeking mother. When the tragedy strikes, Devki is well-conscious of her minuscule contribution to the way events materialized. Keeping the populist motherly love aside, it is the personal payback angle that appealed to me. There is even a glaringly unwanted (or heroic?) scene where Devki lands up at the hospital where one of her preys lies paralyzed. Oh, boy!
Okay, now let's get real. Mom is not a whodunit. Every single soul – right till the door opener in the auditorium – will predict how things would pan out eventually. All that the makers get to do is to device the whole thing differently and to our dismay, they barely try. The film begins on a very tepid foundation – that of an over-caring mother and an unenthusiastic step-daughter. Given this arrangement, we tend to wonder where Arya's biological mother is, a picture of whom sits pretty on the girl's study table. As implied, it isn't a case of death but a bitter divorce. All grown up, Arya could well have stayed with her mother. Even with the father, her interactions are largely transactional and soppy to rule book levels making the setting all the more suspicious. In what can only be a writing anomaly, we sorely miss a custody battle or anything even remotely close it. Scene kya hai, boss? Funnily enough, Mom's first half is essentially a bad retelling of No One Killed Jessica with Nawazuddin Siddiqui attempting a Rani Mukerji act. Now how much will Siddiqui contribute if Udyawar's storytelling skills lack the kind of clarity Raj Kumar Gupta had. Similarities seep down to dialogues even. "Agar ek karod aur ek goli mein se chunna ho to aap kya chunegi?" complains a witness in No One Killed Jessica. In Mom, Devki's version goes, "Galat aur bahut galat mein se chunna ho, to aap kya chunenge?" I assume my galti here was of buying a ticket, nevertheless. Talking about dialogues, they are lacklustre beyond belief with overused filler lines thrown in to elicit applause which never comes. Sample this – "Bhagwan har jagah nahi ho sakte, isliye usne maa bana di," Creativity much!
Post interval, Mom goes on the Kaabil route of mindless revenge – luckily minus the latter's cringe-inducing anti-women messaging. Girish Kohli's screenplay is so AWARE of the Jupiter-sized plot holes that we almost imagine him quipping, "Itna to cinematic liberty chalta hai yaar!" CCTV cameras are destroyed as per the characters' whims and the ones that need to be checked are comfortably missed. The victim's family is rich and influential, and still doesn't get justice in what easily is an open-and-shut case. The accused, on the other hand, are shown to live alone in spacious houses with home gyms. Where are their families? Why not (at least) throw in a handful of politicians for extra cliches, bruh? Then there's the interrogating cop (Akshaye Khanna) who fluctuates from being super-dumb to super-efficient in lightning speed, as and when the screenplay deems right. Peripheral characters are so staged that our leading lady gets accomplices to fulfill her vengeance. One being a pair of transgender students whose assignments are pending and still they went ahead and launched a tie-dye factory. Uh oh! Devki also barges into well-guarded bungalows and apartment complexes, plants death traps and more with an expert criminal's dexterity. Even the detective DK (Siddiqui) manifests his role in the case with some sort of unexplained personal interest. We are given a peep into his home though. Question remains, is that all he needed to risk his life? On a completely off-note, Siddiqui who plays father to a grown up girl amused me on how character actors are age-neutral in cinema while lead male stars aren't.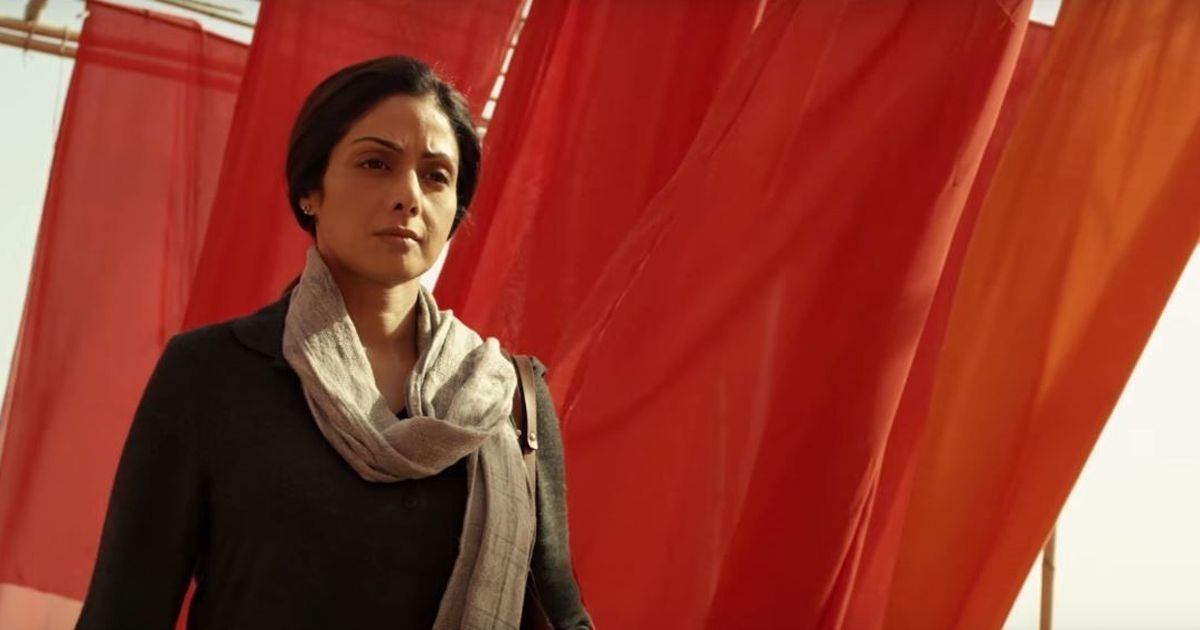 In Hindi cinema, we see enough of stories headlined by wronged woman with rape, revenge and similar outlines being of paramount significance. Can't women avenge anything else? Just a thought! Mainstream audience love it when their wronged leads take law into their hands. Especially when the pivot is that of violence against women, it enrages all the more. We have seen an otherwise brilliant Mardaani go several notches down when the makers decided on a violent, massy closure. Yes, it makes for a strong visual to see a woman victorious, a culprit dying a painful death meted out by the victim himself/herself. The issue lies in the way how they popularize this 'solution' which isn't really one. Moreover, by doing so, aren't we approving the (currently in news) lynching incidents?
If at all there is anything that compels you not to stage a walkout, it is Sridevi's presence in Mom. I was never really a fanboy but from whatever little I have seen of the actor, hers are performances that haven't aged. Be it a Chaalbaaz or a Mr. India or an English Vinglish, Sridevi's acts have generally stood the test of time. In Mom, the actor-star pitches in a well-balanced act, which moves us tremendously even when the most unconvincing pieces of writing unfold on screen. Her breakdown scenes are so moving that I almost clapped in my mind. Give this lady a blink-and-miss part in the most forgettable of cinema and I will get myself a reason to go watch them. Nawazuddin Siddiqui is his dependable self, although we don't quite digest the way his track ends. Akshaye Khanna is wasted in yet another under-cooked role, post 2016's Dishoom. If anyone's listening, this isn't the Khanna we have seen or we would want to see. And yes, thank you very much in advance. Sajal Ali fits her part and performs with great restraint. Adnan Siddiqui looks dapper and emotes with equal ease. It is, however, the pack of antagonists who end up looking like airhead clowns. Aren't we tired of eerie-looking villains who use their bullets judiciously? If he can kill rear players like mosquitoes, why not shoot down the lead man or woman at the first sight? Abhimanyu Singh's Jagan is that antagonist whose sidekicks, in a street fight with the hero, will approach one by one only to get royally thrashed. You get the drift?
To cut it short, Ravi Udyawar's Mom is tiring old-fashioned cinema, that should have gone defunct by now. In all its ignorance, the film imparts wrong ideas and a predictably phenomenal Sridevi is the only incentive.
Rating: ★★