Seldom does it occur when I watch two films from different geographies that weirdly connect over a common crux. The unusual happened as I explored Luis Bunuel's acclaimed Spanish classic Viridiana (1961) and Gulzar's Hindi film Meera (1979) recently. The former is about a novice nun's tryst with disruptive ways of world and the latter is based on life of the eponymous Hindu saint. Without exaggeration, the similarity between both are their respective protagonists who are overtly devout – to the extent that it affects the decorum of their surroundings. Both films examine righteousness – ethical and moral – through these women as they practice ideas that are poles apart, yet connect a similar chord of faith.
Meera is the daughter of King Biramdev of Medta province in Western India. In the times of the famous/infamous Mughal rule, the Hindu states of Rajasthan struggle to form a stealthy unit. In one such reconciliation attempt, Medta springs up an alliance with the neighbouring Sesodia kingdom, thus reinforcing regional ties between both. The alliance is that of a marriage – between Meera (Hema Malini) and Rana Bhoj Raj (Vinod Khanna). We are also shown that at an early age when a marriage procession passes by, a naive Meera quizzes her mother on who her groom is going to be. Upon being told that he is Lord Krishna, Meera emotionally weds him. So much so that she develops jealousy towards his love interest, Radha.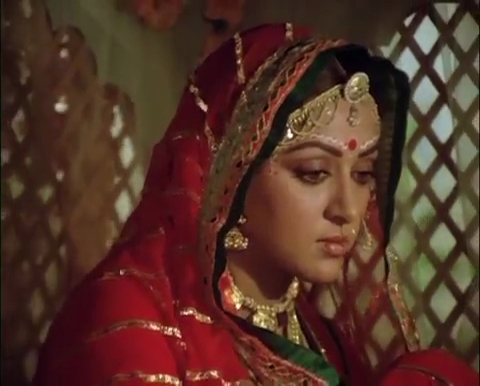 Bunuel's Viridiana is a soon-to-be nun, almost an other-wordly being. Viridiana is so austere at being the mystically betrothed bride of Christ that she places a large cross and a crown of thorns on her bedside. An angelic beauty, she happens to visit her benefactor – her estranged uncle – upon being ordered by the convent's Mother Superior. The visit changes her life around as her uncle (Fernando Rey) begins to develop incestuous feelings. Viridiana, being the godly woman that she is, resists his advances with great contempt only to be told (a lie) that she was drugged and deflowered. Appalled, she leaves for the convent and before she could board her bus, the cops inform Viridiana of her uncle's suicide. Her guardians from the convent pay her a visit of condolence to whom Viridiana expresses contradictory feelings of being innocent and guilty of being responsible for her uncle's demise. Taken aback, the Mother Superior demands a confession that is eventually refused as Viridiana feels she ought to be obedient to the limits of a routine Catholic as she no longer intends to embrace nun-hood. Soon we learn that the deceased man had named Viridiana and his illegitimate son Jorge as his heirs.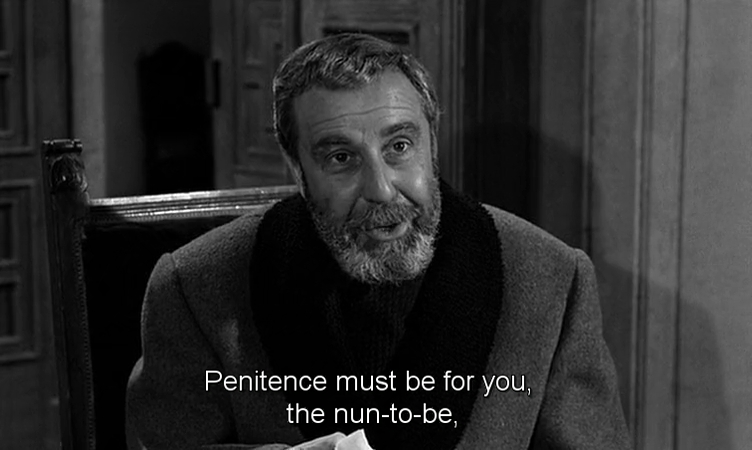 Faith
Meera's strong contention on Krishna being her husband is what binds her story together. She writes devotional songs (bhajans) and forges an imaginary relationship, the romantic connotations of which is far from subtle. Meera confesses how she will remain faithful to the 'deal' that has bound two provinces but wouldn't perform wifely duties as she has already wedded Lord Krishna by soul. Her husband laughs it off initially, only to get a hint of her will power later.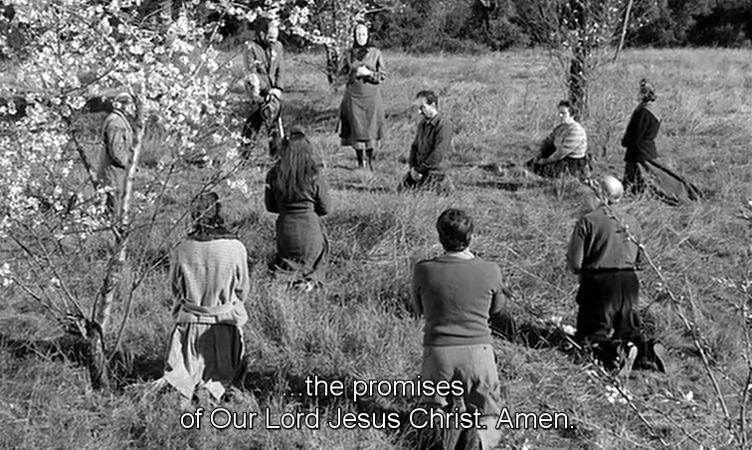 For Viridiana, her devotion to the Jesus Christ doesn't end with her decision to give up nunhood. In absolute lack of knowledge on how to manage her inherited wealth, she pursues what the religion teaches her – to be charitable. This could also been seen as subconscious move to wash off emotions of guilt that lay deep beneath. Viridiana forms benefactor to a group of paupers she meets at the local church premises. Unknowing of ways of the real world, Viridiana treats them with love and respect – almost a Florence Nightingale with a religious cause.
Strength
Meera is easily the stronger out of the two, for the fact that the film largely projects the message that godliness gives you immense willpower. Meera is a one-woman army that awaits and tackles hostility from all corners. It is only her husband who displays even an iota of sympathy, for reasons that are unsaid. Meera is also seen to take the holy fast of karwa chauth which she breaks only after getting a darshan of her beloved (Lord Krishna) in a temple that was shut down by her in-laws.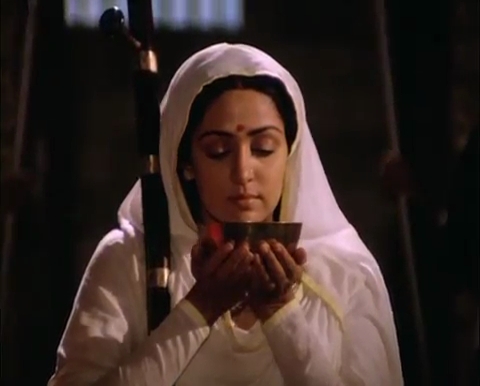 In stark contrast, Viridiana is a resilient picture of suffering. Servant Ramona notices how Viridiana wears rough linen gowns to bed – a fabric that will do no good to her porcelain skin. Throughout the film, Viridiana is shown to display continued restraint and patience to oppression and injustice. Like how Bunuel believed, his protagonist was easily the most ill-informed, ill-equipped character in the story that revolved around her. Her civic sense and belief systems are so strong that she never questions the possible anomalies of her idea of social service. Viridiana remains a sufferer till the final climactic jolt.
Feminism
Viridiana lives in a congregation and is a clear favourite with the Mother Superior. It is the Mother who commands Viridiana to go visit her uncle once before she takes the holy vows. Later, in perhaps her only independent decision, she takes a stance against her Mother Superior's wishes and refuses to return to the convent. For the rest of the film, she remains submissive and largely unaware of the ways of the world. Even with her rational cousin around, looking after her and their inherited property, Viridiana withdraws herself to a shell of idealist service that was clearly blinded by vigorous beliefs.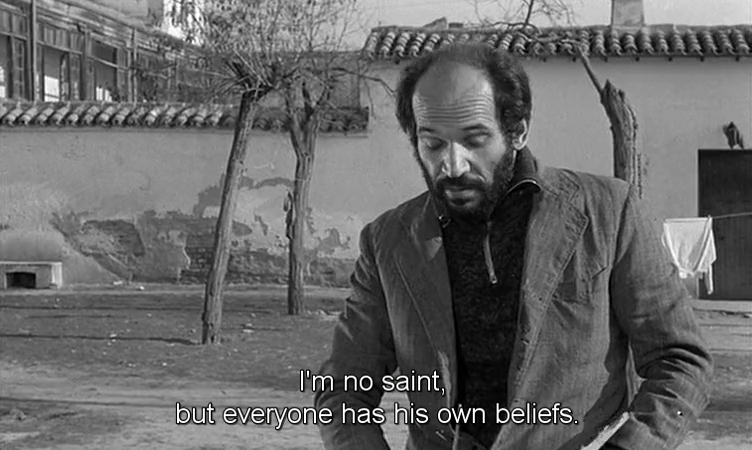 Meera, on her part, is far more equal to her male counterparts in the film. Although not aware or sensitive to administrative challenges faced by her province, she (and certain women in her family) are not shown to bog down to ways of men. Meera's stubborn, irrepressible ways baffle many around her.
Support System
Viridiana is not shown to have any honest advocates. There's the family servant, Ramona, who treats her with reverence. Ramona never interferes, questions or opines on Meera's faith or related activities. Ditto for her long-lost cousin, Jorge, who keeps himself within his graceful limits of decency although it is indeed hinted that he is a promiscuous man. For the rest, most characters she instills faith in betrays Viridiana in one way or other.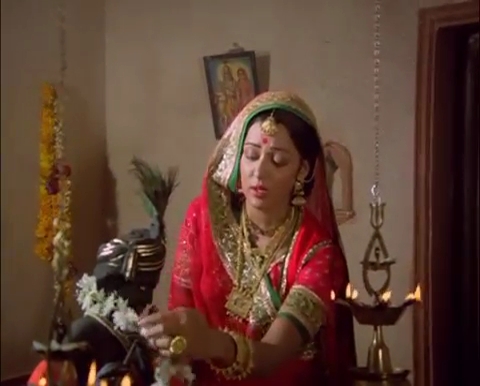 Meera is one who doesn't creed hope for followers/devotees for herself. Happy in her trance-like world of Krishna bhajans, Meera is unconcerned about anything humanly – hunger, fatigue, safety. She does get a little sympathy from her husband and Meera's conscience is guilty of not being able to serve him the way he deserves to.
The Message
Meera places Godliness on a high moral citadel. It asserts how devoting one's life to God while compromising on duties as a spouse is acceptable in larger scheme of things. We do understand the political reasons that forces Meera to accept the nuptial agreement with Bhojraj. However, her remorse towards her humble, loving and patient husband is more or less half-baked.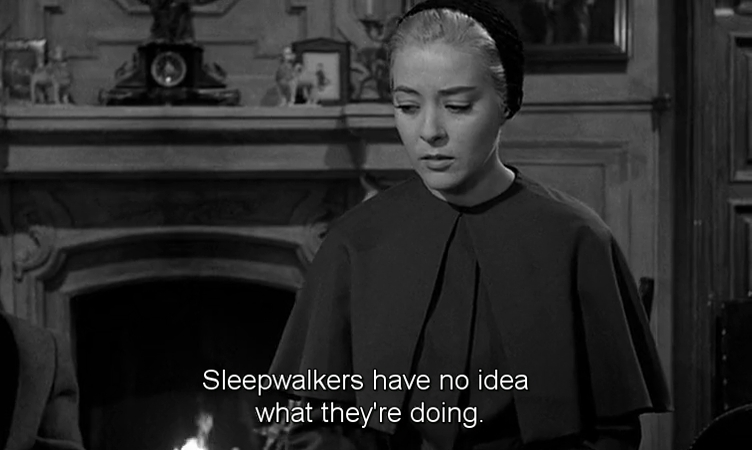 Viridiana, on the other hand, makes an irreverent statement about the ways of the Church. A satire, the film challenges several of the seven deadly sins in the most unsubtle manner. Through the course of the film, the pious protagonist is projected through a prism of absolute ignorance.
Notable Moments
There's a short segment in Meera where the famous Mughal emperor Akbar and his court singer Tansen pay a visit to appreciate her magical vocals. Given the political texture that underlines all conflicts in the film, this meeting assets Meera's humane, intuitive nature.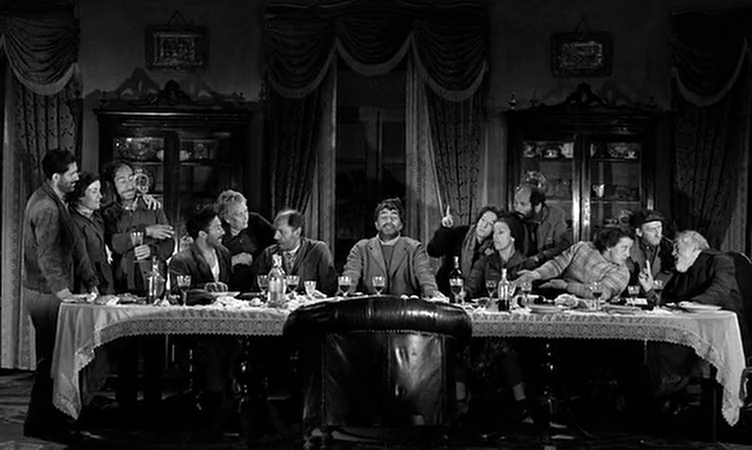 Disturbing and heartbreaking, the final sequence of Viridiana involves her adopted group of beggars indulging in absolute debauchery. One stark, controversial moment is where the group recreates a scene that resembles 'The Last Supper' for an imaginary photograph.
Aftermath
Made in India in the late 70s, Meera met with acceptance (although it was a commercial failure). The straight-cut message on faith in a religious figure was/looked up to as the protagonist hums devotional numbers through out. Having said that, Meera remains one of the better Indian made films based on the idea of devotion with a rather convincing lead performance by Hema Malini. Music composed by Pandit Ravi Shankar and crooned by Vani Jairam are considered iconic.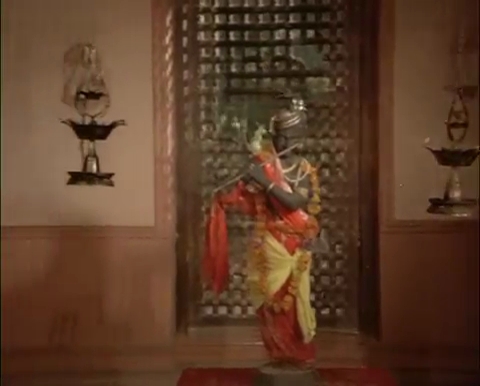 Marking Luis Bunuel's return to Spanish filmdom, Viridiana sparked massive controversy and faced denouncement by the Vatican. Spanish censors forcing the makers to alter the ending and all prints of the film were destroyed except one, that the leading lady Silvia Pinal fled to Mexico with.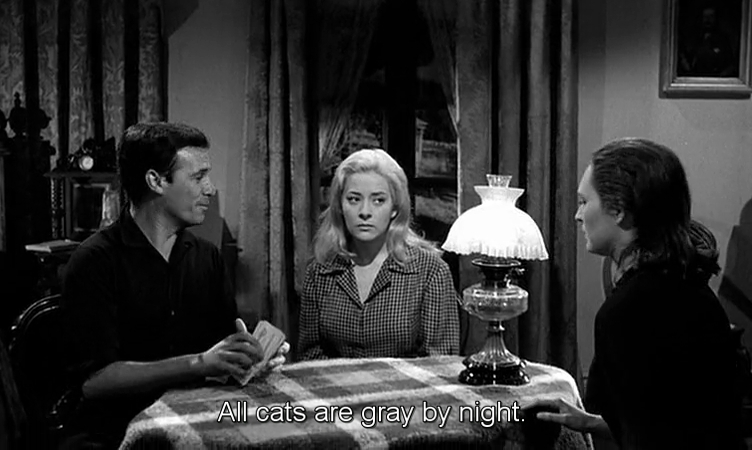 Viridiana won the coveted Palme d'Or at Cannes Film Festival and is considered one of the finest feature films ever made.