'Meenakshi Sundareshwar' review – a bizarre romance spun around offensive cultural stereotyping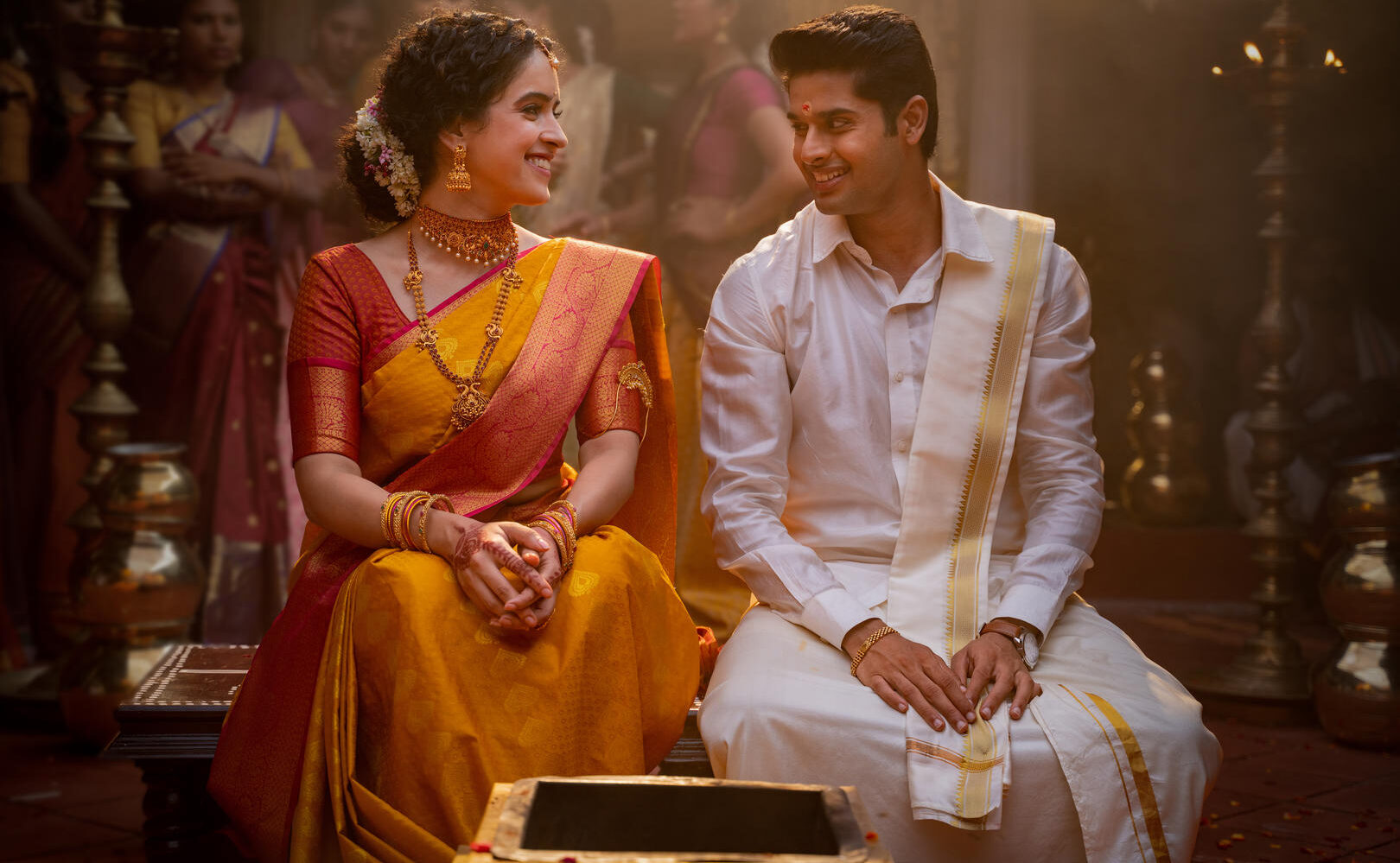 Meenakshi Sundareshwar poses a tough nut for Bollywood to crack. On one hand, there is the industry's decades-old misconception about how people live in India's southern states. On the other, there is the Tamil community's reservation against the Hindi language and the possibility of what might be cultural appropriation. While the former is inexcusable from a storytelling standpoint, the latter is a spirit I never understood and is obviously beyond anybody's control. As seen globally in filmmaking industries, I would welcome films that juxtapose a different language to introduce a milieu or a fresh cultural context. There is an element of intrigue in this process – if done well – whether it is Luis Buñuel treating languages with absolute fluidity or if it is Bimal Roy transporting us to the Roman empire of yore in Yahudi. However, Vivek Soni's Meenakshi Sundareshwar originates from Dharma Productions' logic of an overtly cosmetic universe, and it ends right there.
Soni's film is not one where the cringe factor trickles in midway through the film. It only takes minutes for the film to initially baffle and eventually infuriate anyone informed about the Tamil culture. I constantly wondered how the research might have taken place. Made almost entirely by a non-native cast and crew, the producers might have sent the core team to Madurai for a recce. Having gorged on Idi-Dosa-Sambhar (while pronouncing them the North Indian way) at posh Saravana Bhavan equivalents, they might have looked at the jewellery and silk saree shops, taken strolls around the Madurai Meenakshi Temple where people show up in finery and mallippoo and, bam, you have the costume and production design graphed for a local rom-com.
The screenplay (Vivek Soni, Aarsh Vora) is presumably written by native Hindi and English speakers to later insert some Tamil phrases and words for that 'local' effect. Speaking about the story, Meenakshi Sundareshwar has none. It brings to us two well-educated, unemployed under 25 youngsters who are forced by elders to marry each other for bizarre reasons. To cook up a conflict, the writers put Meenakshi (Sanya Malhotra) and Sundareshwar (Abhimanyu Dassani) in different cities. The villain is the geographical distance between them and the latter's super-basic ambition to crack a decent job as a software engineer. I rolled my eyes at this predicament, and you would too.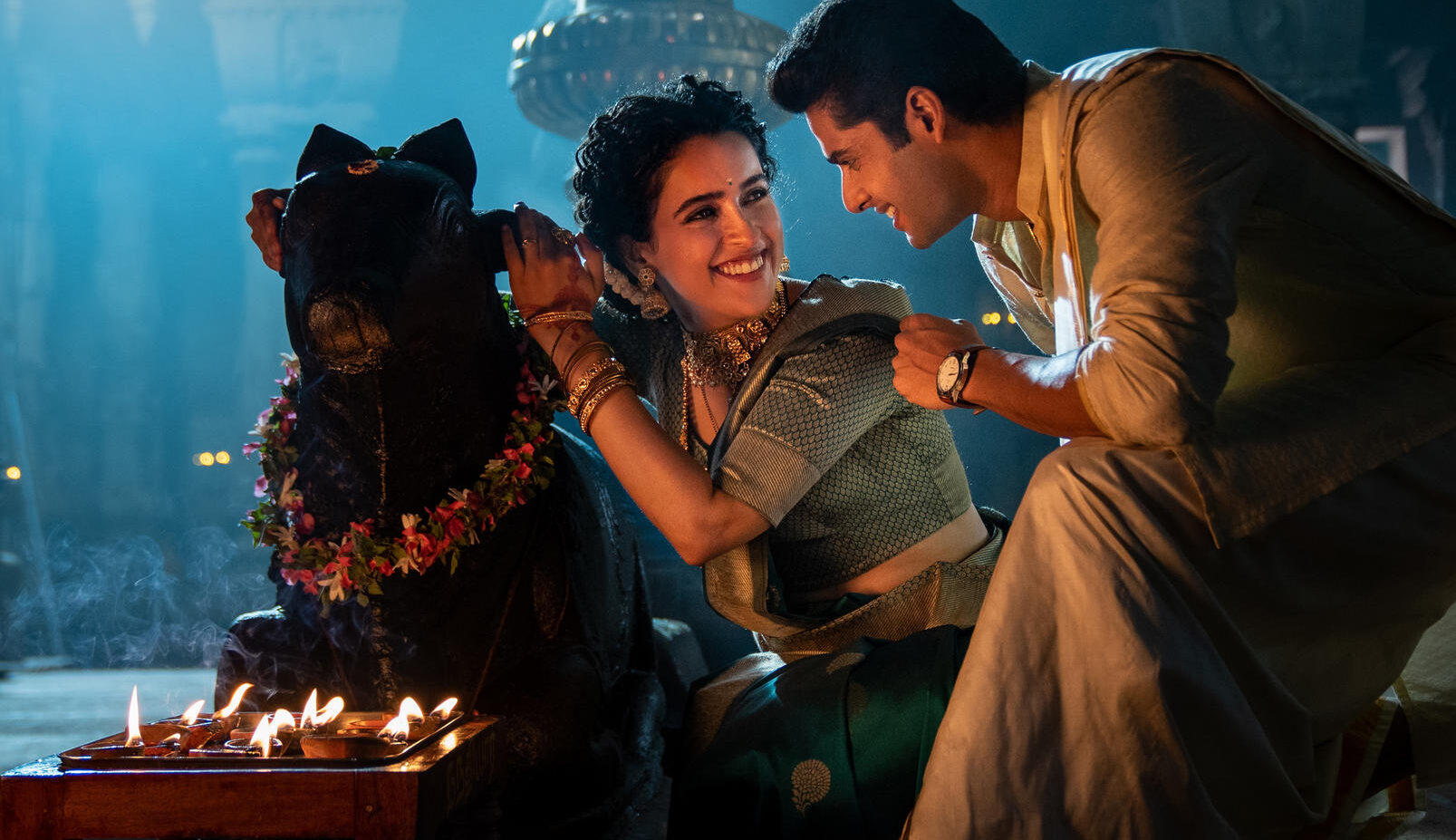 Meenakshi is a local Tamil girl who thinks it's okay to be called Minaakshi throughout the film by everyone including her husband. Why not get the spelling altered, in that case? Meenakshi idolises Superstar Rajinikanth but spells his name as Rajnikant. Isn't it offensive for any Thalaivar fan anywhere? She wears sarees with pleats perfectly in place and does not seem to have many friends. Her only friend seems to be a guy named Ananthan. Meenakshi and her folks eject a volcano of saliva while enunciating the syllable "th" in his name. It's the South Indian version of Anant, for heaven's sake. It hurt my ears and senses as the film embarrassed itself every running minute with weirdly draped veshtis (which they call lungi), Anna (they weren't referring to the Tolstoy classic), Kanna (there's a child in the story named Rasu sans the charm of his namesake in Super Deluxe), Naintara (referring to the actor Nayanthara), dosa ('do' of donkey and 'sa' of saree) and so on.
Meenakshi Sundareshwar is a rare film in which the entire cast is miscast. They take to the setup as an extended Pothys or Kalyan Jewellers ad minus Amitabh Bachchan, Sathyaraj, or Manju Warrier. Malhotra and Dassani are unable to generate any spark let alone formidable chemistry. The character quirks – like, say, her Thalaivar fandom – is painfully forced. "Main bhi Bangalore aajaun?" she coos continuously, dances on the road and in a cinema hall – always looking stilted. Sundar is asked to sport a constipated expression throughout and Dassani succeeds at it even as he tries to kiss his wife. I couldn't digest the logic of the couple's dilemma of not having enough time or space in their room to consummate the marriage. This is no Piya Ka Ghar and the story is set in 2021.
There are twists but they lack logic from the word go. It is unfathomable how Sundar, a smart coder, would have his mobile phone hacked by a housemate – just like that. The less said the better about his employer whose only job is to dive directly into his trainee's personal lives.  
The sole glimmer of positivity that I could pick in this godawful film is its resplendent soundtrack (Justin Prabhakaran, Raj Shekhar) which gets the mood of the locale as well as of a blooming relationship. "Mann Kesar Kesar", "Tittar Bittar" and "Tu Yahin Hai" would rank among the year's finest singles. It's a pity that they had to belong to this strange film. 
Lastly, the question is why a clueless film like Meenakshi Sundareshwar was funded in the first place. It has no plausible story, and its lead cast has no history of selling a film sans one. Its destiny is to end up as a strange specimen in the OTT spectrum as another Hindi film stereotyping and appropriating an alien culture to mind-boggling levels.
Rating: ★ 1/2
Meenakshi Sundareshwar is now streaming on Netflix.