'Love Sonia' review – Uncovers flesh trade and limitless human spirit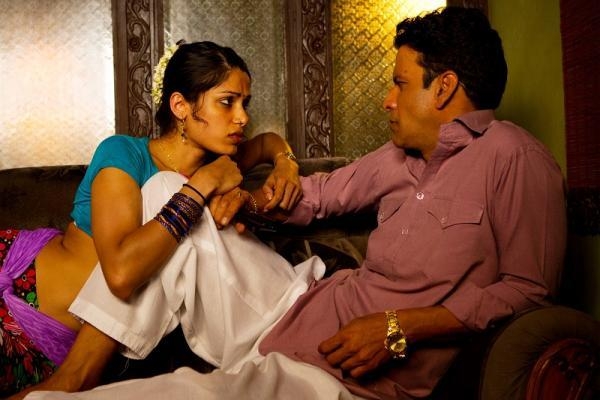 It is a difficult deal for films that attempt to picture the loss of innocence – especially where there are children and teenagers robbed of their basic right to be themselves. These stories agitate and sadden us while imparting what might simply be an uncomfortable social reality. Filmmaker Tabrez Noorani's Love Sonia chronicles one such tale where a spirited 17-year old goes in search of her sister who has been to trafficked to Mumbai.
Living a modest life in their village, little do Sonia (Mrunal Thakur) and Preeti (Riya Sisodiya) know about life outside their immediate locality. They are fascinated with the internet and are often seen curiously exploring the email facility in a dingy cyber café. Darker in complexion, Sonia purchases a tube of fairness cream only to be reprimanded severely by her penniless father (Adil Hussain). There is also a fleeting yet incessantly real romance between Sonia and her classmate, Amar. The writers (Ted Caplan, Alkesh Vaja) concisely establish the camaraderie between the sisters before Preeti is sold off by her father in exchange for a sum that might probably settle his debts. Adeptly paced, Love Sonia takes off once Sonia decides to go to Mumbai in search of her missing sister.
Clueless and brittle in more than one ways, what the writers successfully maintains throughout the film's runtime is Sonia's courage. As a film that records the plight of women who are trafficked, Love Sonia does not cut any new borders. The narrative trajectory is largely familiar and the viewers are demanded to root for its protagonist, come what may. It works significantly as Sonia is a likable character – with certain shades in her persona remaining unchanged despite enduring physical and mental abuse for a prolonged period. With supporting characters (Frieda Pinto, Rajkummar Rao) that reeks of familiarity, Love Sonia does struggle intermittently in maintaining its freshness. Still, we root for Sonia's journey to reconnect with her lost sister. The extended conversation between the duo towards the midpoint is heart-breaking and the scene that follows is further gruesome køb viagra. The film successfully sustains its tenor until it decides to become a semi-fairy tale towards the finale.
ALSO READ: 'Daha' review – Growing up in times of diminishing human worth
Talking about the last reels, Love Sonia subconsciously hints at the concept of the white saviour as we see the leading lady coming in contact with a kind American man. Followed by a series of similar incidents, the film proceeds towards a convenient yet somewhat satisfying climax. We see several characters from the first half making their returns and even in absence of notable spoken dialogue, director Tabrez Noorani boldly conveys the message. The final scene, in particular, is sensitive with a tinge of innocence, highlighting Sonia's endless optimism.
Shot luminously by Lukasz Bielan, Love Sonia makes excellent use of shadows as it reflects the protagonist's psyche in a seedy Mumbai brothel. By offering us a bird's eye view of the cities/villages that the film travels through, the film neatly projects the expanded canvas as well as the protagonist's emotions as she travels to unknown territories. One must also add that the recurrent flashback bits during scenes of extreme abuse do look a little old school and emotionally manipulative. Amongst the most nicely executed moments in the film is Sonia's fleeting encounter with a lodge owner who gives her what must have been the right advice. What follows leaves us dejected and also extremely puzzled upon delving into Sonia's mindscape. Didn't she ever worry about her own safety? Was her pursuit to find Preeti bigger than possible hazards that might await her in the big, bad city? How much grit did her fragile soul contain to endure a journey as hard as this? These are some questions that keep us intrigued until the last frame of Love Sonia.
Performances by the ensemble cast are unanimously topnotch. Mrunal Thakur in the principal role preserves her fragility as she brings to life some of the most complex emotions of Sonia. Manoj Bajpayee is menacing as the brothel ganglord and Richa Chadda is dependable as the fierce Madhuri who oddly transforms through the course of the film.  The rest of the cast members and a profound soundtrack by A R Rahman successfully make up for the unoriginality and predictable genre tropes that Love Sonia comfortable dwells in. It isn't essentially a tiring or unentertaining watch but at the same time, the film emanates a certain vibe of insufficiency and obviousness throughout, making it impossible to stay fully invested in the proceedings. For the rest, Love Sonia is an important film that deserves a watch purely for its golden intent.
Rating: ★★★ 
Love Sonia is now streaming on Disney+ Hotstar.