'Lipstick Under My Burkha' review – Brave film plants a ferocious slap on the face of patriarchy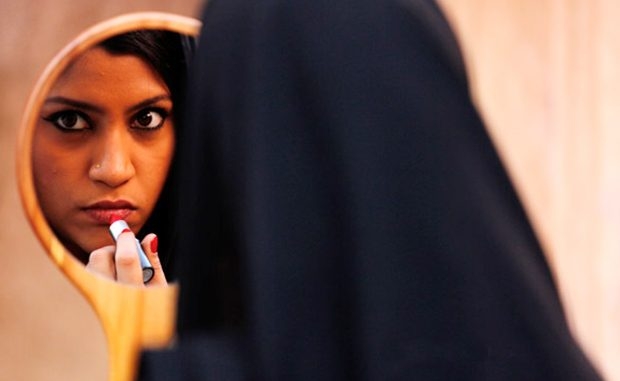 Read Time:
4 Minute, 29 Second
Rosy – She is the most liberated woman in Alankrita Shrivastava's confident Lipstick Under My Burkha. We never get to see her. Within a novel called 'Lipstickwale Sapne', that is India's answer to 'Mills & Boon', Rosy lives a surreal life – of love, independence and fabulous activity. Kitschy fiction aside, what happens when our leading ladies decide to dream a bit?
Based in Bhopal, Ushaji, Leela, Shirin and Rehana do not desire an exotic European getaway. They are about experiencing (rather) modest privileges that few in the society enjoy. Albeit connected, these women have discrete issues. Ushaji (Ratna Pathak Shah) is a fiery landlady. A tender, romantic side to her persona is unimaginable to many. Leela (Aahana Kumra) is passionate and doesn't think twice before filming her moment of privacy with beau (Vikrant Massey). Shirin (Konkona Sen Sharma) is the best performer in a vocation that is hidden from the rest of the world. Rehana (Plabita Borthakur) who loves her Miley Cyrus singles, shoplifts and flaunt sexy outfits, sneaks out to attend crazy parties. Still, when it comes to confronting the world in issues concerning their psyche, these women develop cold feet. Relatable much?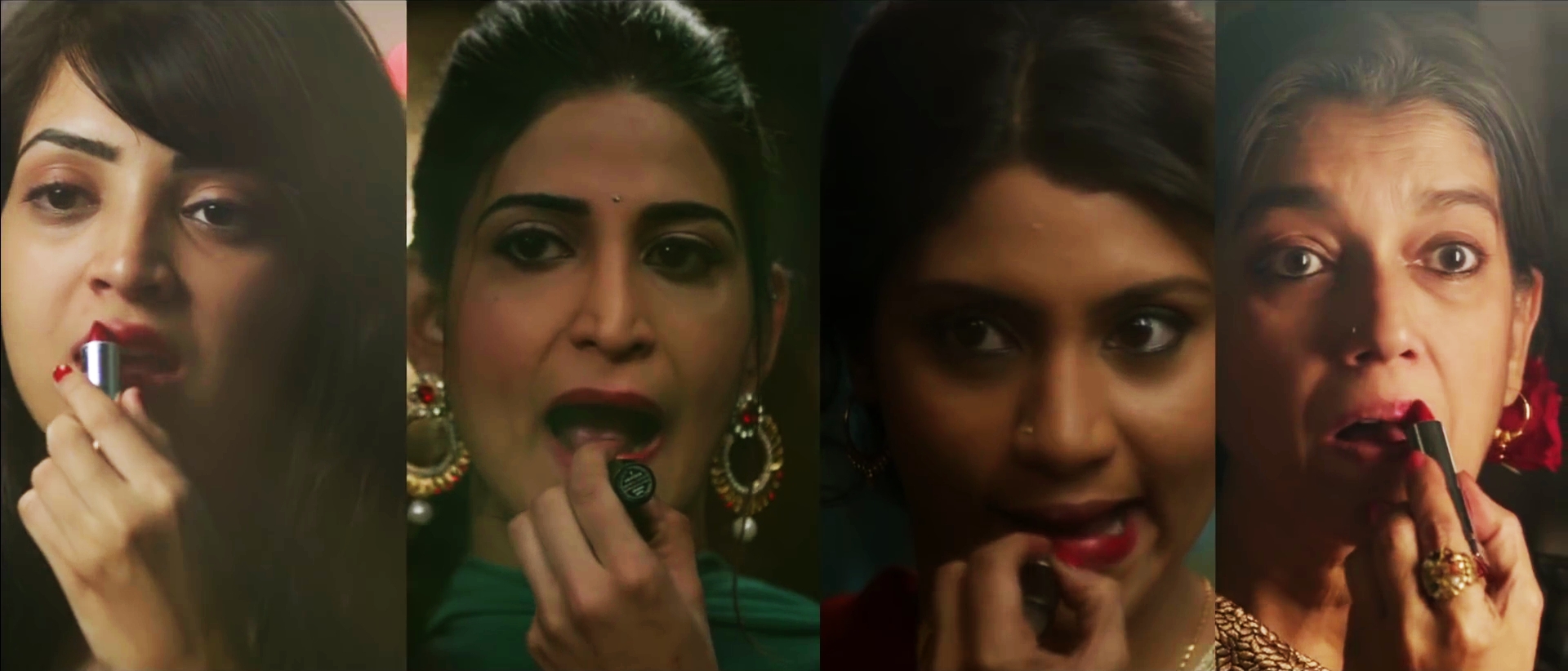 Brilliantly edited, women in Lipstick Under My Burkha are complex and earnest. They aren't one-dimensional flower pots. Having said that, rest of the women characters aren't white as milk either. Some of them form moral police in Ushaji's life, another woman indifferently dates a married man. Leela's mother is unapologetically selfish. Having lived a life of misery, she yearns for a comfortable abode. What if it came at the cost of her only child's happiness?
Lipstick Under My Burkha ­will be more comfortable a watch for men, through their privilege-tinted prisms as Shrivastava's male characters surprisingly lack layers. Jaspal uses his toned physique and charming ways to bed as many women possible. Dhruv is just another nonchalant youngster for whom girls are playthings. Aslam believes it is a woman's duty to look after the house and children besides being an inanimate bedroom object. Both men in Leela's life breed their own ideas on how a woman ought to be treated.
As the film concludes, you see Shrivastava making an articulate, uncomfortable statement. No dreamy resolutions or vague conclusions – just a statement. The film shuts shop at a juncture crucial for all protagonists. How will their lives will transpire the morning after? Your guess will be as good as mine.
All of it doesn't make Lipstick Under My Burkha a fully flawless feature. Rehana's status quo with friends don't convince us one bit. Her inclusion to Namrata's gang, the affair (with the very stiff Shashank Arora), the deceit – all of which seem a bit far-fetched. Also, Leela's story, in parts, seem like a take two on Band Baaja Baaraat. Aahana Kumra's resemblance to Anushka Sharma doesn't help much either.
Barring minor hiccups, Alankrita Shrivastava's film, however, is a gigantic win. As an element signifying liberation, lipstick is a wonderful metaphor. No, this isn't a Muslim liberation tale (thankfully). The burkha in question is a sublime reference to oppression. The writer-director addresses issues like religious conservation, poverty, moral policing, male privilege, passionless sex, age appropriation, campus pregnancy, overcrowded households and more in a matter of 2 hours. Among other smart touches, we have two of our protagonists confronting their partners. Leela does so by making out with her fiancé. Shirin, on her part, turns up at Aslam's girlfriend's residence to deliver a knockout one-liner. Two different women, same intent, different gratifications. The former reaches a resolve while the latter attains peace of mind. Another interesting aspect is how the writers unabashedly embrace the sinful idea of female gaze. No, Shrivastava's protagonist (Pathak Shah) is no vamp or a ditzy second lead. Unlike Aishwarya Rai Bachchan in Jodha Akbar, she isn't all lady-like and poised either. Remember Sachin Kundalkar's ballsy women in Gandha and Aiyyaa? Ushaji is one amongst them.
Shrivastava's script lets her female actors breathe and how. Ratna Pathak Shah is a revelation as Ushaji. Brash, gutsy yet tender in matters of heart – she brings alive the brash landlady's veiled emotions to perfection. One must owe it to Konkona Sen Sharma for looking unimaginably real – doing the most mundane things like eating or taking a shower. She is extraordinary as the enterprising salesgirl who is reluctant to reveal this 'parallel life' of hers to her husband. Plabita Borthakur plays the curious Rehana to perfection while Aahana Kumra is quite does firebrand act with dexterity. The male cast is equally efficient. Special mention to Vikrant Massey and Vaibhav Tatwawadi who shine in relatively better written parts.
The director's debut Turning 30!!!, though dipped in an ocean of clichés, had an inherent uprightness. Watch Lipstick Under My Burkha to see how Alankrita Shrivastava comes of age in terms of sensibilities and overall filmmaking style. Helped by quirky writing and fearless execution, an assortment of everyday characters, noble intentions and brave performances make Lipstick Under My Burkha eminently watchable. And yes, the film unashamedly plays to the gallery often – keeping you hooked all through. Fair deal for a so-called women empowerment flick.
Rating: ★★★ 1/2
Watch the official teaser trailer here: