L'Avenir (Things To Come) – Perfection, thy name is Isabelle Huppert!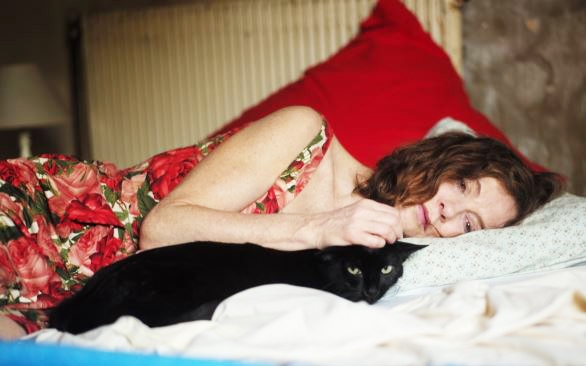 How uneasy will it be if a film expects its powerful lead performer to 'rescue' it? That is precisely the case with French filmmaker Mia Hansen-Løve's inert drama L'Avenir (Things To Come).
Helmed by the magnetic Isabelle Huppert, the film comes off as intellectual. Playing a philosophy teacher, Huppert's Nathalie lives a habitual life. It is incredible how the film opens with a great scene where she discusses music and its visual quality with her husband. The initial delight soon veers off as the film dives into overwrought, inane conversations that, in the pretext of being scholarly, adds nothing to the narrative.
L'Avenir finally takes off when Nathalie's husband Heinz demands separation. "I thought you would love me forever", sighs Nathalie stunned by life and its fickleness.  There's also an interesting character in picture – Nathalie's demanding aged mother. Situations fall such that Nathalie loses her mother to death. With children having parked their lives in place, she discovers freedom at the most unexpected juncture.
Sequences are crafted such that they come till the very orbit of touching your heartstrings and withers away, right there. Anyhow, the writing isn't completely bland. We see the philosopher in Nathalie react with great spontaneity to some of the most natural events in life. When she breaks off from people, she leaves a bit of her soul in their worlds. The garden in her husband's ancestral home and her beloved cat Pandora with her ex-student Fabien. In yet another powerful scene, her publishers inform her, "The future stands compromised". It was only a couple of scenes earlier her students from the high school placed her an "offer" to be a columnist on their website.
Smartly enough, Nathalie's bond with Pandora is metaphoric to her real self. Initially allergic, she becomes acquainted to the chubby animal, grows up to adore her, pines when she goes away for a while and later gives her away minus any repentance. The events that lead to its rather touching finale is well-thought of.
Having said that, L'Avenir still falls short of being a brilliant feature primarily because the writing isn't self-reliant. The film tries to play safe with quotes from philosophers, all of which tends to jar after a while. This way, the screenplay is largely one-sided as Nathalie's issues are blatantly under-told.
The pillar that keeps the film firm on its foundation is Isabelle Huppert whom we know is one of the finest actors in the world. However, the actor is saddled with some of the most inane scenes possible. The cinema scene with a stalker will have us appalled. We don't need to be reminded on how desirable Huppert is, do we?
Still quite a watchable fare, director Mia Hansen-Løve's semi-autobiographical L'Avenir could have been a lot better. From the maker who gave us a gem called The Father of My Children, L'Avenir is nothing extraordinary.