Raise your hands, if you love Jaan-e-mann's music…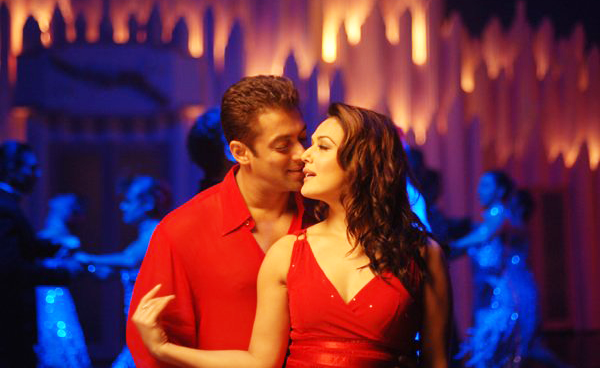 Shirish Kunder's debut directorial venture Jaan-e-Mann released during Diwali 2006. The film's soulful soundtrack was set to tune by maverick composer Anu Malik with words penned by veteran lyricist Gulzar. Jaan-e-mann had two of our macho heroes court the beautiful leading lady in grandiose. Pitted against another biggie flick, where a traditionally love-struck star tried his hands at a racy action remake, Jaan-e-mann sort of lost the plot. 
Coming back to the OST, it is sheer pleasure when Anu Malik joins hands with Gulzar – for the reason that all their collaborations resulted in a collection of brilliant songs. Jaan-e-Mann, thus, is no ordinary album. The film was a musical where songs played an integral part in the narrative. The songs contributed in taking the story forward. For an album conceptualized and constructed with utmost care, laurels that it won upon releasing the album was predictably immense. But as Bollywood legends go, if a film falls like nine pins (for whatever reasons) at the box office, so does its soundtrack.
Songs of Jaan-e-man saw several experiments – be the melody, the production or the lyrics and, hence, it deserves to be heard much more! Let's have a revisit…
Hum Ko Maaloom Hai


Singers: Sonu Nigam, Sadhana Sargam
The Broadway musical-styled number is no less than a magnum opus in itself. The melody, instrumentation and the words scream grandeur from every angles. In a song that tells us the love story of our estranged leads, the lyrics aren't gibberish. It narrates exactly what we see on screen – so much so that visuals aren't really necessary there. The usage of regular English words did come under scanner upon release but was indeed functional for a film set in the United States.
"Mom maani nahi…
Dad naaraz tha…
Meri barbaadiyon ka wo aaghaz tha
Ishq ka ek hi ek andaaz tha
Wo naa raazi hue
Hum bhi baaghi hue … bekaraar hum faraar hogaye…"
The clever blend of English, Hindi and Urdu words prove us why Gulzar saab is the legend he is.
"Main pareshan hoon ek majboori par
Hoga gham jaankar… Saath hoon main magar…
Mujhko rehna padega zara doorie par
Sirf do hi mahine hai seh lo agar
Mera future hai teri kasam…
Mera future hai isme Piya…"
Can a lover's request be any more polite? Sonu Nigam's pronunciation makes 'future' sound almost like a chaste Urdu word! 😉 
The composition, too, leaves no stone unturned in lending the words a tint of magnificence. Anu Malik deserves a massive bow, especially for the heart-breaking last one minute where the melody transforms itself into an opera-like piece – that is grand from the word go!
Could they have done without something? Well, Salman Khan's bland narration in the beginning. We should be fortunate that the song released a decade back or else Khan would have preferred 'singing' this himself…
 P.S.: Sadhana Sargam's pronunciation of the word 'Ishq' is out of this world.
Jaane Ke Jaane Na
Singers: Sonu Nigam, Sukhwinder Singh, Krishna
Remember Main Hoon Na and the very contemporary qawwali Anu Malik created in his characteristic style? Yes, Tumse Milke Dil Ka was a monstrous hit. While Jaane Ke Jaane Na doesn't really match up mostly due to the lower scale of picturization, it certainly is a work of class.
Sonu Nigam seem to be having the time of his life and Sukhwinder Singh belongs to this genre like fish is to water. Krishna also impresses with his refined vocals. Gulzar's saucy, playful lyrics renders the song all the more energetic.
Ajnabi Shehar


Singer: Sonu Nigam
A romantic solo. Urban, lyrical – what elevates the appeal of this song is its inherent simplicity. Be the choice of instruments or Nigam's supple rendition, Anu Malik's melody is fabulously easy of ears. The beautiful flute prelude and the simple guitar strums all through add a timeless lure to this romantic number. Gulzar love-drenched words are surreal to say the least. Sample this…
"Baat hai ye ek raat ki
Aap badalo pe lete the
Woh yaad hai aapne bulaya tha
Sardi lag rahi thi aapko
Patli chandi lapetey the
Aur shawl mein khwaab ke sulaya tha…"
Sonu Nigam, in his golden period, delivered this song with aplomb. He sounds effortless while scaling from low to high notes and, more importantly, his voice blends seamlessly with the orchestration. No surprises there since his partnership with Anu Malik earned rich dividends in past endeavours too.

Sau Dard


Singer: Sonu Nigam
Very few playback singers convey pathos like Soni Nigam does. This heart-breaking solo has Sonu in his elements, yet again. The composition is in the Humko Maaloom Hai and Ajnabi Shehar space with portions from these songs finding a place as interlude pieces. The generous use of flute is an absolute delight and so is Sonu Nigam letting himself go as he sings, "Ek tu hi nahi…." Gulzar's lyrics are simple yet solid. Sample this:
"Behta hai paani… behne de
Waqt ko yunhi rehne de
Dariya ne karwat li hai toh
Saahilon ko… sehne de
Sau hasratein par tera gham nahi…"
The track ends on a resplendent, operatic note similar to Humko Maaloom Hai thus leaving a massive lump in our throats. Sau Dard also appears in a club mix version which, too, makes for a great listen!
Udh… Jaana Bro


Singers: Adnan Sami, Kunal Ganjawala, Sunidhi Chauhan
This party number is quite the black sheep of the album. Not that this is a bad song as such. But, Adnan Sami's vocals doesn't really gel. He sounds more on the lines of his own Apne Jahaan Ke from Waqt and that's clearly not the space this one belongs to. Kunal Ganjawala does well and Sunidhi Chauhan is even better.
Kubool Karle
Singers: Udit Narayan, Rahul Vaidya, Amit Sana, Prajakta Shukre, Monali Thakur, Suzan
A situational song, that has Akshay Kumar proposing Preity Zinta, Kubool Karle is mostly an Udit Narayan outing. Rest of the voice cast  (except Suzan) consists of finalists from popular reality show Indian Idol and they do reasonably well.  The tune ranges from extreme slow to super-pacy while the lyrics are all-too-relatable considering Akshay Kumar's character in the film:
"Main usse ishq karta tha, woh mere sath padhti thi
Woh mujhse ruthi rehti thi
Na koi gaur karti thi, mujhe ignore karti thi…" 
Such innocence Udit Narayan croons it with! 
All said and done, Jaan-e-mann is one soundtrack that deserves much more love. These songs are in sync with the slow narrative and uptown theme of the film. Each of them have defined personalities of their own. While the composer-lyricist duo show excellent chemistry, the vocalists headed by Sonu Nigam do an incredible job too. Listen to the OST at Gaana.com: Jaan-e-mann!