'#Home' review – Malayalam family drama manipulates its way into your heart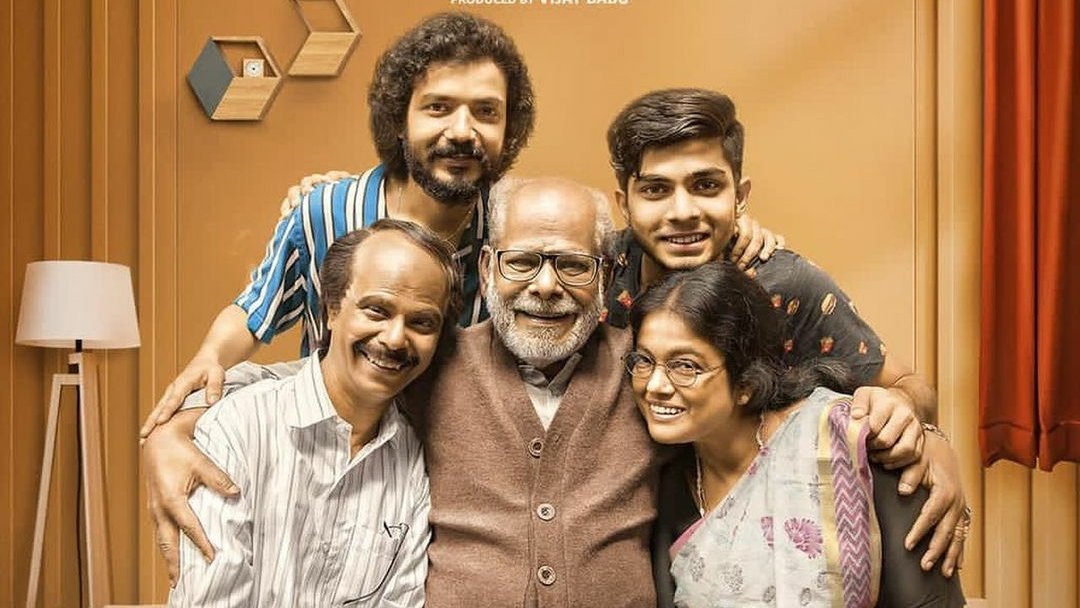 Director Rojin Thomas's Malayalam film #Home is an impressive case study. One that tells the story of a slightly dysfunctional family, the film cleverly masquerades as a neglected father's tale while slyly guilt-tripping his children. In the early 2000s, Sheela-Jayaram starrer Manasinakkare managed a similar feat but the Sathyan Anthikad film was not dexterous or crafty. It was in-your-face when it painted a black-and-white picture of evil children and an affectionate yet loud mother. In 2021, when we are plagued by the pandemic and more so by smartphones and social media, Thomas's film chronicles a similar family setup but the loyalties are shamelessly partial to its elderly leading man Oliver Twist (Indrans).
#Home is not necessarily a bad film. Its writing is abundant with several characters that you might see in your family. Thomas's filmmaking is on point at places where his writing is soggy and manipulative. The primary ambiance – that of a beautiful house with lush greenery around – is one that exudes the coolth of Kerala's rain-kissed landscapes and the warmth of an intimate family. That aside, the film startled me for the way it designs a one-dimensional trajectory where the father is eulogized to a near-godly stature whereas his filmmaker son Antony (Sreenath Bhasi) – despite his obvious shortcomings – is excessively villainized.
Indrans' Oliver is named after 'Oliver Twist' as his father used to work as a typist who translated western literary works. His siblings are named Peter Pan and Mary Poppins. Knowing how the system of naming children in Kerala goes, I wasn't surprised at this peculiarity. However, from an everyman point of view, Oliver's uniqueness ends with his unusual name. He used to run a VHS library which gradually went defunct as technology advanced. The expenses, as we learn, were managed by his wife Kuttiyamma (Manju Pillai) who worked as a nurse. In Antony's eyes, extraordinary is his to-be father-in-law Joseph Lopez (Srikant Murali), an achiever who recently penned an autobiography. Antony looks up to the man for reasons best known to him.
ALSO READ: 'Kumbalangi Nights' review – a sharply observed film that marks a sublime directorial debut
Oliver, in turn, looks up to Antony whose debut film was a superhit and had won the Kerala State Film Award. To him, Antony is perhaps a reflection of what he could never be – someone who has left a trail in the world and might go on to have a biography that would exceed a page. Oliver is constantly in touch with his girlfriend Priya (Deepa Thomas). The toxicity of the relationship is so much that it affects his creativity and he is aware of it. The film, instead of addressing this problematic factor, spends time exploring how he never cared for his parents.
It is understandable that Antony is an adult and is in a different frame of mind. Oliver is sensitive and communicative whereas Antony is brash and does not believe in reciprocating through words. In the bargain, the father begins to believe that he is not valued enough. In an important scene, Antony mocks Oliver on how his life has more or less been a listless one. He is rude and his sibling Charles (Naslen K. Gafoor) points it out. But, as we know, Antony is not the hero of the story. It is Oliver who wears that cape. The old man is aided by Rahul Subrahmanian's unimaginably melodramatic original score. You may literally play a drinking game on the number of times a severely manipulative tune erupts along with Indrans's sympathy-starved closeups.
From the surface, Oliver is broadly representative of fathers of his generation. His niceness can often be misconstrued as interference. He is technologically challenged and is someone who suppresses his emotions. But #Home childishly exposes some of his deficiencies. The prime twist in the tale is formed by a visit he makes to a film set where he meets a superstar named Vishal (Anoop Menon). The incident nearly ends up jeopardizing Antony's career. Although one cannot entirely put the father in the spot here, one wonders how easy would have their life been if the parents and children were to communicate. #Home, hypothetically, is that film where a character pleads, "Please listen to me," only to be yelled back, "No, I do not want to hear anything."
Piqued by his son's question about the extraordinariness in his father's life, Oliver once narrates one such incident to Antony who, in turn, scoffs off the story in disbelief. I, personally, enjoyed the sepia-tinted flashback episode despite its diabetic sugar quotient. However, the chapter nosedives in the most bizarre fashion in the final act. Rojin Thomas conjures up a Katha Parayumbol déjà vu when it was least required, and the film goes on to implement emotional blackmail in the most brazen way possible. This is no spoiler to enjoying the film but the son eventually learns a lesson (groan!).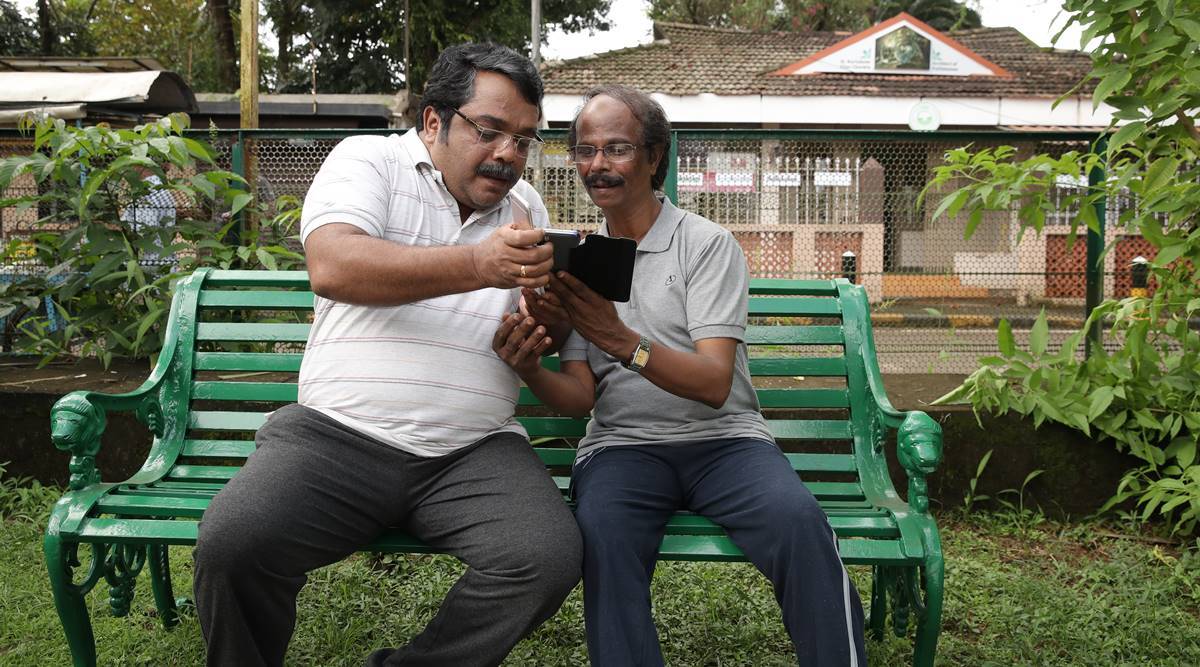 Among the bits that I could appreciate in the film are some of its secondary characters. If Manju Pillai plays Kuttiyamma with fantastic flair, Naslen K. Gafoor is a mega hoot as the disobedient yet somewhat affectionate younger son. Anoop Menon is sweet in a special appearance and so is Johnny Antony as Oliver's best friend Suryan. I could also observe the way Rojin designed Suryan's family network. His daughters address Oliver as Papa as a token of respect and the best friend owns great stakes in their family decisions. The converse is not true as Oliver's children are formal (or rather nonchalant) towards Suryan – something that the hypochondriac old man does not observe or care about. The film also comes with a formal lesson on the need to care for one's mental health where Dr. Franklin (Vijay Babu), a caricaturized version of Mohanlal's Dr. Sunny Thomas from Manichitrathazhu emerges out of nowhere. The episode is extremely dull besides adding unnecessary length to a film that takes a lifetime to make a small point.
For sure, I do not doubt the leads (Indrans, Bhasi) and their nuanced performances. It is just that the screenplay unintentionally exposes the cracks in their respective character designs. For starters, #Home refuses to address what it should ideally have – the need for open conversations in a household, the necessity to cull out a toxic romantic relationship et al. I get the film's good-naturedness when it calls out on smartphone addiction but the core problem in their network is not as simplistic as it appears to be. Rojin Thomas cuts no new grounds as a writer or a director with #Home. I remember enjoying his debut feature Philips and the Monkey Pen which belonged to a similar emotional, make-belief spectrum but felt way more organic. #Home, intentionally or otherwise, succeeds only in polarizing the relationship between two generations in a household with its unimaginably skewed plot.
Rating: ★★ 1/2
#Home premiered on Amazon Prime Video.