'Gulabo Sitabo' review – the story of a shaky mansion screams for a firmer foundation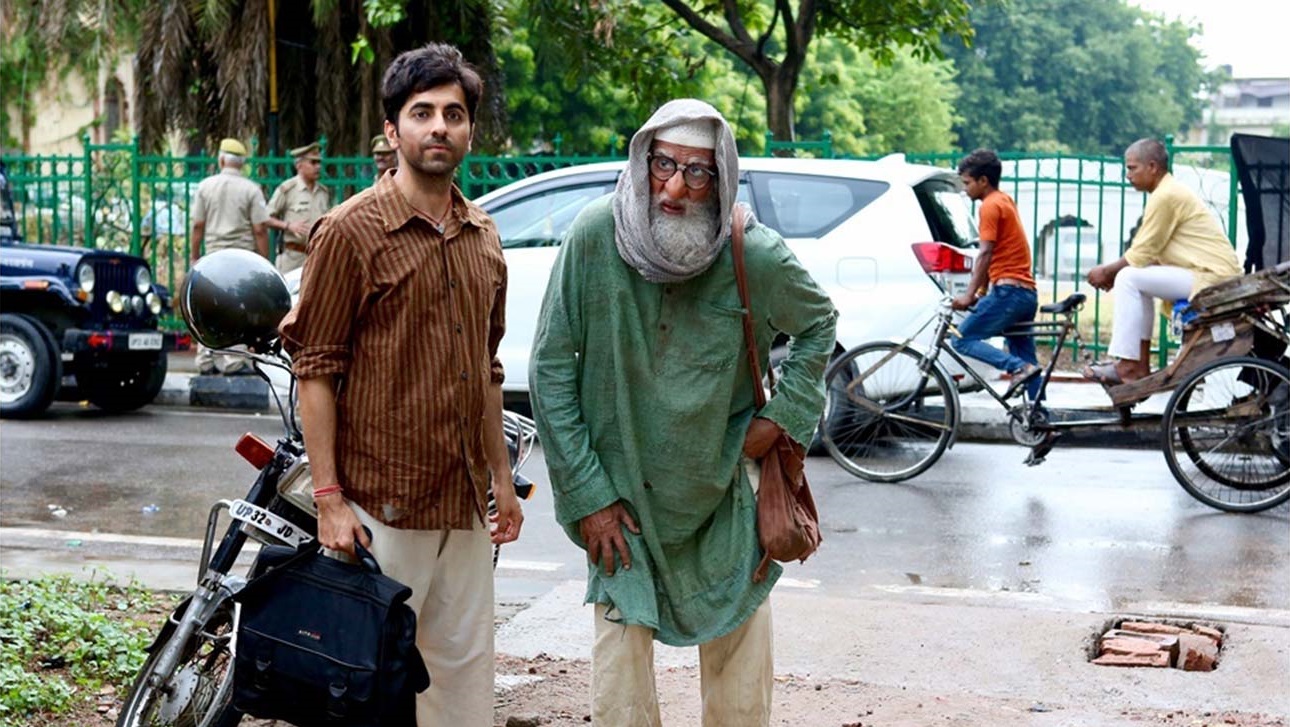 Read Time:
6 Minute, 54 Second
Gulabo Sitabo is a strange title for a film. It does not mean anything in isolation. However, it is catchy enough to pique some interest in an otherwise drab looking film. As the opening credits roll, we see a puppeteer showcasing his twin puppets, "Gulabo fights, Sitabo fights," The quarrel is never-ending, and it provides decent enough entertainment for the public to throw money at them. Once the show is over, Gulabo and Sitabo go back into the same box. Becoming an allegory to the puppeteer's act is the septuagenarian landlord Mirza (Amitabh Bachchan) and his short-tempered tenant Bankey (Ayushmann Khuranna). The entire first act is dedicated to their squabbles that are worse than Gulabo and Sitabo's. This episode eventually proves pointless. Why? Because Gulabo Sitabo is no Chalte Chalte in a landlord versus tenant mode.
The premise is straightforward. A man (Bachchan) marries a woman called Begum (Farrukh Jaffar), fifteen years elder to him when he was young enough to be called eligible. His eye was never on her, but always on the large mansion called Fatima Mahal that she owned. Now at 78, the man waited long enough to relish his dream mansion, all by himself. He calmly, ruthlessly awaits Begum to die. We do not feel an iota of dislike for the man despite his utterly nasty ways. Strangely enough, he is the character Juhi Chaturvedi's screenplay generates maximum empathy for.
Mirza's strong hate for Bankey is understandable. The youngster is rude and obnoxious. He makes no bones while insulting and harassing a man who could well be of his grandfather's age. Bankey has his share of problems too, which Chaturvedi's screenplay unevenly addresses. But of course, Gulabo Sitabo is hardly about him. Bankey stops being a catalyst of relevance after the first twist in the tale takes place. He breaks the brick wall of the mansion's common bathroom with a tight punch. Yes, a punch.
The rest of Gulabo Sitabo is about how Mirza gets closer to his dream of owning the mansion. He gets to battle the archaeology officer Gyanesh (Vijay Raaz). He understands legalities from an advocate called Christopher Clarke (Brijendra Kala). These are delightful characters, I must say, and they evolve way better than the main leads on paper. Gyanesh (Raaz), true to his name, is a messiah with false promises to make. One of his initial scenes has him peeping at the mansion from a giant tree nearby. He cannot easily climb down as he has arthritis. In a later scene, he refuses a kiss from a young woman. Why? Because he claims to have pyorrhoea. I smiled relating Gyanesh to Dil Dhadakne Do's Smita ji (Zarina Wahab). As for Christopher, he claims to 'ispeak' English at home. For food, he takes only lunch and dinner. It only helps how Brijendra Kala delivers his lines in that unique, bouncy style of his. These are characters that would belong to the Shyam Benegal universe of satire. Or closer to the present times, Vishal Bhardwaj and Abhishek Chaubey would have loved them in their films. Ditto for Farrukh Jaffar's marvellously enacted Begum. We do not who she is and what steel is she made of. She is bizarre and elusive – much like Bhardwaj's exotic Begum Para from Dedh Ishqiya but sans makeup and dance moves. Sircar's Begum is the most important element in Gulabo Sitabo and her actions would make the feminist in you proud. It is just that Mirza, Bankey and an array of secondary characters are not half as interesting as the aforementioned trio.
Juhi Chaturvedi attempts to address materialism without being judgmental of her characters' mindscapes. Fatima Mahal is as much of an ancestral home for Mirza as it is for his tenants who have lived there for decades. Chaturvedi's people comprise of a diverse bunch – some manipulative, some brash and some utterly naïve. The story, after a series of maha twists and turns, trickles back to Bachchan's Mirza. However, there isn't much feeling in Chaturvedi's writing that would make us belong to his immediate universe. The quirk is staggeringly put-on and Sircar-Chaturvedi team's inexperience in handling the satire genre stands glaringly exposed. Gulabo Sitabo fails to make us curious over its protagonist's tiny victories. It does not make us pine when the old man is left heartbroken. I felt as devoid of attachment as Mirza was to his wife when the need of the hour was to feel the way he did for Fatima Mahal.
Talking about the mansion, the makers are successful in establishing it as one of the film's strongest components and not as an ancillary prop. A massive chunk of credit goes to DOP Avik Mukhopadhyay who lovingly caresses the beauty of the mansion from all angles – so much so that we become curious about this physical structure's future as opposed to its inhabitants. The last time I remember connecting so strongly for a lifeless entity in a Hindi film was, perhaps, in Vishal Bhardwaj's Blue Umbrella. Lucknow's rustic, lived-in vitality comes out very well through Mukhopadhyay's frames as well as via the neatly done production design. The soundtrack by Shantanu Moitra, Abhishek Arora and Anuj Garg leave a lot to be desired even though the lyrics (Puneet Sharma, Dinesh Pant, Vinod Dubey) are somewhat telling. Nihar Ranjan Samal's sound design is a strong point that helps elevate the pandemonium at Fatima Manzil.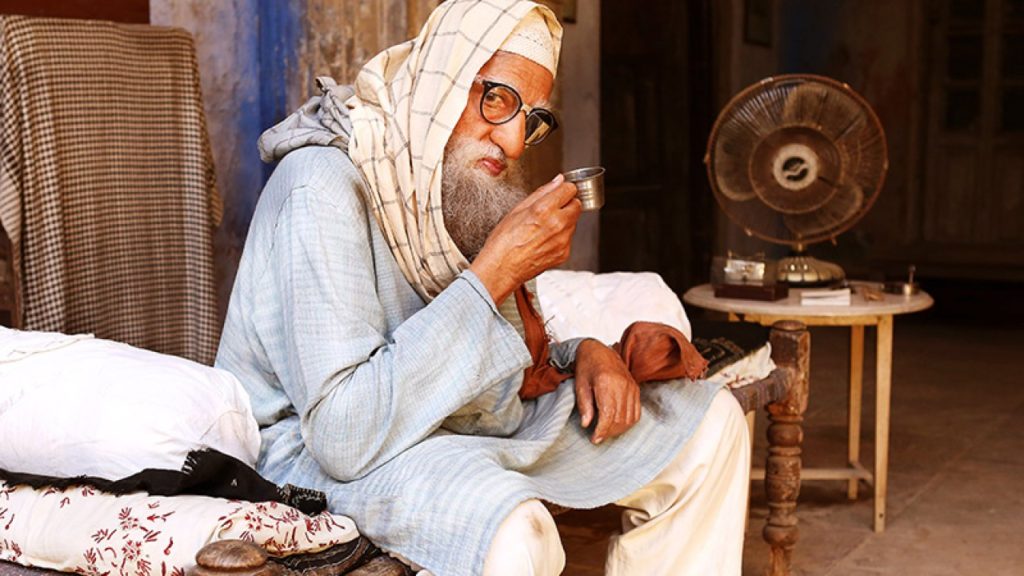 Lead performances are somewhat satisfying with Amitabh Bachchan appearing as a mellower version of his own self in 102 Not Out. There are a couple of passages where he is extraordinary and a few where he tries a little too hard – possibly to compensate some of the screenplay's needless add-ons. The actor who was in his elements in Sircar's Piku seems a little disconcerted in Gulabo Sitabo. I am not sure what could have caused it – the prosthetic makeup or the muddled writing? Ayushmann Khurrana is able in a part that doesn't really do much to his mettle. Of course, he does not get an issue to mull over here but, hey, there's not much meat in Bankey to work on. Khurrana flaunts a potbelly and gets the physicality mostly right but the character soon dissolves in the mayhem. There is a lazy side-track of him romancing a local Muslim woman which is, perhaps, an attempt to add layers but in vain. Also, I do not understand what must have been the brief given to the casting director. All I can envisage is – 'We need a young actor who fits the small-town bill'. Bang on, Khurrana gets hired right in.
Among the more interesting characters is Srishti Shrivastava's Guddo who outshines Khurrana in each combination scene of theirs. Confident and liberated, her make-out sessions on the mansion's terrace is so slickly visualized and performed. I didn't quite buy the angle where she shows up as Christopher's assistant but the actor's innate spunk naturally diminishes such minor mood-kills.
In Gulabo Sitabo, I could feel how the makers subconsciously try to marry the cinematic worldviews of Basu Chatterjee and Shyam Benegal. They might have flourished in the same period but I am not sure how the former's thoroughbred minimalism and the latter's quirky and often deeply philosophical themes would co-exist. The finale of Gulabo Sitabo, however, brings forth a pleasant déjà vu from erstwhile Shoojit Sircar – Juhi Chaturvedi films. That said, the inevitability of life was reflected in a far more effective fashion in, say, Piku and October. As for the brief chat that Bachchan and Khurrana have at this point, I could recite their lines way before they uttered them. Even the very final shot involving the stately green chair does not bring home the point as strongly as the makers want it to. The lyrics in the end credit song try to literally hammer down the message. If that were the method, I would rather have invested in a Madhur Bhandarkar film. Or is it too much to ask from what must have been an experiment for Shoojit Sircar?
Gulabo Sitabo is streaming on Amazon Prime Video.