The Los Angeles Asian Pacific Film Festival (LAAPFF), presented annually by Visual Communications (VC), Southern California's leading showcase for new Asian Pacific American and Asian international cinema, announced today the program for the 38th edition of the festival. The festival returns May 5th to 13th in Los Angeles and will feature an exciting lineup of in-person programming, along with virtual programming for our audiences at home in Southern California and beyond.
As Visual Communications premiere annual event, LAAPFF continues to build connections between peoples and generations through the amplification of Asian and Pacific Islander film, video, and media. The festival celebrates Asian Pacific American filmmakers and Asian international artists with profound, important and entertaining films and content from the new voices of cinema while honoring the legends and leaders who keep this cultural movement going forward. Important themes of representation, authorship, responsibility and ethics are at the forefront of content creation. This year's lineup provides incredible examples of those ideas and themes from Asian Pacific artists who are committed to excellence in cinema in America and around the world.

Wrong fully accused Chol Soo Lee goes to trian in a scene from Julie Ha and Eugene Yi's FREE CHOL SOO LEE. Photo courtesy Mubi/LAAPFF.
To kick off  this year's fest, LAAPFF will present an Opening Day lineup of films representative of VC communities and values – setting the stage for community-forward film festival. The lineup will include the LA Premiere of EVERY DAY IN KAIMUKĪ,directed by Alika Tengan, a new and important indigenous filmmaker from Hawaii. Anchoring the evening, LAAPFF will celebrate and introduce the world premiere works from the ARMED WITH THE CAMERA Fellowship. The fellowship  now in its 20th year, has shepherded the early works notable alums including Christopher Makoto Yogi (Director, I WAS A SIMPLE MAN),  Kristina Wong (2022 Lucille Lortel Awards Nominee for Outstanding Solo Show), Roxy Shih (Director, LIST OF A LIFETIME) and more.This year's cohort, who gathered during an unprecedented of era social distancing, produced 9 world premieres that tenderly touch upon community movement, family legacy, and ancestral connection.

From L:R – Peter S. Kim, Ally Maki and Hayden Szeto in a scene from Tom Huang's DEALING WITH DAD. Photo courtesy LAAPFF.
The 38th Festival edition will also present the LAAPFF Legacy Award to Mira Nair; The HBO Max APA Visionaries Short Film Competition; the SXSW Double Award Winner BAD AXE; Sundance Winner LEONOR WILL NEVER DIE; Eugene Yi and Julie Ha's timely Sundance hit FREE CHOL SOO LEE; the West Coast Premiere ofOMOIYARI: A SONG FILM BY KISHI BASHI (the renowned musician's directorial debut fresh from SXSW); the North American Premieres ofTHE ASSAULT,ARISAKA and the animated feature THE GIRL FROM THE OTHER SIDE; the Los Angeles Premieres ofMAIKA,WATERMAN, DEALING WITH DAD, DELIKADO,CROSSINGand STAY THE NIGHT; and the World Premieres of:ISTIKHAARA, NEW YORK; DAWNING; DIGITAL HISTORIES and80 YEARS LATER.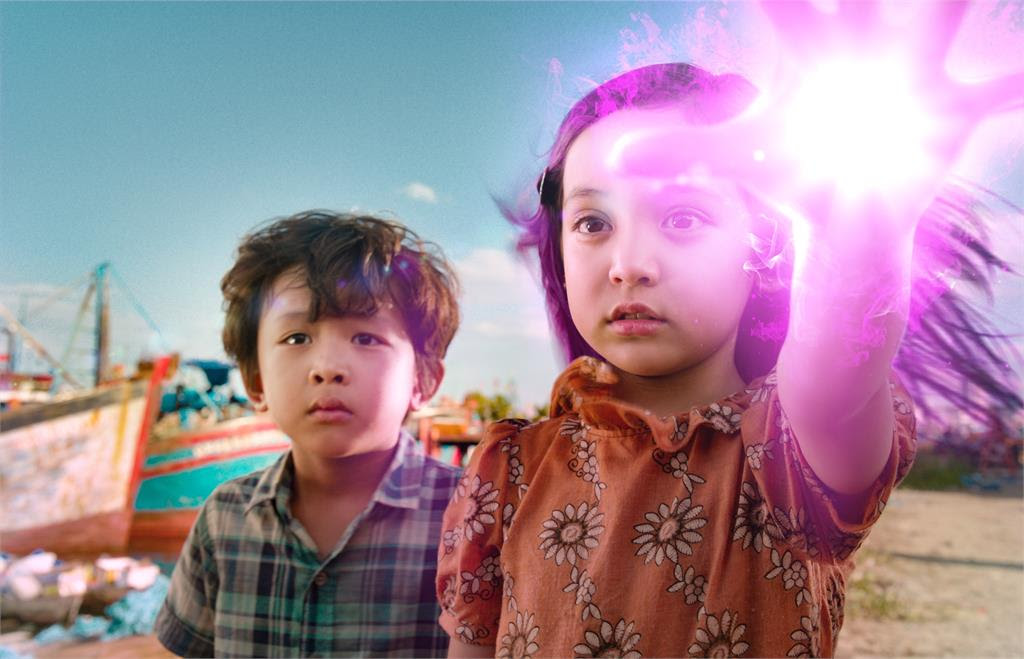 Children make the moment in a scene from Ham Tran's MAIKA. Photo courtesy LAAPFF.
"In our 38th edition, the Los Angeles Asian Pacific Film Festival continues to transform itself to reflect our ever-evolving artists and experiences," says Executive Director Francis Cullado. "In a time when our community is dealing straight up with anti-Asian Hate crimes, living through an uncertain pandemic, and adjusting to the ongoing global issues affecting all of us, our festival is instilling a sense of pride, respect and community through art and film. These stories connect us to one another and fill our lives with a sense of purpose. This year, we share a renewed collectiveness to inspire creativity and support collaboration, and the opportunity to gather and celebrate our histories and our lives from all corners of the world."
Tickets go on sale Friday, April 15th at 5PM PST to the general public. Complete details available at festival.vcmedia.org.
THE 38TH LAAPFF FESTIVAL HIGHLIGHTS
Opening Day Lineup
The festival will kick off May 5th at the Director's Guild of America Theater with a robust Day One line-up that includes:
●      The World Premieres of 
20th edition of Armed With A Camera
showcase, a fellowship for Emerging Media Artists to develop the next generation of Asian American, Native Hawaiian, and Pacific Islander artists to connect our communities through the power of our stories. Past Armed With A Camera fellows include: Christopher Makoto Yogi (Director, I WAS A SIMPLE MAN) AWC 2013 – MAKOTO: OR, HONESTY; Evan Jackson Leong (Director, SNAKEHEAD) AWC 2003 – SUCKERBALL 73; and Kristina Wong (2022 Lucille Lortel Awards Nominee for Outstanding Solo Show) AWC 2003 – BEAT THE BUS.
●     The Los Angeles Premiere of Alika Tengan debut feature  EVERY DAY IN KAIMUKĪ following its World Premiere at this year's Sundance Film Festival.
●      Anam Abbas 
THIS STAINED DAWN
, a powerful look Karachi's feminists who organise a woman's march, coming up against Pakistan's state, media and radical religious right;
●      And a special showcase featuring the Visual Communications archive, anchored by the early works of Robert A. Nakamura.
From L:R – Rina White and Naz Kawakami in a scene from Alika Tengan's 
EVERY DAY IN KAIMUKI
. Photo courtesy LAAPFF.
 Centerpiece Weekend

The festival continues at the DGA Theater with the Centerpiece Weekend featuring:
●      The North American Premiere of Adilkhan Yerzhanov's 
THE ASSAULT
, fresh from its World Premiere at IFF Rotterdam and the first film from Kazakhstan to screen at the festival.
●      New feature filmmaker David Siev's SXSW Audience Award and Special Jury prize winner 
BAD AXE
, a moving look at his in a rural Michigan, as they now fight to keep their restaurant alive in the face of a global pandemic, racial reckoning, and generational scars from the Cambodian Killing Fields.
●      Festival alum Tom Huang's family dramedy 
DEALING WITH DAD
starring Ally Maki, Hayden Szeto, And Peter S. Kim.
●      First time filmmakers Eugene Yi and Julie Ha's Sundance sensation 
FREE CHOL SOO LEE
 focusing on the story of a Korean American death row inmate convicted of a 1973 Chinatown gangland murder in San Francisco, and the activists who led a pan-Asian American movement to free him .
●      Award winning director Ham Tran's Vietnamese sci-fi kids adventure 
MAIKA. 
When a meteor falls to earth, 8-year-old Hung meets an alien girl from the planet Maika, searching for her lost friend.
●      Fresh new feature filmmaker Martika Ramirez Escobar's Sundance Special Jury Winner 
LEONOR WILL NEVER DIE
.
●      Emerging filmmaker Renuka Jeyapalan's debut feature 
STAY THE NIGHT
 will screen following its World Premiere at SXSW.
The Siev sisters in their family restaurant in a scene from David Siev's award-winning 
BAD AXE
. Photo courtesy LAAPFF.
Additional Festival Highlights

●      The LA Premiere of WATERMAN, Isaac Halasima's look at Native Hawaiian and surfing icon Duke Kahanamoku, narrated by Jason Momoa.
●      MSNBC Anchor Richard Lui's latest film HIDDEN WOUNDSwhich profiles three families at the intersection of mental health and caregiving.
●      The West Coast premiere of DELIKADO, an environmental thriller on how corrupt corporate and political interests are swallowing small Indigenous communities in the Philippines, and across the globe.
●      Young Min Kim's narrative feature debut DAWNING, a chilling psychological thriller.
●      Special Presentation of FRAN ROCKSTAR!, a retrospective of short films celebrating one of VC's beloved veterans of the Digital Histories program, Frances Ito, Ito who will celebrate her 90th birthday this year, will also celebrate the world premiere of her 12th film at this year's fest.
●      The LA Premiere Don Josephus Raphael Eblahan's THE HEADHUNTER'S DAUGHTER, winner of the Sundance Short Film Grand Jury Prize.
●      The latest film from acclaimed Philippine director Mikhail Red's – the revenge thriller ARISAKA – which follows a policewoman who has to retrace the route of the Bataan Death March to escape her captors.
●      The LA premiere of BUSAN, 1999,  a drama from Thomas Percy Kim that follows a Korean-American woman return to her mother's rustic home.
●      Deann Borshay Liem's CROSSING, which looks at a group of international women peacemakers sets out on a risky journey across the demilitarized zone between North and South Korea.
●      Acclaimed musician Kishi Bashi explores the legacy of Japanese American internment through his music in his directorial debutOMOIYARI: A SONG FILM BY KISHI BASHI, co-directed with Justin Taylor Smith which premiered at SXSW.
●      Legacy Award presented to Mira Nair, which will include a Special Anniversary screening of SALAAM BOMBAY!, her acclaimed breakthrough feature film.
●      The North American premiere of the animated feature THE GIRL FROM THE OTHER SIDE, adapted from a manga series by the same name and directed by Yutaru Kubo and Satomi Maiya.

Musician/filmmaker Kishi Bashi in a scene from his film OMOIYARI: A SONG FILM BY KISHI BASHI – Photo Courtesy LAAPFF
The LAAPFF Legacy Award to Mira Nair

This year, the festival will uplift Mira Nair as a pioneer whose storytelling has received industry and critical acclaim, and raised visibility for South Asian narratives.  LAAPFF is delighted to present this year's LAAPFF Legacy Award to director Mira Nair for the way her nuanced narratives reflect an authentic family voice and prompt critical reflection. LAAPFF audiences can watch a Special Presentation of Nair's award-winning feature SALAAM BOMBAY! on the big screen. Additionally, virtual audiences at home can watch an artist conversation with Nair.

Chanda Sharma in a scene from Mira Nair's SALAAM BOMBAY!. Photo courtesy LAAPFF.
World Premieres at LAAPFF

LAAPFF is also honored to host the World Premieres of the following films:
●      Yasir Masood's narrative feature debut ISTIKHAARA, NEW YORK which follows Reza, an artist and Brooklyn transplant, Babbu, a recent immigrant and revolutionary from Delhi, and Rahul, an aspiring Imam and crony capitalist, finding themselves in an America where they are ever the more important but feeling even more looked over.
●      The stylish action thriller ALL I WANT IS EVERYTHING, from director Alexandra Cuerdo.
●      80 YEARS LATER, from Celine Parreñas Shimizu, which captures how families continually grapple with the legacy of Executive Order 9066 which imprisoned Japanese Americans in World War II.

A scene from Yasir Masood's ISTIKHAARA, NEW YORK which will World Premiere at the festival. Photo courtesy LAAPFF.
HBO Max APA Visionaries

The HBO Max APA Visionaries Short Film Competition (established in 2016) returns for a special showcase that once again provides a platform for emerging filmmakers to share their unique and diverse perspectives of the Asian and Pacific Islander community. Now in its sixth year, APAV serves to showcase cinematic storytellers of AAPI descent, awarding the top three winners with cash prizes and the opportunity to have their projects premiere on HBO Max following their theatrical screening at the 2022 Los Angeles Asian Pacific Film Festival.
Since 1983, the Los Angeles Asian Pacific Film Festival has presented over 5,000 films, videos, and digital media works by Asian & Pacific Islander artists, and features seminars, panels, in-person guest appearances, and filmmaker awards. The Film Festival continues to be the largest festival of its kind in Southern California and is the premier showcase for the best and brightest of Asian Pacific cinema.
The Los Angeles Asian Pacific Film Festival is a proud Academy Award®-qualifying film festival for Short Film Awards. Recipient(s) of the Film Festival's Golden Reel Award for Narrative/Animated Short Film will be eligible to submit in the Animated Short Film/Live-Action Short Film category of the Academy Awards®.
###
Los Angeles Asian Pacific Film Festival | May 5 – 13, 2022
festival.vcmedia.org
#LAAPFF2022