"Fanney Khan"… Listless music and sketchy characters mar this well-meaning family fare!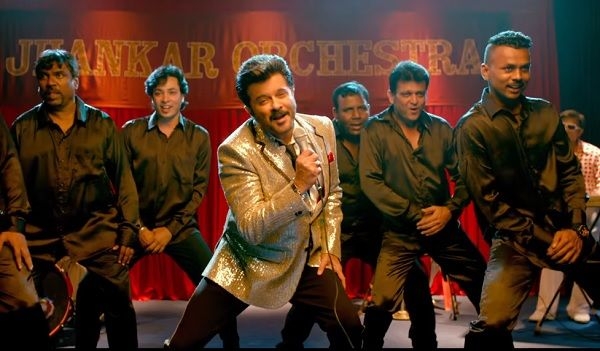 Debutant filmmaker Atul Manjrekar's Fanney Khan is the official adaption of a Belgian film titled Everybody's Famous! Both films chronicle an episode where a commoner kidnaps a celebrated pop star to let his teenage daughter's dream come true. For a nation like India where there exists no independent music industry, we might end up questioning the protagonist's (Pihu Sand) dreams right at the outset. What does she aspire to be? A playback singer, a reality star or just someone famous – it isn't quite clear. Yes, we see her idolizing Baby Singh (Aishwarya Rai Bachchan), the reigning songstress whose singles hit historic download numbers the day they are out. It is just that these characters on the surface are relatable while their aspirations, conflicts and the social sphere they belong to are not.
Fanney Khan, however, is less about of the above-mentioned characters. Playing the title role, Anil Kapoor's Prashant Sharma is an ex-orchestra performer whose dreams to become a singing star never really soared. Like every Indian parent, Prashant vows to make his wishes come true via his daughter, who is (unsurprisingly) named Lata. Furthermore, we witness how Lata turns into a victim of fat-shaming which prevents her musical career from taking off, besides crippling her confidence levels. Now, this is a sensitive and extremely relevant subject, which the film handles with pronounced shakiness. The hiccup lies in the fact that, like every other Bollywood film, Fanney Khan attempts to hit the extremes. The world that it paints is either goody-goody to saccharine sweet levels or scheming and manipulative to the hilt. We see Lata being bullied to unfathomable limits in public while her parents and friends are oblivious (or are in denial) to why it is happening. Lata, on the other hand, is projected more as a starry-eyed youngster as opposed to someone whose life revolves around music. The unexplored status quo between Lata and her father seems intentional but the way their relationship trajectory evolves towards the finale is not convincing either. Lata's bonding with her mother Kavita (Divya Dutta), who is more of a realist, works significantly well, in comparison. Even as a wife, Kavita's stances and reservations stem from a pragmatic point of view, making the character amongst the film's finest.
Emerging from an already superficial space, Fanney Khan has two more pivotal characters to tend to. Baby Singh (Rai Bachchan) is the classic babe-in-the-woods celebrity who develops a bizarre attraction towards her fumbling captor Adhir (Rajkummar Rao). Not a pure case of Stockholm Syndrome, Baby's transformation to a normal person in Adhir's presence is not as simple to digest as the film wants us to. It doesn't help that her character sketch is patchy, as are her interactions with the people around her. Baby is that generically penned starlet who gets a high when someone addresses her by her real name. That way, in every sense of the word, Baby Singh is one who seems to have landed up from a different era and, maybe, even another geography. Equally cosmetic is her sudden attraction to Adhir for reasons that are unexplained.
With music (Amit Trivedi, Tanishk Bagchi) forming its backbone, it is appalling how a majority of the film's musical numbers are bland remixes of yesteryear hits. Barring the climactic song ['Tere Jaisa Tu'], the soundtrack fails to ignite any interest in the proceedings. Tirru's cinematography balances gloss with the functional lives of Bombay's middle-class. Dialogues are inconsistent, especially with the Hyderabadi dialect that Prashant intermittently breaks into. Production design is a tad bit overdone, particularly with the weirdly lit interior space where Baby Singh is kept hostage.
Performances, too, are not anything that we haven't watched so far from the actors in the film. Anyhow, Anil Kapoor pitches in yet another fine-tuned act making Fanney Khan a likeable human being and the film a sunnier one to sit through. Divya Dutta does the mother's part to perfection and is top-notch in the scene where she confronts her daughter. Aishwarya Rai Bachchan and Rajkummar Rao pass muster. Debutante Pihu Sand is a fine actor and her lip-syncing skills are on point.
On the plus side, Fanney Khan is high on emotional quotient. Helped by a bunch of able performances, the conventional approach succeeds in making the film marginally entertaining. It is just that the film's superficiality becomes an easy obstacle in knitting is myriad and disconnected issues onto a solid backbone. The character sketches are uneven and so are the solutions to their enormous issues. With important legs like music not working, it is quite unsurprising how Fanney Khan ends up a well-intentioned fare which could have been a lot more.
Rating: ★★ 1/2