"100-crore films should not evaluate Keralites and their taste for cinema!" – Dr. Biju | Interview at IFFI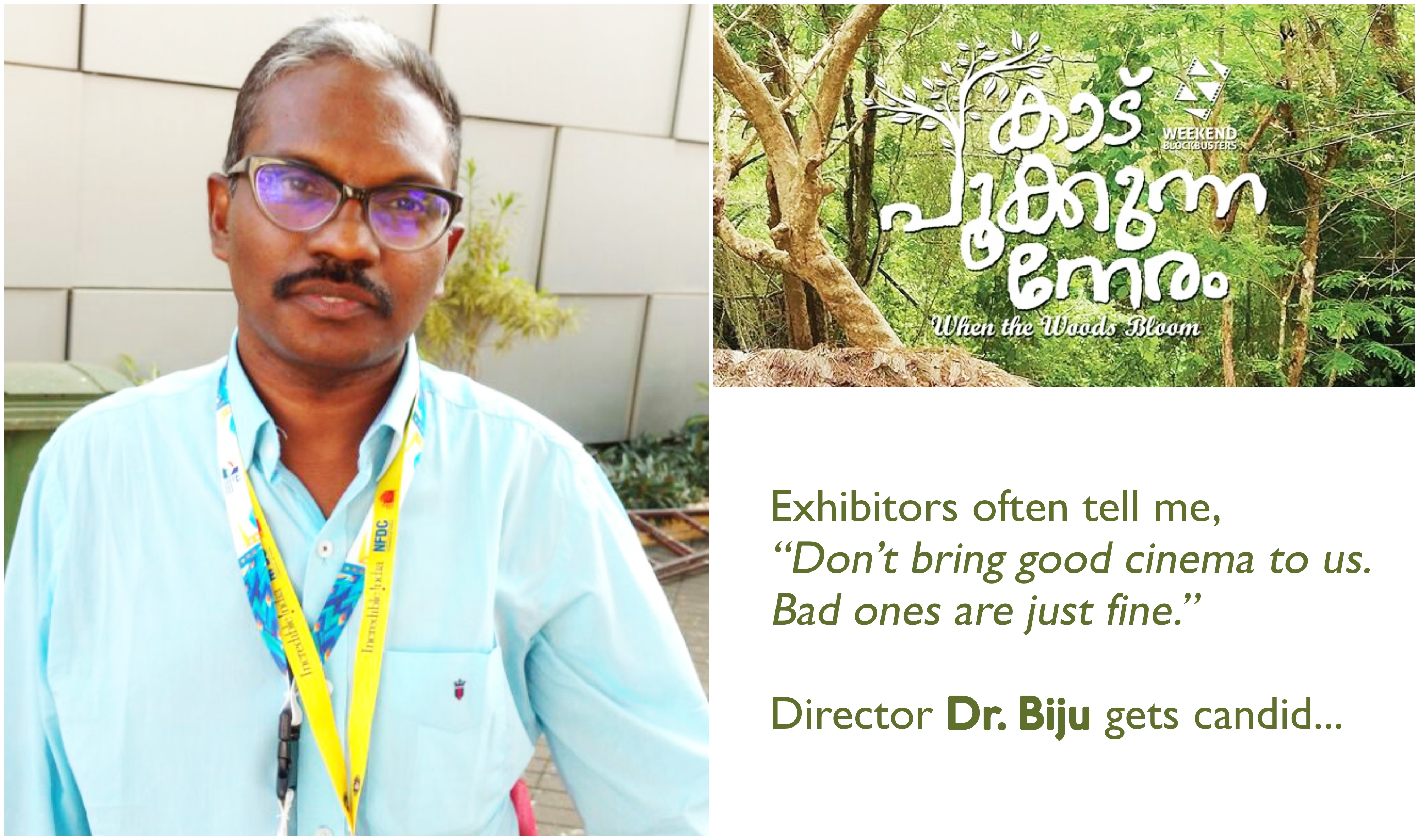 Dr. Biju is one of Malayalam cinema's prominent filmmakers when it comes to cinema with strong social messages. No wonder, many of his films went on win national and international honours. His latest film Kaadu Pookkunna Neram starring Indrajith and Rima Kallingal is no different. Screened at 47th Indian Film Festival of India under 'Indian Panorama', the film just embarked it long tryst with festivals of great repute. Excerpts from a short chat with the extremely affable, outspoken filmmaker…
Your films are known for their incredible social commentary. Many of them made way to IFFI Goa over the years. What do you think gives IFFI an edge over other film festivals?
IFFI is a huge national platform. To get selected into its Indian Panorama is a great achievement. Usually, the Panorama screens only the best of cinema made in that year and I feel privileged to have my film selected. Being such a majestic platform, cinema lovers attending the festival from different parts of the country can enjoy quality regional cinema here.
Film festivals, at large, seem to be opening up to mainstream cinema – ones with big stars and commercial elements. What do you think about this development?
I would disapprove of this move in a way because I feel festival panoramas ought to focus on experimental cinema. These are the ones with ability to make the nation proud on international platforms.
What is your take on Malayalam cinema's commercial scene? Now that we have Pulimurugan entering the 100-crore club…
See… Pulimurugan entering the 100-crore club creates a misconception on Malayali audience and their perceived taste. It, somehow, underlines dwindling standards of Malayali cinegoers. Pulimurugan isn't a film that should have been in 100-crore club. Similar films were made in Telugu and Kannada film industries and have played successfully in Kerala too. Why imitate them? There are several good films that deserve limelight and audience. With all wrong films setting 'standards' in the industry, I don't see us going any forward in near future.
You never mince words and hence been controversies' favourite child. Recently you criticized a veteran filmmaker's new venture starring a superstar pair. Do you feel the fear of being ostracized by industry insiders?
No, I don't have any such fears. If I have an opinion, I will make sure to express it my way. I make my kind of films. If I have producers and actors who trust me, I don't need to worry about anything else. Also, I feel we need to be more open in the industry.
Prithviraj, Navya Nair, Indrajith, Rima Kallingal, Kunchacko Boban – You have worked with a good number of mainstream Malayalam actors. How do you cast for your films?
It is always once the script is done. I don't write a script with a specific actor in mind. Once the script gets completed, I scan through familiar faces in the industry and pick.
New wave or offbeat Malayalam cinema often finds it tough to get distributors and exhibitors indipill.com. What is your take on that?
I am not sure how offbeat my films are but films that are widely applauded, get very limited theatre space. Exhibitors often tell us, "Don't bring good cinema to us. Bad ones are just fine." If this is the situation, how will the industry prosper? Malayalam film industry, at large, should change their perceptions on what is going to work and what is not.
… and producers? How do they react? Because if you look at Bollywood, we have big production houses like Yash Raj Films funding small films.
My recent films were produced by well-known banners. Production house of Kaadu Pookkunna Neram, Weekend Blockbusters, had produced Bangalore Days earlier and are also making the upcoming Mohanlal-Meena starrer Munthirivallikal Thalirkkumbol. So, I see producers evolving in Kerala as well.
Amongst our young Malayalam filmmakers, who impresses you the most?
I would say, Sidhartha Siva (director of KPAC). I see immense potential in him. Also, I appreciate Sudevan's work. It is only if these young filmmakers buck up and make some revolutionary cinema, our industry will grow in coming years. Or else, if we intend to glorify films like Pulimurugan, we are up on a dangerous trail.
Apart from being a filmmaker, you are also a medical practitioner with a government hospital. How do you manage these two professions?
Right now, with Kaadu Pookkunna Neram taking trips to several film festivals, I have taken a short leave from work. Otherwise, I easily balance films and my medical profession.