One wonders why Rohit Dhawan's latest venture is titled Dishoom. After all, with patriotism that can put JP Dutta to shame, this supposed action-bromance deserved a better articulation or purpose. Despite its thankfully short run time, Dishoom isn't an easy film to sit through. Well, more of that later.
After Ki & Ka earlier this year, one is amused at the awkward way the film starts off. The title graphics has eye-popping large fonts akin to those TLV Prasad B-graders. There's an opening song where our all suited up, buff heroes shake a leg to an atrocious number. Oh, talking about our heroes – both John Abraham and Varun Dhawan aren't easy on eyes by any measures. John struts like a volcanic mountain on verge of an eruption. This man can barely carry himself on his feet. Varun Dhawan's cute antics could have made sense had he looked more human. This youngster has muscles bursting out of every nook and corner of his body.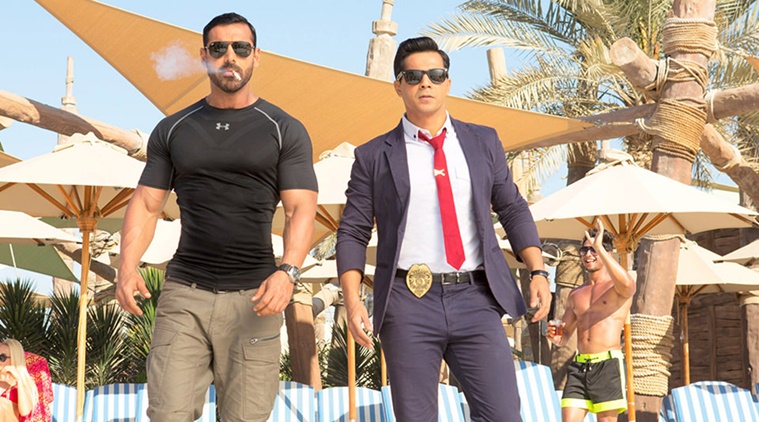 What's the story? Oh, if at all there existed a coherent one! Well, Dishoom is about India's top batsman Viraj (no Kohli reference meant at all) getting kidnapped before a tournament final in the Middle East. In true Dhoom-style, a special task force officer Kabir (John Abraham) is assigned by India to nab the culprits. Joining him as a sidekick (though he unsuccessfully mentions he isn't one) is Junaid (Varun Dhawan). Sadly for us, there ensues no cat n' mouse game between this duo and the villains (Akshaye Khanna and Rahul Dev). The plot meanders pointlessly reaching absolutely nowhere. Situations are manufactured so that our characters can do whatever pleases their mind. The leading lady (Jacqueline Fernandes) gyrates in what could possibly be the most unsafe place on earth. Viraj is trapped in an irremovable jacket with a bomb, which our heroes manage remove in less than 50 seconds. What more? Our traumatized, possibly starved and dehydrated cricketer goes out on fields and play a match like a pro in the end. There's also a dog called Bradman (ahem!) that helps resolve the mayhem. Did I forget the External Affairs Minister of India who coughs up crores in 4 digits in a matter of seconds. Whoever called India a third world nation!
Are there any worthy takeaways from Dishoom? We have Akshay Kumar in a near-revolutionary part for a superstar and is a complete roar. His portions are the film's finest, though they weren't meant to. Nargis Fakhri appears in a cameo and is cucumber to sore eyes! There's Satish Kaushik omnipresent in a cutesy voice role and Parineeti Chopra makes a lovely entry in the finale. In short, I rate the cameos far more exciting than the top-billed cast. The film has a segment that is almost a teaser to Akshay Kumar's upcoming crime drama Rustom – In Dishoom, Kabir is cheated by his South Indian girlfriend by a uniform-clad Customs Officer. And, who on earth addresses a friend like 'Customs Officer So-and-So'? Well, John Abraham's Kabir does.
Dishoom's music is tiring and counts amongst Pritam's worst. Janemann Aah will give you ulcers. Cinematography is not up to Ayananka Bose standards. Sound design is decent, if not for the jarring Sau Tarah Ke background piece all over the film. Dialogues are funny in parts. Production design is good, especially in the second half.
As for performances, Abraham does what he does best. Sport a deadpan face, ride vehicles and brood. Varun Dhawan's comic act works partially but the genre doesn't seem to be his cuppa tea. As for his characterization, we are reminded of Uday Chopra's Ali antics in Dhoom series and how well he pulled it off. Jacqueline Fernandez's existence serves no purpose in the film. Akshay Khanna fares better than most others but with a half-baked character, he couldn't do much. Still, it is a pleasure to have his back from a hiatus. It was a good to spot Rahul Dev yet again though the man still can't act. Saqib Saleem is good as the cricketer and so is Mona Ambegaonkar as the minister.
The film ends in about 2 hours and that's the best thing Rohit Dhawan could have done to us. Yet, to be kind to him – one can see flashes of a decent commercial filmmaker in him. I am reminded of a line that Abhay Deol tells Sonam Kapoor in Aisha that goes,
"Well… impressive! Aise hi practice karti rahogi to ek din zaroor professional ban jaaogi."