'Dhanak' review – Two travelling children, the magic of cinema, and plenty of smiles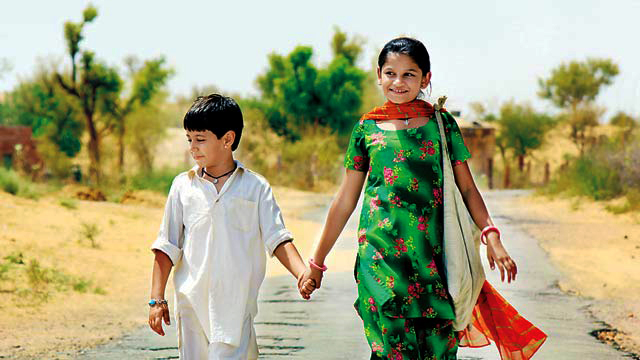 If Nagesh Kukunoor's latest venture Dhanak were to be categorized, it belongs to the 'fairy tale' genre as opposed to the road movie one. Kids believe in fairy tales and parents long for one in their lives. Dhanak could precisely be a version of one of the stories we grew up listening to from our grannies. I could almost hear an echo, "Once upon a time there lived two children – Pari and Chhotu".
Nagesh Kukunoor steers clear of artifice. Bearing shades of Praveen Morchhale's Indie 'Barefoot to Goa', this fairy tale of a story – laced with truckloads of goodness and a handsome amount of contrivances – stands out for the director's simple storytelling. We exactly know where the story is heading. What comes between the two children, out on a daring expedition, is what keeps us on tenterhooks. This is the kind of film where the audiences clasp their hearts and say, "Don't let anything wrong happen!"
Half credit for the film's remarkably engaging narrative goes to the unbelievably well-cast lead actors Krrish Chhabria and Hetal Gadda who play Chhotu and Pari respectively. Kukunoor's child actors behave like real children, who aren't over-instructed with over-cute mannerisms. Their smiles aren't manipulatively sweet but sufficiently warm. The young girl (Hetal), on her part, confidently carries the film on her frail shoulders. Krrish playing the blind one is equally charming – especially when he goes in the 'Salman Khan' mode. He's given a handful of one-liners and the little boy pulls them off like a pro. Even when the narrative begins to lag post-interval, it is their conversation that keeps us hooked. Their talk, for that matter, bears a consistency that will make us smile all through. Pari is an ardent Shahrukh Khan fangirl and Chhotu hero-worships Salman Khan. Every morning as they step out on their trip to the school, a coin decides on whom the story for the day will revolve around. How much we wish the story of Shah Rukh's recent Fan was something half as warm.
Set in Rajasthan, Kukunoor, by default, earns his liberty to give us picture-postcard frames. Not that we are complaining! Dhanak is also armed with one of 2016's most soulful soundtrack (courtesy Tapas Relia). No, we don't mind the excuses they throw in for song situations. The sidetrack involving the American traveller and the Indo-western fusion that ensues is one of the film's finest moments. Speaking of characters, Dhanak has a gallery full of them – either white as snow or pitch black, staying true to its fairy tale demeanour. Children receive help from the most unexpected corners and we heave a sigh of relief. Among all the sub-plots, the most endearing one involves the children landing up at a wedding party. the guilty pleasure of being entertained by kids who act like grown-ups. It is also to be noted that the film fails to answer a simple question – The kids have several well-wishers but none of them care to contact their family or lodge them at the nearby police station. The finale, too, is rather simplistic but we absolutely buy it. More so with half the auditorium filled with children, it just couldn't have been any different.
Dhanak is all about a promise Pari made to her brother. To get his eyesight back before his ninth birthday (that falls on 2nd October – goodness anyone?). Pari is consistently flunking years in school to be in the same class as Chhotu. She wants him to enjoy the beauty of the rainbow that she has the privilege to see. She wishes him to enjoy the John Abraham-action flick without having her decode the facial expressions for him køb viagra. Ambitious, determined, and royally naïve, Pari never makes her brother feel inferior. Chhotu, who idolises Salman Khan, doesn't let his disability curb his bravado. The film closes with a heartfelt scene where Pari reprimands Chhotu for looking at the sun. Conversation leads them to the conclusion how everything is oh-so-beautiful in this world. Before we write it off as children and their pointless innocence, shouldn't our thoughts be just as pure?
P.S.: Dhanak unintentionally acts as the ultimate PR vehicle for Shah Rukh Khan. What's with that letter addressed to Khan's residence doing at the hospital desk? Delightful, nevertheless.
Rating: ★★★ 1/2