They say films are not about stories. And rightfully so, there is no dearth of star-crossed romances in Indian cinema. Dhadak isn't the last. Its inspiration Sairat wasn't the first either. The syntax, the tribulations and the character graphs remain more or less the same in each of them. However, the difficulty for the makers of Dhadak as well as for a section of audiences who have seen the original is to disassociate the film from the Marathi blockbuster. Indeed, the makers' decision to 'upgrade' the premise on a Dharma Productions' canvas shears the purpose behind making the film. For those have watched Sairat, the Hindi adaptation might look like a pale, pointless imitation and for the rest, the film would just be another boy-meets-girl saga with (probably) a peculiar climax. No, it isn't the same – which is also one amongst the film's principal issues.
Before we get into what Dhadak is all about, I had to reminisce the day Sairat had taken me by absolute surprise. I remember the image of myself, relishing the romantic portions like a dreamy-eyed teenager with my face rested comfortably on my palms. Well, I do not remember another recent Indian love story which made me blush the way Sairat did. No, it didn't have the relatable quality of Meri Pyaari Bindu or the listlessness of a film like The Lunchbox. It was an unseen, unlikely setup for me and I could still listen to their heartbeats. Parshya and Archi were madly in love and there were profound reasons for them to elope and the way rest of the story unfolded was nothing but organic.
Set in Udaipur, Dhadak's backdrop exists to offer a picture postcard-like view as opposed to becoming a catalyst by itself. It is that film where the amount of foundation and hair serum decides the emotions that the actors have to go through. Dressed nattily in Manish Malhotra couture, Parthavi (Janhvi) looks extremely doll-like and is somehow made to act all brash and daring. Come to think of it, you never really get to know what she is as a person. Of course, she is in love with Madhukar (Ishaan). However, the romance, much like the film in entirety, lacks a reason per se. No, the cardboard villain father (Ashutosh Rana) of hers is no rationale here as Parthavi barely seeks emotional solace in Madhu besides playfully toying the 'mhara ghar' idea. She is someone who very much milks her privileges and social superiority and is in no way amused by Madhukar's supposedly humble ways. The young hero is a budding restaurateur in a city famous for foreign tourists. He speaks broken English, wears crisp ethnic shirts teamed particularly stylish jackets. He also gets to flaunt his six packs because, hello, this is a commercial Bollywood film and washboard abs are amongst his mandatory deliverables. What makes me call for an instant comparison is that when Parshya took a plunge into the river, it was a raw expression of passion as opposed to Madhukar's leap which is nearly a design to showcase his agility.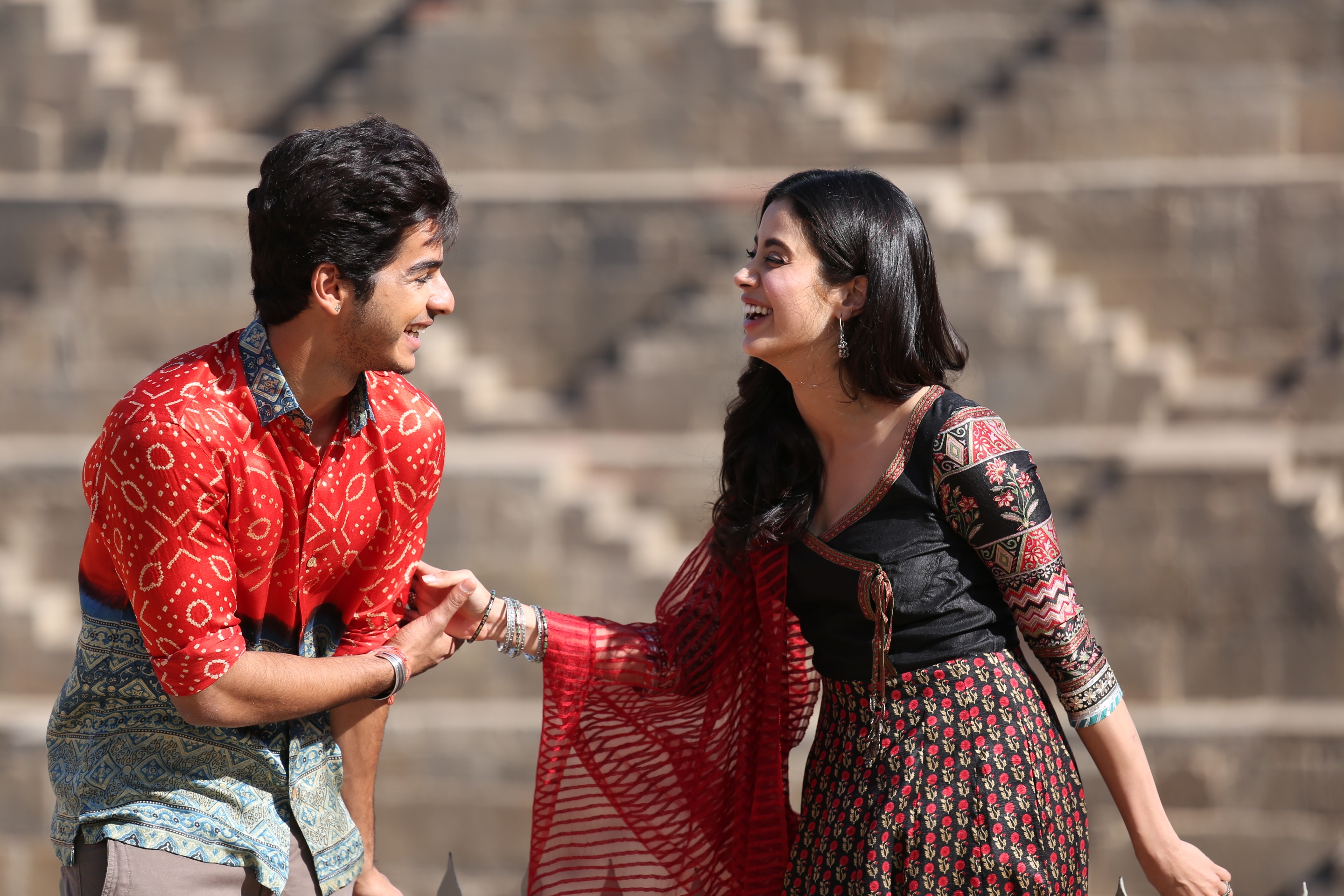 Dhadak also does away with the casteism angle in the story besides a fleeting reference. What could have been a more glamorous reason to prevent two lovers from uniting? If financial disparity could be the reason, Dhadak should have done away from adorning its hero with fine designer wear or, at least, placed him in a not-so-well-to-do family background. If the perceived social status had to be a reason, then Parthavi should rather have been the quintessential foreign-returned affluent shrew whom Madhukar was to tame like a Jeetendra from the '80s. If the villains, the mounting and the atmosphere were to be from an era bygone, why did they let go of other tropes? Dhadak also classic Bollywood sidekicks for both the protagonists, out of which one happens to a butt of a lot of humour, all thanks to a physical disability of his. The scaling up goes to the extent of turning the characters' unglamorous professions around, a bucolic well being replaced by a massive stepwell-like structure and the list goes on.
Shashank Khaitan is one filmmaker who always sold certain convictions of his to a defined target group. His style is one that rests on a tightrope that separates Dharma sensibilities from that of hardcore commercial potboilers. As a result, we see a handful of earthy characters in rural or small-town settings, blatantly offensive humour (because it's desi, bro), grandiose, excessive colours and ever-filmy clothes. Particularly in Dhadak, we notice several other Dharma commonalities. We see the actors enunciate their words and hence robbing off whatever charm the dialect has to offer. Their Hindi/Mewari diction screams how they have learnt the language only for the sake of this vocation and not as a medium of communication. Additionally, Khaitan's camera does not have the sense of place, distances and motion. You see actors placed far apart and still communicating via gestures and mild glances. Classic Dharma things, I say.
As for the debutants, what is appalling is the leeway they are getting. Nepotism allegations aside, Janhvi and Ishaan's first splash to mainstream cinema breaks no new ground. Mind you, no sensible person would compare the young Janhvi to her legendary actress-parent, Sridevi at the very beginning of her career. It is just that a lot of us have the leniency to let go of her stiffness with a casual retort, "Oh, it's just her first film. Remember Alia Bhatt?" Would an outsider be this lucky? I doubt.
To Janhvi's credit, her presence is indisputable. Albeit a distractingly pouty face, she is incredibly beautiful and holds her own in certain key sequences, mostly in the latter half. She isn't downright terrible like a lot of young star children but then again, there are no flashes of brilliance either. As for Ishaan, it is clear that he has been asked to shed the natural rawness that he exposed beautifully in Beyond The Clouds. Instead, the actor is given a series of stock expressions and voice modulations, making his lover boy act more of a generic one. Both Janhvi and Ishaan play their parts the way how it would have been taught in an affluent acting school in Mumbai. You don't see two lived-in, immature individuals. You meet two enthusiastic students giving that crucial board exam of theirs. Among the supporting cast, Ashutosh Rana hams and more so because the film gives him no other option. Ankit Bisht has a great presence, and even beats Ishaan in many of their scenes together. Remaining actors do not impress.
As the film ends, Dhadak offers half-hearted sermons on a certain social evil. Unlike Sairat, the climax does not hit hard in our guts. The mandatory message discourse, thus, exemplifies the film's own inability to take ownership on the subject it tackles, turning the premise into just another apathetic Bollywood cliché fest that offers plenty of gloss, leading to a culmination that appears to be from an entirely different film.
Rating: ★★
Dhadak is now streaming on Amazon Prime Video.
P.S.: I also stumbled upon few interviews given by the film's newcomer leads who were humble enough to admit that they didn't complete their education. At the same time, they also spoke about their process of landing the role, the script reading sessions, nailing their first Hindi interview, dance classes et al, besides being vigilant, well-trained talkers. Now, if this doesn't make them formally educated in their craft, then what else would?