Read Time:
3 Minute, 33 Second
Abhishek Chaubey seems to have had a bitter love life as both his directorial ventures had women, love and deceit, all in equal measures. Jokes apart, "Dedh Ishqiya" has much more in store. It has men (dangerous ones, at that), guns, thrills and rib-tickling comedy. Heralded as a sequel to 2010 flick "Ishqiya", the film is more or less 'Misadventures of Khalu and Babban – Part 2'. To give due credit to the director, the sequel has a streamlined story, more interesting characters and cheekier dialogues than the prequel.
The new edition of 'Ishqiya' is all about a unique "swayamvar" conducted by Begum Para (Madhuri Dixit – Nene), the lady of Mahmudabad, a fictitious town in the heartlands of Uttar Pradesh, India. The event adjudged by Begum, with support of her aide Muniya (Huma Qureshi), is all about excellence in Urdu poetry. Circumstances bring Khalu (Naseeruddin Shah) and Babban (Arshad Warsi) to Begum's palace and sparks fly… of love, power, treachery, greed and of course gunfire!
The most noticeable element here is its dark humour with the right mix of edgy dialogues and hilarious situations. As in case of several Vishal Bhardwaj productions, the dialect used here becomes a character in itself. In the midst, the introduction sequence of Begum Para with the original 'Hamari Atariya Pe' in the background, and the Mehfil-e-Shayari that follows are among the film's finest passages. Later, time comes to an absolute standstill when Khalu confronts Begum for their connection from the past, leading to the thumri "Jagave Saari Raina" (which is easily the best song of the enterprise). Right from the screenplay design, the emotions that the duo feel for each other are very well-defined as opposed to the brief moments of lust between Muniya and Babban. Nevertheless, one should not bother complaining as the witty tête-à-têtes between them keep us in splits. Also, the mysterious shades given to Begum and Muniya's relationship is stunning and beyond any forms of praise. The very fact remains an ingredient of intrigue even after the show concludes. I'm sure Ismat Chughtai is smiling from somewhere, for this glowing tribute to 'Lihaaf'.
The soundtrack is, perhaps, the only department which is one notch lower than Ishqiya but that doesn't mean Vishal's score is anywhere mediocre. Poetry by Dr. Bashir Badr deserves a special mention for the fact that his words successfully supersede even Madhuri Dixit when it comes to being avant-garde.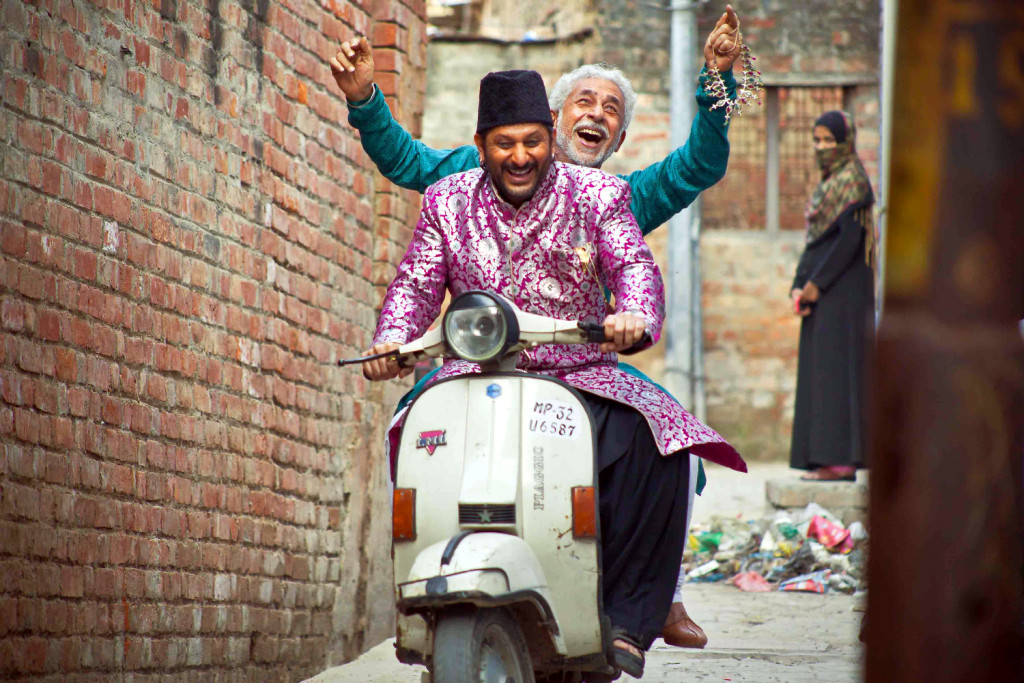 Performances are first-rate with Vijay Raaz stealing the show with a stupendous performance. Not that we haven't seen the actor in similar roles before but his screen presence and the personality that he lends to Jaan Mohammed is commendable. Naseeruddin Shah brims with the kind of energy that is quintessential to him. Somehow his performance reminds us of the comical 'talking-from-the-portrait-martyr' avatar from 'Jaane Tu Yaa Jaane Na'. Arshad Warsi is in his elements with not a single note out of pitch. While Manoj Pahwa does exceedingly well in a neat cameo, Huma Qureshi rises above her somewhat unsatisfying part to deliver a bravura performance.  Now coming to the diva on the dais, Madhuri Dixit – Nene illuminates every frame that she is in. Let's not deny that a significant part of the run-time is spent sighing at her alluring beauty and unmatched grace. Cast in a part that is tailor-made for her, Begum Para does not demand heavy-duty histrionics from her end. The must-have is a certain celestial poise along with a magnetic presence whenever she appears on screen. And is there anyone better than Mrs. Nene to pull it off? Not yet in Hindi cinema!
Visually and verbally 'colourful', "Dedh Ishqiya" proves that Naseeruddin Shah could look sexier riding a bike than Aamir Khan in "Dhoom:3". Touted as Madhuri Dixit's comeback vehicle, the film (fortunately) doesn't place her (or anyone) on the driver's seat. And not for many movies do the audience unanimously stay back for the song in end credits, unless it has Madhuri Dixit sprinkling elegance in form of a stylishly remixed 'Hamari Atariya Pe'.
Hilarious, arresting and tantalizing are the words for Abhishek Chaubey's audacious second feature "Dedh Ishqiya".
Rating: ★★★★