'Cicada' review – a personal story that lovingly embraces its characters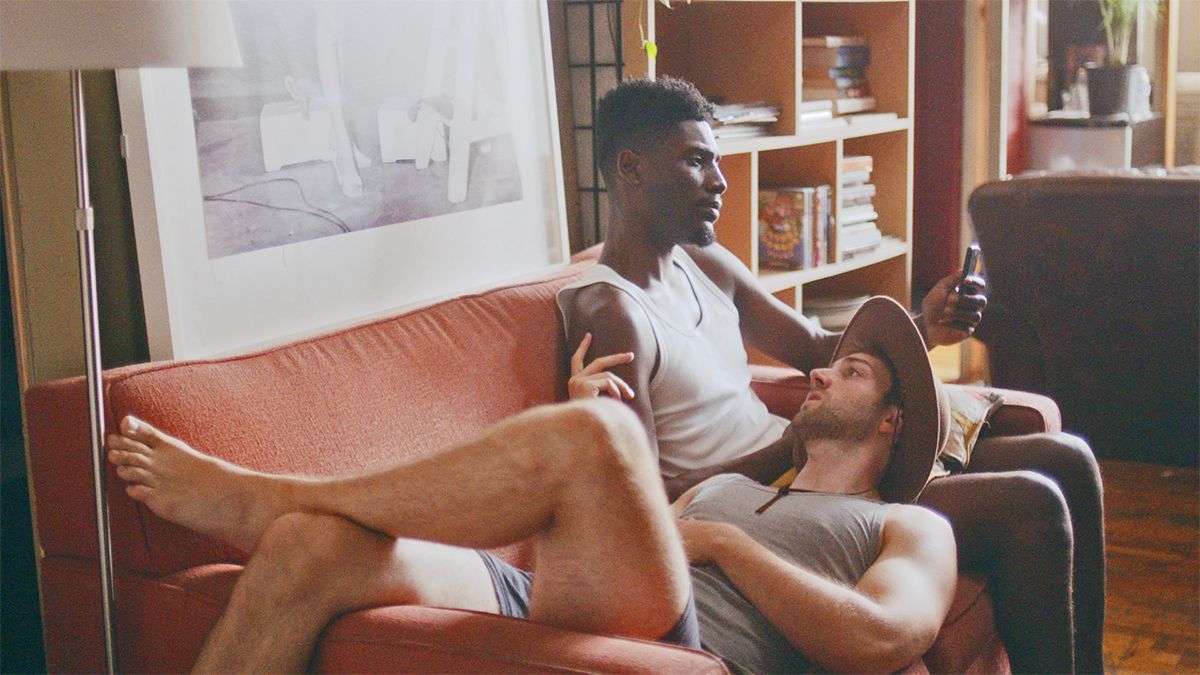 It is fascinating when cinema dares to emotionally bare its protagonists. In directors Matthew Fifer and Kieran Mulcare independent fare Cicada, we are invited to the broken world of Ben (Fifer). The young queer Caucasian man with dreamboat looks by his side might look as regular as any person with a boring desk job. What he conceals within are truths and wounds – unspoken and unhealed.
Cicada takes us through Ben's absolutely non-happening single life.  He easy lands loveless hookups but we sense how the young lad is subconsciously on a quest for companionship. He is a victim of child abuse and is hypochondriac for the very reason. Things take a pleasant turn when he accidentally bumps into a handsome African-American youngster called Sam (Sheldon D. Brown). The duo hits it off almost immediately. Ben and Sam unravel a lot of their commonalities. They also discover their disparate struggles. And before we realize, we wholeheartedly root for the couple.
Cicada asks uncomfortable conversations. When Sam vents out his apprehensions (sometimes angrily) about the mistreatment his race faced for centuries, we empathize. We also trust deeply in Ben when he expresses his incapacity to open up about the abuse he faced. It's a rare instance where we feel like telling the characters, "At ease. Take your time," We would want Sam and Ben's relationship to bloom like a flower, without shedding a single petal. We desire them to form a bond that helps dissolve each other's heartaches. It's a fruitful relationship – things that we, as spectators, would envy. Then again, we also get an inkling of how it was long due to both. Ben and Sam deserve each other, more so the former.
Matthew Fifer and Kieran Mulcare maiden directorial is also an incessantly sexy fare. It never intends to titillate. The sex is incidental and it only helps that the actors and their chemistry add to the aesthetics. The sensual moments aside, Cicada also offers us the family perspectives – be it Sam's significantly religious dad or Ben's mom who is affectionate but, well, oblivious to many things her son went through as a child. It also gives us a therapist who helps Ben to set himself free. Ben's doctor who frequently examines him for his persistent fear of being diseased, displays compassion when he tightly hugs him at one point citing how he ought to speak to his mom. The characters feel real and their reflexes and retorts are organic.
Perhaps we could attribute it to the fact that Cicada is semi-autobiographical, what strikes the most how loving is the film is towards its characters. The film caresses Ben with so much care. It tries to understand him the way no one did when we went through a traumatic childhood. The film becomes a metaphoric person to its subject – affectionately stroking his hair with an underlying reassurance that things are going to be all right.
It only helps that the actors (Fifer and Brown) appear so intrinsically rooted in their physical and emotional spaces. Together, they render an unusual sense of completion. Theirs are individually compelling performances, for sure, but it is the chemistry that adds greatly to this achingly beautiful film. They are picturized through gorgeous closeups and even more romantic reaction shots. Cicada fills its narrative with sublime moments where they express love for each other. In a rather magically staged point, we see them tenderly say 'I love you' to each other – a moment that is calming and intensely real.
Among the most stunning parts in the screenplay is the conversation Ben has with his mom in the penultimate reel. It is peppered with keywords such as predators, coming out, and listen. We await the big reveal to happen and when it does, Matthew Fifer and Kieran Mulcare's film knocks it out of the park – giving us one of the most unbeatably terrific climactic shots you would see in a film belonging to this genre.
Personally, Cicada left me with a heavy lump in my throat. It is a cinematic experience I would cherish for a while simply for the fact it felt personal and immersive. The storytelling is sensitive and the characters are straight out of life. It only helps that the film does not wear its sexuality on its sleeve (like many queer-themed films do) as it has more profound worries to address.
Rating: ★★★★
The film was screened at the 32nd Annual New York LGBTQ Film Festival.