'Blinded by the Light' review – Gurinder Chadha's glowing Bruce Springsteen tribute has a beating heart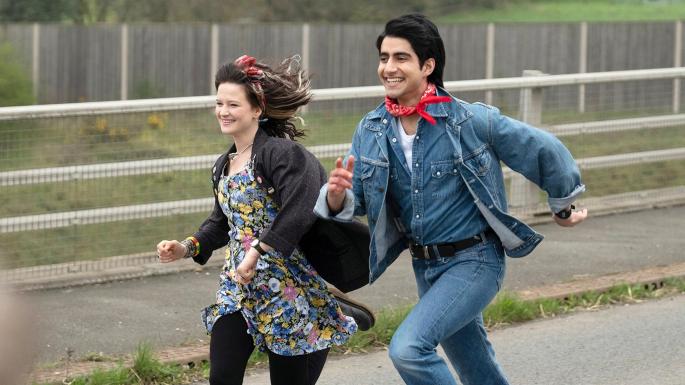 The most vivid image I have in mind of Bruce Springsteen's music is that of a bewildered Courtney Cox climbing up the stage as the rock star grooves to an era's anthem 'Dancing in The Dark'. Clearly, I am not a fan here even though there's a complete understanding that I have of his prodigious oeuvre. Indeed, good rock music contains the power to transform lives. In Gurinder Chadha's Blinded By The Light, the protagonist discovers himself and a newer way of life when his campus mate hands him over a couple of cassettes – as if it were an advertising film selling a miraculous potion.
It can be said that Chadha's breakthrough film Bend It Like Beckham is one of the most charming and agreeable Indie films of the millennium. The film came unannounced one fine day and blew the socks off everyone – the media and the hoi polloi alike. Belonging to very same feel-good stratosphere bound by atypical Asian conservation and inadequacy, Blinded By The Light unsurprisingly carries some residue off that film. That said, this film anchored by the spectacular new find Viveik Kalra, is a lot more than a customary rehash.
ALSO READ: 'Rocketman' review – a less guarded take on Elton John's life that merits to be 'loved properly'
As far as the framework goes, Blinded By The Light on papers is an easy film to please. The story trajectory is one that alternately springs up smiles and wells up your eyes. Chadha's film, at times, is an underdog victory tale and is otherwise a punitive coming-of-age drama. There is a major angle that makes it an intense domestic drama where the protagonist's lower-middle-class family toils hard to make ends meet. It offers a direct portrait of racism and xenophobia in the United Kingdom and how the Asian diaspora (Pakistanis, in this film) is subjected to hate. Additionally, a film set in the late 1980s, Blinded By The Light is also a studied period piece which gets almost all the elements balanced – be it with the denim fabric used or the with aftermath of the country's economic slowdown in the era.
Nonetheless, the most mesmerizing side of the film unsurprisingly is the way it becomes a smashing Bruce Springsteen tribute. This is the kind of stuff that a living artist would trade his eyes to be presented as. Springsteen in Blinded By The Light is nothing short of a messiah. For Javed (Kalra), his adulation for the rock star's music is far cry from mere fan worship. The man's music is his only way out.
Javed is on the verge of joining college. Besides facing the obvious hormonal rushes that the age welcomes in, the youngster's immediate worry is his apathetic father – a rigid disciplinarian who knows only one way, which is his way. This unpleasant disposition of the embittered man of Pakistani origins makes Javed's family is one of great dysfunction. His folks struggle to be actual people – of real flesh and blood. Their life schemes are centred on making ends meet for their family of five. Deeply neglected (and Muslim), this close-knit yet barely communicative family has nothing positive to look forward to. As Javed declares in one scene, "In my family, nobody other than my father has an opinion,"
Familial suffocation leads Javed to scribble down his thoughts. Sometimes poem, sometimes prose, his words exude sheer magic – something he is totally unaware of until his compassionate teacher Ms. Clay (a graceful Hayley Atwell) becomes the discoverer. Later, with Springsteen becoming his anchor, life finally takes off for the wishful young man. "Bruce knows everything I've ever felt!" says Javed and we immediately root for this chaotic youngster who just smelled wisdom.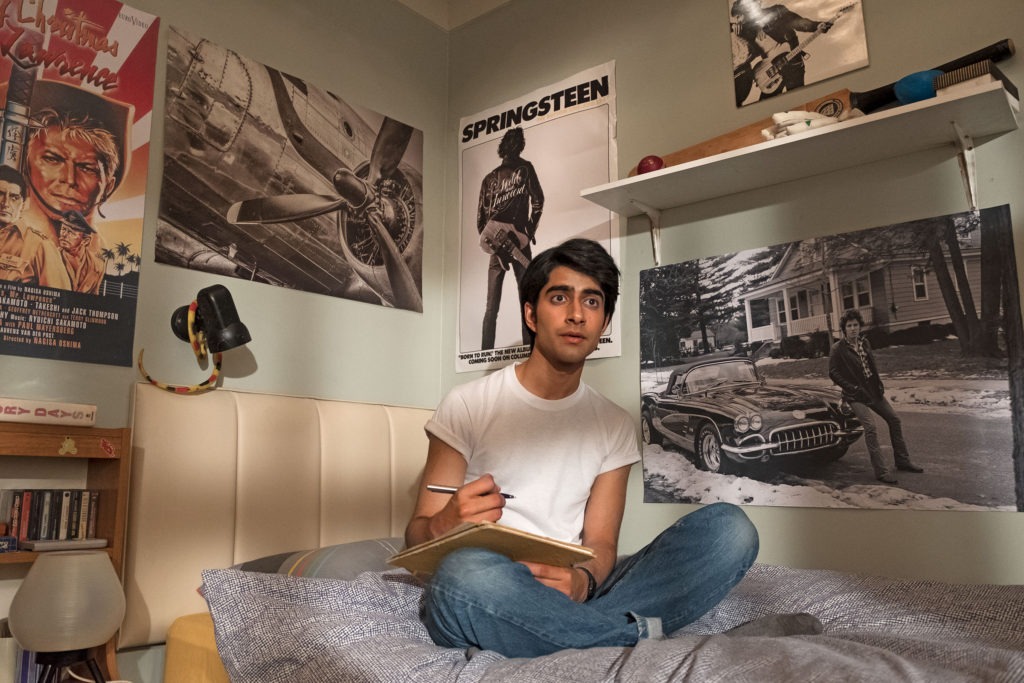 Now, coming until here, one sees where the story is headed. Chadha's set up offers nothing that we have not seen thus far. Then again, films are barely about tangible story-lines but about the way they are told. I could sense a verve of honesty in the way Chadha weaves this well-accustomed victory tale around its equally familiar characters. We get a bitter Asian father and an anguished mother, there is the prototypical brawl with the best friend (Dean-Charles Chapman as Matt), an ever-supporting girlfriend (Nell Williams), a sister awaiting to break-free and so on.
The screenplay (Paul Mayeda Berges, Gurinder Chadha, Sarfraz Manzoor), instead, focusses on Javed's journey, covering all the big bumps and troughs with notable emotional heft. The storytelling style (sometimes) gets extremely convenient, say, for instance, the song lyrics popping up as Javed listens to them in isolation. Yet these devices usher in a welcome change in form of some neatly packaged Bollywood-style drama. There is great music, a fantastic performer making full use of every single minute and numerous elements – even the forces of nature – participating in tandem. This way, the initially dreary setting transforms into a sweeping musical, complete with a finely orchestrated dance number which delivers incredible amounts of fun. Oh wait, I remember Chadha had also delivered the Aishwarya Rai-starrer Bride And Prejudice which is best remembered for its lilting dance numbers.
All corniness aside, the film is aware of the universal nature of its story. In a jam-packed cinema hall, perhaps a percentage of eighty would be able to relate to these emotions. One that seeks inspiration from a real person's (Sarfaraz Manzoor) experiences, Blinded by The Light predictably incites a great deal of empathy.
ALSO READ: 'Bohemian Rhapsody' review – Rami Malek smashes the film's semi-synthetic surface in a career-defining turn
On the performances front, Vivek Kalra's sunshine-like smile, controlled body language and magnetic presence is the film's brightest USP. Playing his frustrating father to a T, Kulvinder Ghir is out of this world as Malik Khan. The volatile chemistry between the two work out so well that we tend to buy the sternest as well as the cheesiest sides of their interactions. Towards the finale, Blinded by The Light sets up this hackneyed school speech where several of the issues mysteriously melt. I have always been amused by filmmakers and their belief in such run-of-the-mill melodramatic twists but they simply do not seem to get enough of it.
That said, by that point in the film, Blinded by The Light had already prepared me to a syrupy finale. If only the writers were to sense my (and many other's) wishes to separate family stories from a mandatory dash of diabetic sweetness and a sea of tears ever-ready to jerk.
In fact, Gurinder Chadha's film impressed me more in briefer moments. For instance, Javed's article in his school newspaper credits him as 'Jared'. His girlfriend's father does not seem very welcoming towards his South Asian conservations. Javed's sister derives joy from Indian bhangra numbers and sneaks out to shake a leg at a local gig, reasserting his belief that music speaks to us. Adding to it is the way that the filmmaker captures the loneliness and the exasperation of the struggling immigrant diaspora – well-captured in a brief shot that sees Malik walking away from the Job Centre as his son looks on helplessly from the other side of the road. It is essentially a 'feel-bad' moment but is a fantastic build-up for the end result that is immensely rewarding. This far-fetched contrast is precisely what sells Blinded By The Light to me for good. The tried-and-tested image of earnest individual earning what he desired and deserved works, making us yearn for a Springsteen equivalent to transform our lives into a fairy-tale of epic proportions.
The film was screened at the 2019 edition of 
Jagran Film Festival
 held in Mumbai from 26-29 September.