'Bhool Bhulaiyaa 2' review – Anees Bazmee's horror-comedy is a watchable formula fare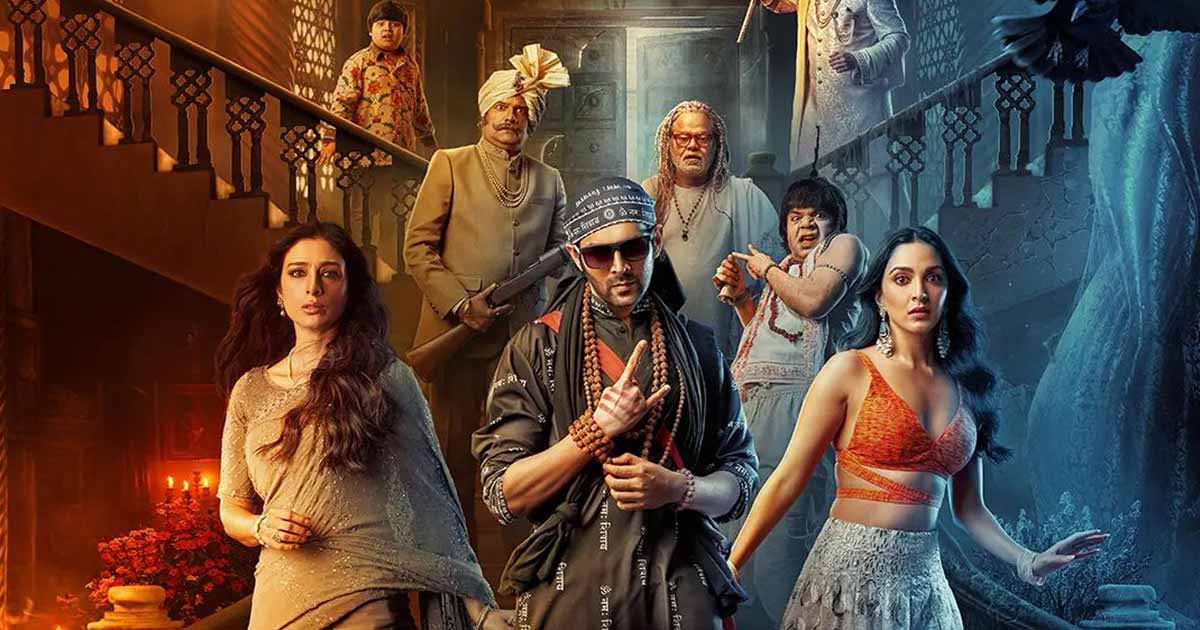 The allure of a neatly made Bollywood formula film is unparalleled. It is a balance that is difficult to crack on today's date owing to evolving tastes and demands of the market. Films of the genre make you smile, laugh, cry, and give you an adrenaline high before exiting the cinema with a song on your lips. Bollywood, currently in its lowest phase after 2002 on the monetary front, is dabbling with jaded remakes of South Indian hits (Jersey, Bachchhan Paandey, Tadap), attempting biographies (83, Gangubai Kathiawadi) if not trying unsuccessfully to break new grounds (Chandigarh Kare Aashiqui, Badhaai Do). The said formula genre, which rarely came with the toxic masculinity of the currently fashionable Telugu dubbed blockbusters, is near-extinct. In an attempt to fill this void, director Anees Bazmee brings to us Bhool Bhulaiyaa 2 featuring millennial favorites Kartik Aaryan and Kiara Advani along with the ever-reliable Tabu. I must say, the effort – despite pardonable hiccups – is very much worth a trip to a cinema hall.
With its setting borrowed from Priyadarshan's 2007 blockbuster Bhool Bhulaiyaa, Bazmee's film is woven around the myth of Manjulika – the danseuse's spirit that caused Avni (Vidya Balan) to be diagnosed with disassociative identity disorder in the former film. If the original work (a superior Malayalam film called Manichithrathazhu) is anything to go by, Manjulika was never really a ghost. She existed in the protagonist's imagination – something that the writer Madhu Muttom projected with great beauty in the story. In Bazmee's film – as revealed in the trailer – Manjulika is a spirit, and she is on a revenge trail. With the director losing his flair for comedy roughly a decade-and-half back (Welcome being the last in the league), I was glad to enjoy Bhool Bhulaiyaa 2 as a family-friendly horror fare. You do not shriek out of fear but the narrative is suspenseful enough to keep you hooked throughout.
The film kicks off with Ruhaan (Kartik Aaryan), a rich lad on a solo trip to the mountains, meeting the attractive (and homely) medical student Reet (Kiara Advani). She is en route to her hometown in Rajasthan to get married – much against her wish. After a peppy song and some routine flirting, Ruhaan and Reet land up in the latter's ancestral mansion which is also where Manjulika once resided. In a scenario where Reet is presumed dead, Ruhaan (pretending to be a wizard who speaks to her spirit) is welcomed by Reet's family (Tabu, Milind Gunaji, Rajesh Sharma) whereas his presence irks the local priests (Sanjay Mishra, Rajpal Yadav, Ashwini Kalsekar). The premise, which is filled with loopholes galore, contains no dull moment in its 2.5 hours runtime which earmarks it firmly in its genre. As a matter of fact, the last time an Anees Bazmee film managed this feat was in Ready (2011).
Bhool Bhulaiyaa 2 falters significantly in the third act when it tries to be humorous. Even seasoned players like Mishra, Yadav, and Kalsekar are unable to elevate the lengthy, blandly written comic scenes that do not add anything to the central plot. It does not help much when Bazmee envisions the horror track with countless jump scares, black cats, crows, demonish white makeup, and stock sounds aplenty. The song 'Ami Je Tomar' from the first edition appears more than once in the film and I was amused to see why the maker didn't consider creating a new song for at least one of the instances. A predictable twist awaits us in the final reel but to Bazmee's credit, he lands it interestingly through an apt flashback and a taandav­-styled solo dance by the leading man.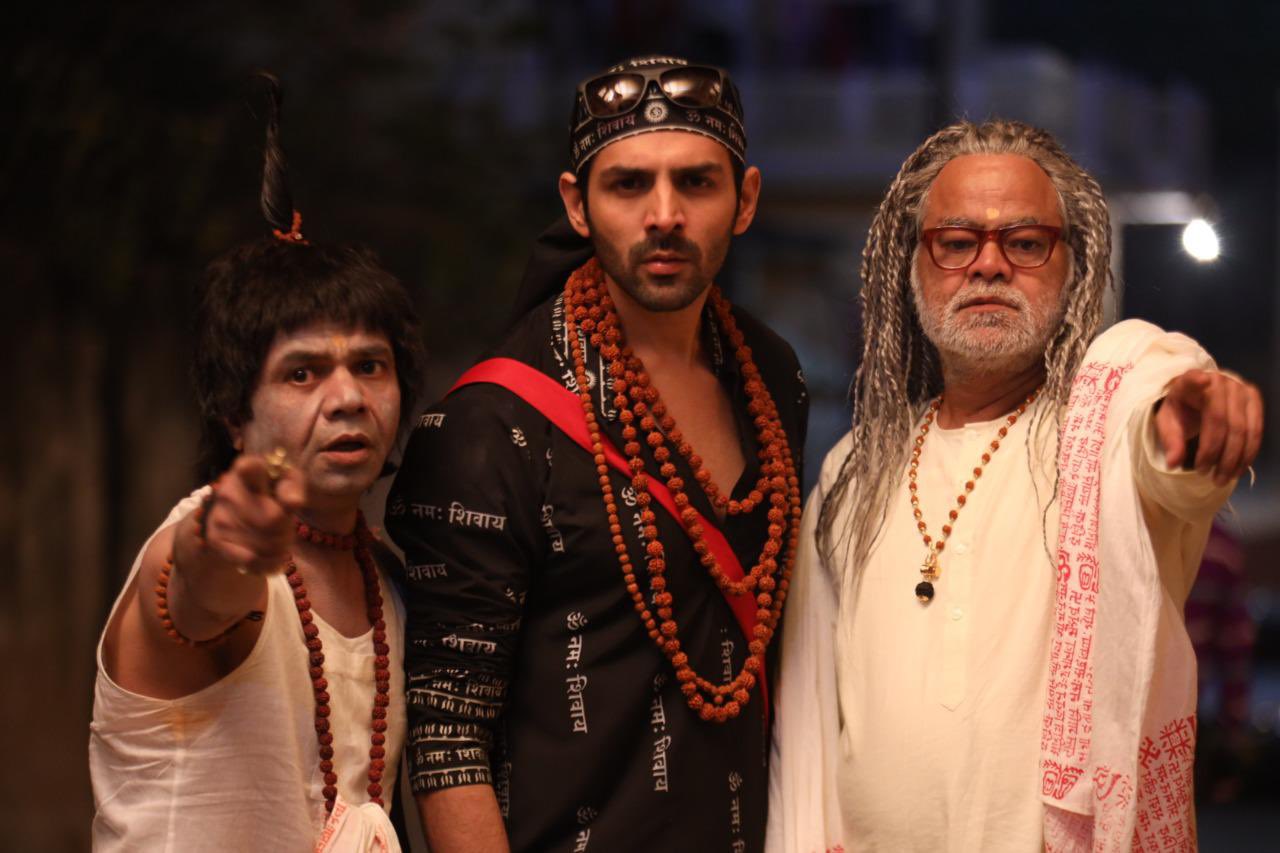 Manu Anand's cinematography which abounds in unconventional transitions is a major plus for the film. Be it the zooms, pans, or even routine establishing shots, the DOP, along with the editor Bunty Nagi, adds a fresh twist that is not quintessential of Anees Bazmee's cinema. Bhool Bhulaiyaa 2 is also an incessantly good-looking film with Ajay Verekar's production design adding grandiose to the proceedings. Ditto for the costume department led by Aki Narula. While Sandeep Shirodkar's original score relies a little too much on the earlier installment (a jarring strain of 'Hare Ram Hare Ram' pops up during intense moments), the sound and VFX teams, which are crucial to a horror fare, are remarkable.
ALSO READ: 'Stree' review – When women call the shots
The star of the show, unsurprisingly, is Tabu around whom the story is knit. In a complex yet occasionally silly part, the actress proves why she is the best in contemporary Hindi cinema. The actor's statuesque beauty is an easy add-on to a performance that understands the meter of India's commercial cinema framework to a T. I have come to realize that Kartik Aaryan, much like Kangana Ranaut, is an acquired taste. Once you get used to his peculiar diction, the actor does have the capacity to win you over – which is exactly what he manages in Bhool Bhulaiyaa 2 which is easily his finest performance after a notable debut in Pyaar Ka Punchnaama. Kiara Advani, who looks resplendent, is confident thereby consolidating her status as a saleable star. The supporting cast is functional although I wish the likes of Amar Upadhyay and Govind Namdev had gotten more defined parts. Samarth Chauhan as Potlu is a surprise package and I didn't quite mind the humor surrounding him which might be a little politically incorrect if seen through a woke lens.
Sufficiently entertaining and refreshingly Indian, Bhool Bhulaiyaa 2 is akin to a whiff of fresh air to Bollywood fans thriving on an unhealthy dose of hyper-masculinity of late. Anees Bazmee's film, for starters, has a story (rich with one-liners) that is worth every bite of popcorn you take. In an era where female actors are increasingly losing the limelight in the mainstream sphere, here's a film where a woman (Tabu) confidently takes the center stage while not threatening to topple the lead pair (Aaryan-Advani) from what they have to offer. In the end, you walk out of the auditorium humming a catchy Pritam number, albeit remixed. The experience, I reckon, is worth a lot more than it is actually.
Rating: ★★★