The theme of a brothel madame's intense attachment to her kotha is well-dissected in Hindi cinema courtesy various films centred on bygone tawaif culture. We have seen that in Muzaffar Ali's Umrao Jaan (1981). The tepid re-adapatation in 2006 took a twist that is similar to Begum Jaan's crux. Shabana Azmi's Khanum Jaan refuses to flee, as she sends off her 'daughters' and caretakers upon the kotha being attacked by British forces. Helped by a dramatic background score by Anu Malik (who incidentally composes for Begum Jaan as well), this was perhaps the aforementioned film's sole powerful moment. Starring Vidya Balan in lead, Srijit Mukherji's Begum Jaan is a remake of the director's own Bengali film Rajkahini. However, the immediate plot point borrows from that very scene in Umrao Jaan.
Begum Jaan from a commercial standpoint has a perplexed identity. No, this isn't a tale of male oppression although it opens with a similar sequence. Soon the film shifts tangent to 1947 wherein an ill-informed brothel madame and rest of the inmates are adamant on not evacuating their house that's unfortunately lies across the infamous Radcliff Line that separated Pakistan from India. Amidst severe melodrama, we are told how the cultural landscape of the nation was eventually dwindling with people (rich and poor alike), migrating with all their means. Director Mukherji aligns his sequences like chapters in a stage play, with dialogues and expressions reeking in heavy-duty theatrics and the lead actress playing out a rule-book take of a madame from the yore.
The primary disconnect from Begum Jaan occurs as we ponder over the protagonist's intent. She isn't seeking equality by any means, although there are intermittent half-hearted statements on casteism, communalism et al. She uses the local king as a pawn and also offers to supply girls to the ones with power, if need be. Essentially a case of personal pride, Begum Jaan's might and will-power could look powerful on paper. Not when the execution is as dramatic as what Mukherji decides it to be. Guess what, we even have a hyper-melodramatic partition song ('Aazadiyaan') with hapless civilians from either sides of the borders and the lyrics exemplifying their insurmountable loses. Probably in a less 'direct' film we could have empathized with Begum's adamant ways. Not quite in this film.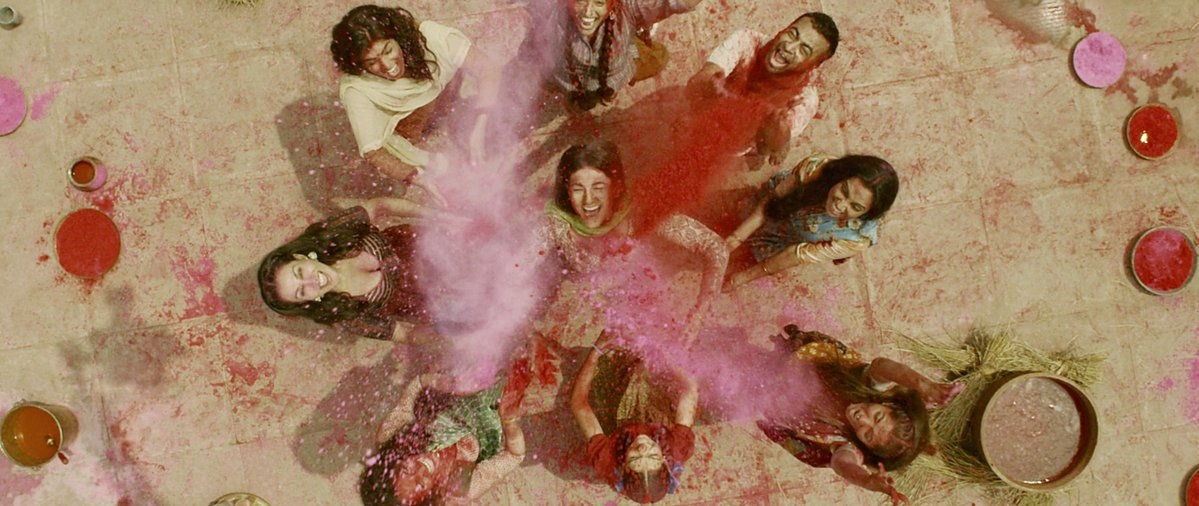 The writer in Srijit Mukherji, somehow, manages to register an impact in parts. To single out, Pitobash Tripathy (as Sujit) in an equivalent of Mandi's Tungrus or Umrao Jaan's Gauhar Mirza is a treat. Yes, if it is a popular cinematic trope to have brothel pimps to fall in love with an unlikely hooker but anyhow, his status quo with the fiery Rubina (Gauahar Khan) is heartwarming. Ditto for the final scene he is a part of. In Sujit, Mukherji gives us a character whose helplessness is worth connecting to. Making a middling impact is Gulabo's (Pallavi Sharda) unexplained affection for Masterji (Vivek Mushran), who is a well-wisher and frequent visitor. It is, however, in the latter's half-baked characterization that the episode loses its charm.
Another area where Mukherji's writing fails his execution is how his main characters display no major equation between each other. In lack of a solid bonding between the inmates we one wonders if the house could be equated to a 'home' or a 'workplace' in everyday terms. It is more of the latter as Begum Jaan (clearly the CEO of the enterprise!) is most keen to hold the unit together, for reasons best known to her. The girls in their occasional fights shows no integrity as there's no cause to begin with. Certain male characters and their confused ideologies can be beaten only by the film's own central premise.
Right from the initial frames, Begum Jaan is one film where the central performance doesn't work. Be the way she holds her hookah or mouths choicest expletives, Vidya Balan's interpretation of a fiery madame from 1947 is stagey to the core. Not that we expect her to unlearn a bit of that polished accent, but the actor constantly seems to be rehearsing a bravura performance – which she never ends up delivering. Gauahar Khan, Pallavi Sharda and Naseeruddin Shah lend able support while rest of the cast are mere gap fillers. Laden with plenty of abruptly spaced interior shots and aerial ones (of the kotha) with a prominent sepia tint, cinematography by Gopi Bhagat is dull. Songs lend atmosphere though the same can't be attributed to their placements in the narrative.
Though women safety is not exactly the film's core proposition, Begum Jaan tries its way to drive home the point – right in the beginning and towards the end. The respective scenes are bold though one wonders why they exist in a film about a different struggle altogether. There's also an elderly lady who keeps narrating tales of valiant women from Indian history – only to serve a main story about a bunch loud rebels without an effing clue or cause. Talk about contradictions!
Rating: ★★