'Batla House' review – Entertains despite presenting only one side of the story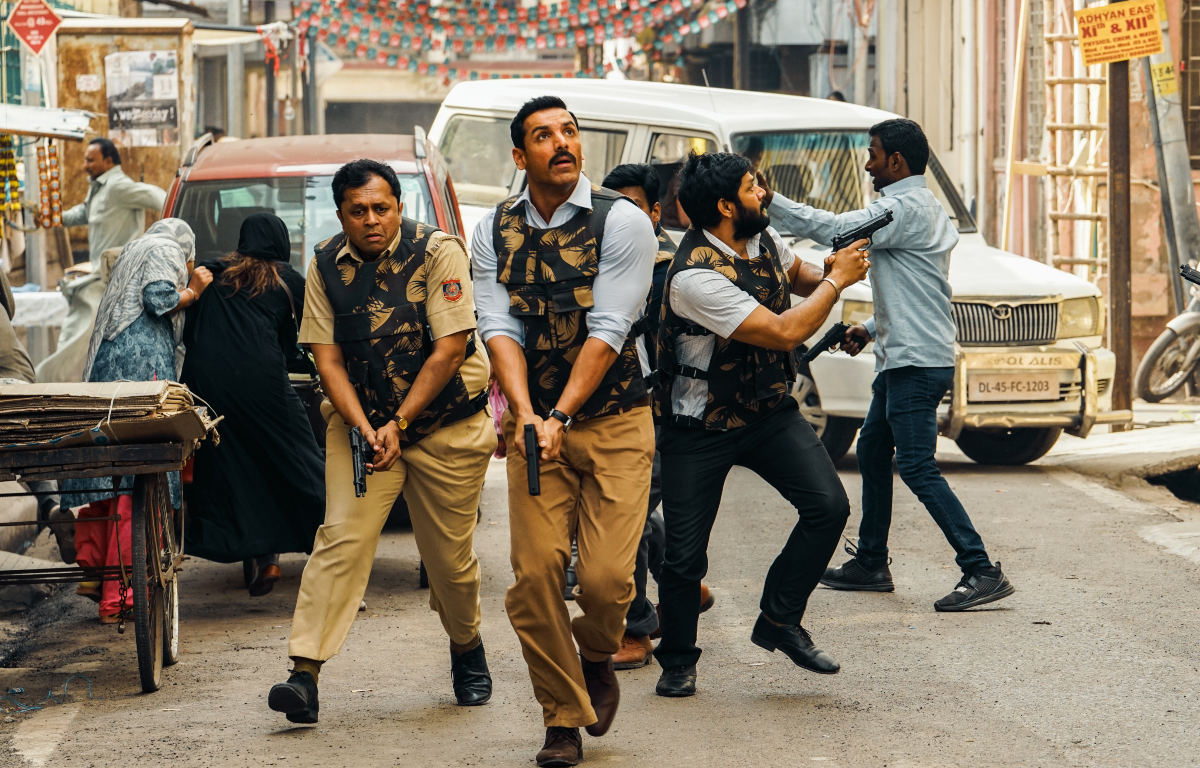 Filmmaker Nikkhil Advani's Batla House confirms a strong belief of mine. Films are best viewed if we approach them with a clean slate – consume no promotional content, view or read no material bombarded by television and online portals. Or else, I never believed that a film like Batla House, which looked like a standard John Abraham patriotic fare, contained the ability to surprise me. So, for starters, this film penned by Ritesh Shah is pretty neat in many respects. It does not make colossal cinematic revolutions but works quite well in the commercial mould that it chooses to be in.
Surprise number one: For a film that appeared to chronicle a controversial encounter that took place somewhere in New Delhi in the late 2000s, Batla House begins backwards. The act of encounter gets done right in the initial reels. A few minutes late in the popcorn queue, you might as well miss it. Advani's film is about what follows – the investigation, the media and public pressure, the officer's PTSD (John plays ACP Sanjay Kumar) and lastly, his declining proximity with his TV anchor wife, Nandita (Mrunal Thakur).
The second surprise is that John Abraham, finally, gets to act. No, I am not getting into the argument that a different actor would have played it differently. It is pointless. Batla House utilizes John's brooding personality to good advantage and the actor delivers well in a series of tense moments. In fact, it is Sanjay Kumar's fight with PTSD that stands out more than anything else in this conventionally staged investigation drama. That said, the film does confuse itself by wondering whether it wants to be an investigative thriller or an intense study on the officer's conflicts (internal, familial and so on). This glitch notwithstanding, the film goes on to become reasonably entertaining with several popular cinema tropes in place. My favourites would be the expectedly thrilling chase sequences, shot dexterously by DOP Saumik Mukherjee using a range of motion techniques and innovative angles.
ALSO READ: 'Parmanu' review – the film reduces nationalism to degrees of mind-boggling silliness
Now to what does not work in Batla House, the film focusses only on Delhi Police's side of the story. In this process, it turns a little too sympathetic and one-dimensional, offering no points of view from their perceived opponents. The film also force-fits the mandatory Good Muslim-Bad Muslim sermon during which Sanjay Kumar suddenly turns an Urdu scholar and recites a verse from the Quran to a flabbergasted suspect.  Later, it injects a track involving a dancer Huma (Nora Fatehi) somewhere past the mid-point. This is the passage during which the film loses track and becomes something else altogether. Certainly not Fatehi's fault by any measures, her inclusion can be attributed to lazy writing at best. The item number (a shoddily remixed 'Saki Saki') – that sees a group of doctors (assuming from their white coats) leering lecherously at the agile dancer – is also unnecessary and a tone breaker. It is also a bit silly that a lot of the conversations happen with heavy usage of metaphors and allusions. The superficiality quotient surges further as the film marches towards its predictable finale. There's this mandatory cop film moment where Sanjay Kumar blurts out his entire strategy/findings to the villains and his comrades. In Batla House, he does that before the court with the attendees going berserk laughing, magically transporting us to the cringey '90s. Talking about the attendees, when will we have a realistic-looking (and sounding) law of court? The worst exhibit in this overdramatic, filmy setup is actor Rajesh Sharma in a godawful white wig, repeating himself for the zillionth time. Remember India's Most Wanted, earlier this year? I'm sure nobody does.
All complaints aside, Nikkhil Advani's film still has its moments. It is quite the opposite of boring when it comes to keeping you hooked. Certain ploys in writing are archaic but a lot of them are effective. Mrunal Thakur, who is a less magnetic version of Genelia D'Souza, provides a decent account of herself. There's a lack of spark that is visible between her and John but the actress' part is not completely devoid of meat either. Ravi Kishen is pretty good in a non-caricaturish role for a change.
For a film that begins with an annoyingly long disclaimer, it is disappointing to see Batla House playing safe. This reminded me how Meghna Gulzar could spin two alternate narratives and still keep us engrossed throughout in her 2015 courtroom drama Talvar. For Batla House, the agenda is to fictionalize a well-known story, portray Delhi police as messiahs, add some quotable quotes with rhyming punches, insert John Abraham, desh bhakti and a pinch of minority-bashing to garnish. As much as I say to each their own, I would also assert that Advani's film definitely has a heart somewhere deep within.
Rating: ★★★
Batla House is now streaming on Amazon Prime Video.