"Barakah Meets Barakah" – Saudi Arabia in Yash Raj Films mould!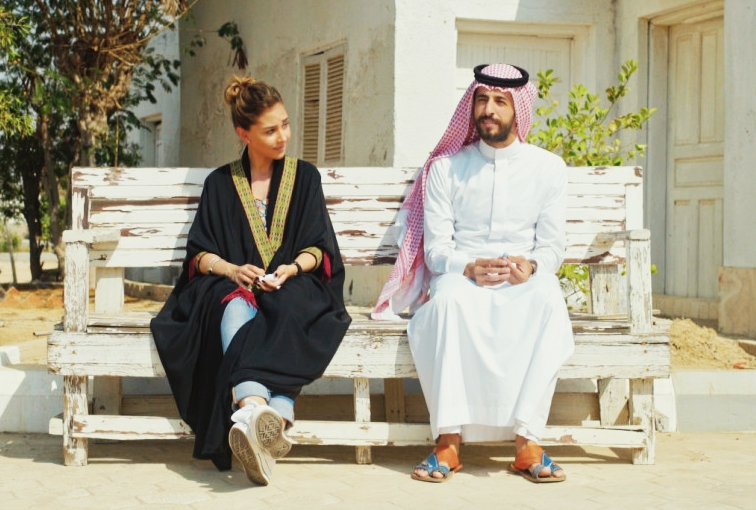 Festival film tag is a massive cliché. Hence, it is rare to sight a light-hearted film winning hearts left, right and centre at a film festival. Guess what? Mahmoud Sabbagh's Barakah Meets Barakah (Barakah yoqabil Barakah) meets this description to T. Mind you, this isn't any brainless rom-com. The story offers enough food for thought and all those light moments are bonus. The quirky disclaimer note on 'censorship' in the beginning sets the context on what is coming our way. Upon watching this saccharine-sweet romantic comedy at the 47th International Film Festival of India, the packed auditorium couldn't stop smiling away to glory.
Barakah Meets Barakah explores the idea of dating. As normal as it may sound, Asia is yet to fully open to this concept. What happens when the country in question is (ahem) Saudi Arabia? Indeed, it is the milieu that adds truckloads of freshness to this simple storyline. One could question the convenient plot twists but director Sabbagh's execution leaves no room for grumbles.
So, Barakah (Hisham Fageeh, delightful) and Bibi (Fatima Al Banawi, vivacious) "like" each other. They aren't anyway close to thinking of getting engaged or married for society's sake. Their escapades, however, as never successful but they aren't folks that give up. Indian audience would get an immediate recall of Piya Ka Ghar amongst various others. The idea of dating, not marrying is applicable to India as well, in various ways. Basu Chatterjee's Baton Baton Mein had beautifully underlined this status quo in the 1970s. Our protagonist Barakah is naïve, gawky yet has his way to woo the girl. It is Bibi's free-spiritedness that call for an immediate contrast and we root for this duo. Their exasperating escapades are a treat.
The main twist which involves Bibi's revelation gives us insights on how we are taught or tuned to be ashamed of our real selves. Barakah Meets Barakah offers a smooth explanation on how the world feels just alright if you step out of this very trap. "We are living in a loop. Generations lived in a loop. We can't break out of it.", says the film. Another insight we derive is the difference in lifestyles and values of different social classes our protagonists belong to.
The film doesn't shy away from voicing its opinion on the cultural, political and social situation in Saudi Arabia. Told in a profound yet polite tone, Sabbagh observes how the society and administration regressed over the years. Still it is admirable how he managed to conceptualize the story idea which is humorous while making an important statement. As one of the dialogues go, "Land might be narrow but the rooftop is a great escape."
Unknowingly though, Saudi Arabia gives a fitting answer to India's love merchants – Yash Raj Films – minus Swiss Alps and tulip gardens. Not that we missed them anyway here!
Watch the trailer here…