Harshvardhan Kulkarni's Badhaai Do begins at the point where a traditional Bollywood romance ends – the marriage. Even from a socio-cultural standpoint, a good majority of Indian youth get married through formalized alliances known as arranged marriages. With the advent of technology and liberal ideas in educated families, the semantics are fast-changing in cities. Badhaai Do is set in the mountainous Indian state of Uttarakhand – one that is a lot less likely to be accustomed to altered traditions.
As the trailer reveals, Kulkarni's film is about a lesbian woman named Suman (Bhumi Pednekar) and a gay man called Shardul (Rajkummar Rao) entering a marriage of convenience. In a concept that resonates strongly in the Indian subcontinent, youngsters and their ticking biological clocks leave the parents' hearts pounding. "Settle down", they say, and the couples – whether they like each other or not – submit to a life they never desired. For the protagonists, this union is a perfect solution to shut their families up but only until their next demand begins, "When are you giving us the good news?" (an Indian euphemism for becoming parents).
One of the early mainstream Bollywood films to talk openly about sexuality, genders (and their fluidity), Badhaai Do is still a highly simplified queer drama. The writers (Suman Adhikary, Akshat Ghildial, Harshavardhan Kulkarni) are aware they are making slow inroads into a territory that might prompt a section of ill-informed viewers to throw up, stage walk-outs, and conduct processions if the film's content offends their rigid beliefs. In Kulkarni's film, the man and the woman independently desire what society calls a 'normal' life. They understand the piousness of a family unit. The roadblock here is their respective sexual preferences and the country not having legalized LGBTQIA marriages yet.
Badhaai Do is representative of a long list of ideas – several of which are discussed in an A-list Bollywood film for the first time. Interestingly enough, it isn't a mindless comedy that diverts from the larger message (case in point being Shubh Mangal Zyada Saavdhan). There are occasional jokes – some of which land (every line uttered by Seema Pahwa) and some do not (Loveleen Mishra's vows of silence). If Shardul, son of a martyr, has his life anchored by his extended family, Suman possesses more authority at home. The family arrangement is like Pednekar's debut film Dum Laga Ke Haisha with several cast members, frames, and scene patterns recurring. If Shardul would never be honest to anyone at home, Suman can casually tell her father to move out with her. Even then, the woman wouldn't muster up the courage to reveal her big secret. Shardul is vulnerable and is sensitized towards the needs of the queer community, but the man will never say a word – not even for himself. Far from perfect and unknowingly sexist, he still harbors incorrect beliefs on what makes a man ideal.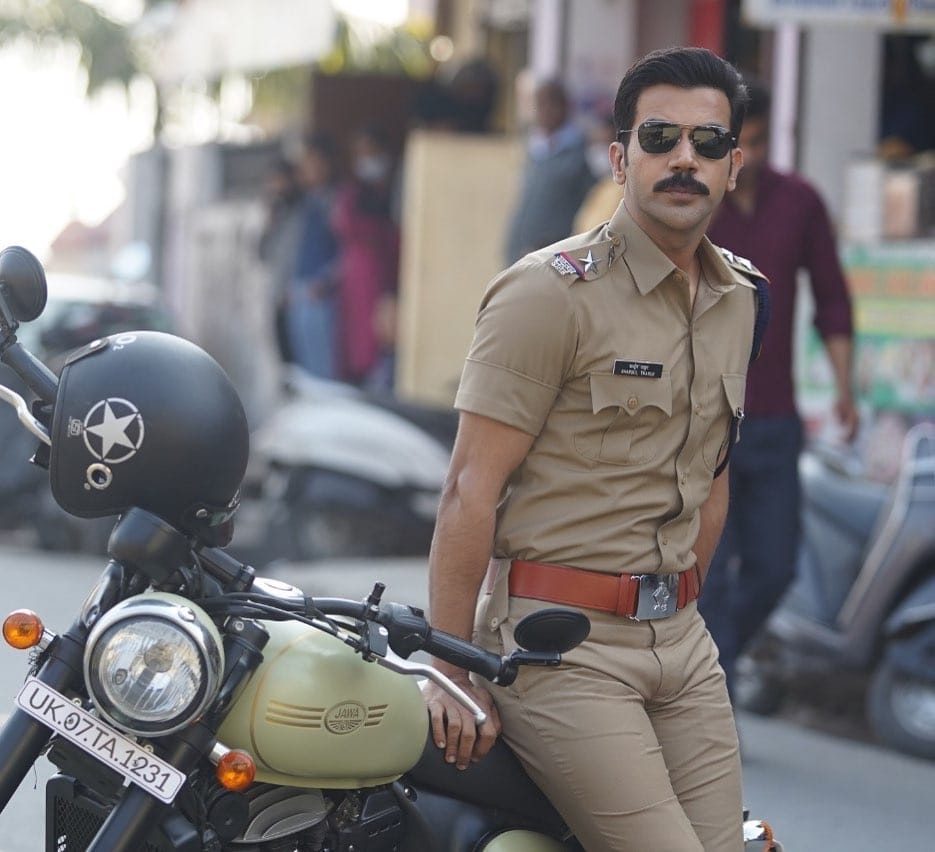 The first half of Badhaai Do is a sure-fire recipe to invite negative feedback from native audiences. It is low on drama and the pace is lethargic. The couple gets married in a glamorous ceremony. During their honeymoon, we get to meet Shardul's partner – a collegian named Kabir. The arrangement makes you uncomfortable because it is understood that the situation isn't ideal for either of the leads. It is only worse that the characters are essayed by popular (and efficient) actors which heightens the relatability factor. The hint of sadness is obvious when Suman escorts the lovers through the scenic beaches of Goa in what technically is her honeymoon. I, obviously, didn't wish for Suman and Shardul to be intimate but more for the former's loneliness. The status quo becomes better for the duo – and to us – once they move into the police quarters.
On the writing front, a chief unconvincing angle is with respect to Suman and Shardul finding their respective soulmates. The meet-cutes, the locking of the eyes, and the relationships feel too convenient to be true. While Suman's partner Jhilmil works well as a catalyst, their love story remains underdeveloped throughout. In comparison, I liked the equation between Shardul and his flamboyant beau Guru (Gulshan Devaiah, delightful as always). Through Shardul's former lover Kabir, the film also gives a birds eye view of the fickleness surrounding queer relationships.
While the final two acts are very engaging in a traditional sense, I would single out the discussion they stage around reasons to have children. Through a brief exchange, the film profoundly highlights why we, as a society, should move on from obsolete conventions. Shardul observes a little boy watching Tiger Shroff while stating how he does not like any of the actresses. A young lad looking at brawny cis-man could be either be hero-worshipping or lusting after him – slowly discovering himself. It is a powerful thought that Badhaai Do drops in a matter of minutes, layered with Rao's marvelous expressions.
In a move that seems to tick a good number of checkboxes of discrimination faced by the LGBTQIA, the film, lastly, addresses the concept of adoption. Suman's strong maternal instincts make our hearts well up thinking of all queer folks who desire to become legal parents. Equally respectable is Guru's resistance to the idea of parenting and co-parenting. Badhaai Do, unlike the Indian society, respects individuals and their choices.
ALSO READ: 'Hum Do Hamare Do' review – a striking lead cast elevates a film on familial bonds
Set in an intimate small-town setup, Kulkarni's film does use its locales aside from picturesque establishing shots. The majority of scenes are staged indoors. If the authentic production design (Laxmi Keluskar) took me back to Dum Laga Ke Haisha and Bareilly Ki Barfi, the costumes and makeup keep things delectably real. DOP Swapnil S. Sonawane's frames dance to a marvelous beat of their own. Observe the scene where Suman's sexuality gets exposed (it's a single take) or the moment where Shardul confesses to his family (a POV shot from behind with just the subject in focus). The songs, although nothing great in terms of their tunes, come with powerful lyrics (Varun Grover, Vayu, Anvita Dutt, Anurag Bhomia). While I did not mind the relaxed pace, the film indeed feels too long for what it wants to say.
The lead performances are spectacular in Badhaai Do. Rajkummar Rao displays remarkable maturity as he transforms into a sensitive gay man with a muscular physique. It is a treat to see him evolve from his early embarrassed self to one who gleefully cheers on the pride parade. Our hearts go out to comfort him when speaks about his unfulfilled ambitions and a bitter relationship with a married man. Shardul's coming-out is easily the best written and acted scene in the film. The hugely under-credited Bhumi Pednekar is marvelous yet again. What I appreciated the most about Suman is how Pednekar's makes the woman delightfully meta. In her previous works, she has aced tribulations (often in relationships) – be it her partner's erectile dysfunction (Shubh Mangal Saavdhan), body shaming (Dum Laga Ke Haisha), infidelity (Dolly Kitty Aur Woh Chamakte Sitare), and colorism (Bala). The actor appears so comfortable in her skin that Suman's ambitions become simple and easy to connect with. The supporting cast is sparkling with Seema Pahwa and Sheeba Chadha stealing the best lines and reactions. Chum Darang is lovely as Rimjhim whilst Nitesh Pandey won my heart as he heaves a sigh to lament, "Mere ghar mein kyu?".
Somewhere in the middle of all the chaos in Badhaai Do, Kulkarni stages an awkward romantic encounter between the leads. One that nearly threatens the film to go off-track, the writer-director tenderly culminates it, thereby breaking another cliché. Unlike the recent queer romance Chandigarh Kare Aashiqui (which I really liked), nothing turns around magically in Badhaai Do. The family network, especially, is a major work-in-progress and the film knows it. The climactic scene where traditions awkwardly mix with apprehensions is a masterful exhibit of the filmmaker's understanding of his subject matter, his people, the milieu, and the consequences that await. Badhaai Do, despite heavy exposition, is a film that needs to be welcomed with empathy, patience, and generous amounts of love.
Rating: ★★★ 1/2
Badhaai Do is now playing in cinemas across India.