'Baahubali 2' review – the visual spectacle it was meant to be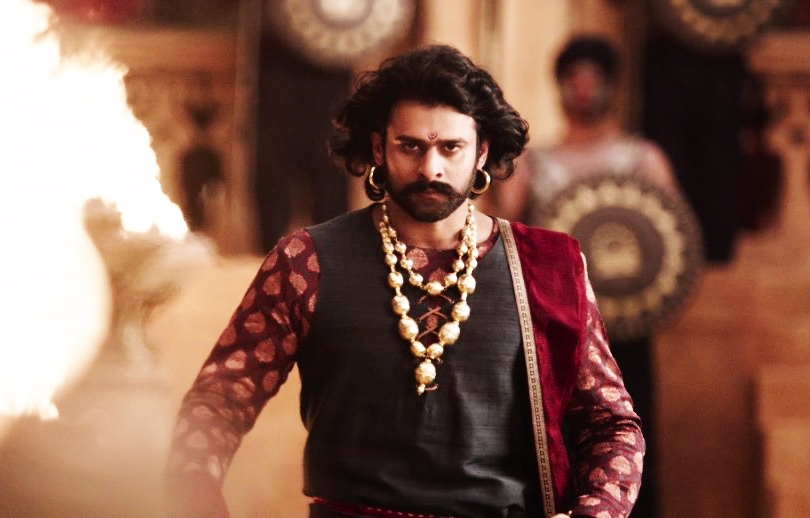 One must give it to SS Rajamouli for being the one-of-a-kind visionary he is in Indian film industry today. To shatter the opening number records otherwise dominated by the Khan triumvirate is no mean deal. Heck, the season almost feels festive. Film viewers in a nation of 1.3 billion are celebrating a film that's not even made in one of its official languages. Even dissecting the film's pros and cons needs to be quantified well because this Baahubali 2 frenzy is no joke.
Narrating the tale of the fictitious kingdom of Mahishmati, Baahubali: The Beginning had set tone to the ultimate war between the good and bad. Not anticipating the kind of reach it eventually garnered, the dialogues (and their delivery) in the former film's Hindi version were borderline funny. That isn't quite the case with the sequel, Baahubali 2: The Conclusion. Of course, the franchise (if we can call it one) remains true to its loud, melodramatic soul with characters conveniently screeching and visuals literally popping out of screens. Solving several unanswered questions from the prequel, Baahubali 2 from the writing point of view cuts no new borders. It is predominantly in Rajamouli's mounting, unseen VFX (tacky at places, I must add) and rightful capitalizing on the earlier version's goodwill that the film earns brownie points.
'Fantasy' as a genre never saw as many takers in India till Baahubali: The Beginning. Rajamouli takes the classic family rivalry backdrop and sets it in a fictitious kingdom that worships Lord Shiva and Krishna (India, Godliness, you get drift?). Mahishmati is picturesque, with the countrymen largely powerless and submissive. The story circles around a woman ruler and her devoted, strong foster son. Now who wouldn't buy a valiant woman (read: mother) ruling a powerful province? Who wouldn't buy charms of a title character that typifies all things masculine and, more importantly, noble? Notable is the clear-cut assertion of male supremacy as he deals with his love interests. Having said that, Amarendra Baahubali's ladylove Devasena gets a better deal as opposed to the romantic lead in the prequel. Devasena is a brave woman, adept at archery and, not to say, a picture of poise and grace. The film, luckily, gives the couple breathing space and reasons to fall in love. Their brief courtship moments and the songs are, more or less, fun. Anyhow, there's a severe lack of intrigue here and also in the main plot of family feud where the film fizzles out…
Come to think of it, Sivagami Devi is perhaps the only character with real emotions in Baahubali 2: The Conclusion. She seethes with anger and for human reasons. Rest of the cast, starkly black or white, do what we expect them to. Act evil or play saviours. Even the famous Kattappa is written in a stilted fashion, so much so that you wonder if they call him a slave for nothing. Baahubali's characterization is way too syrupy to fathom. There's not a single tint of grey in him. He obeys his mother's wishes, takes care of his kingdom – till his last breath. Kshatriya blood (sigh!), after all. For him, his wife and their expectant baby aren't much of a concern. Such devotion, I tell you. Devasena works better in that respect. She gets to speak her mind although at the cost of getting chained or yelled at often. Bhallaladeva is this uncomfortable beefcake who can barely walk around with that pumped up torso – forget bringing some real anger to his facial muscles. Accumulating each of them, Baahubali 2's characters are a mixed bag. Place them in contemporary scenario, you will get the regular Telugu masala film protagonists. And you disrespected the likes of Indra: The Tiger and Narasimha: The Don reruns on Set Max for no good reason! Now that's a different conversation.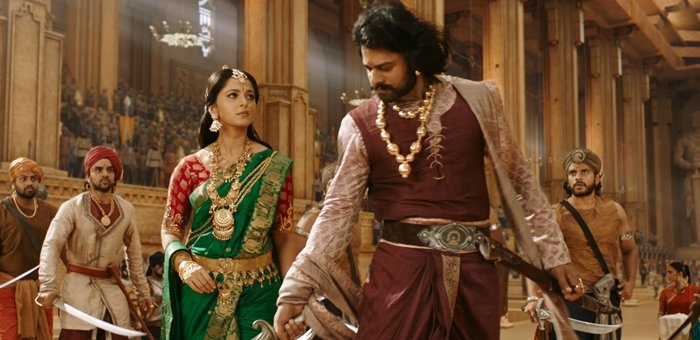 Performances will be a treat to those who appreciate overt expressions and loud dialogue delivery. It is Anushka Shetty and Prabhas who somehow manage to pass muster with noticeable restraint. Subbaraju as Kumara Varma is yet another character who elicits some sort of actual emotions, albeit light-hearted in most parts.
While Baahubali: The Beginning was no specimen of solid filmmaking, the film had its strengths – one of which being the context-setting. The sequel doesn't demand one and goes straight to the point, takes us through a routine romantic meetcute, songs and the works. The war scenes formed the USP of the prequel and Baahubali 2's final fight is not of much impact. Half the auditorium shuddered when they used palm trees as a catapult-like instrument for Baahubali's soldiers to enter Mahishmati palace. Way too much Physics in play, huh! Dialogues are thankfully more and it is only when the heroine mumbles phrases like 'charnon ki daasi' that you make a mandatory 'duh' face.
Together with MM Kreem's background score, PM Satheesh's sound design and Senthil Kumar's cinematography, Baahubali 2 is an immersive experience. For about, 3 odd hours you wouldn't think of anything other than this star-crossed story rooted in what they call 'Indian sensibilities'. Certainly bigger than its prequel, Baahubali 2 nullifies a lot of the first part's anomalies. At the same time, the film falters at few crucial areas where Baahubali: The Beginning shone brighter. Now to the big question! Is the Baahubali 2 any better than its prequel? Is it India's answer to the Starwars franchise? Well, given its age old story and questionable VFX, the prequel didn't cast much of a spell on me. The second part, following a similar trajectory on a larger scale, did just that to me. Baahubali 2 is an attempt to overpower its faithful viewers with magnificent visuals, only to bite dust upon realizing the utterly predictable plot. The film is watchable indeed, for reasons other than its core entity – the screenplay.
Rating: ★★★
P.S.: Here's wishing for an animation film market in India so that our filmmakers could project their exaggerated visions onto more acceptable canvasses! 
Baahubali 2 is now streaming on Disney+ Hotstar.