Read Time:
4 Minute, 26 Second
Remo D'Souza's A Flying Jatt is one film that reminds why we shouldn't underestimate India's child brigade and their choice of cinema. As couple of months ago, in a rather busy Subway outlet, sat a spirited kiddo who was busy articulating what didn't work for him in Batman vs Superman. They were just out of a screening and he subtly mentioned few plot points that film critics would have nitpicked. If there exists a conception that our non-Metro kids are any less smart, please have a rethink. Because India has seen a handful of sensible films and TV shows, that not only entertained children but also made sense to their parents.
A Flying Jatt with Tiger Shroff in titular role has a Punjabi setting. The film lazily kicks off with a tiff between his family and a certain Malhotra over – hold your breath – pollution and environmental conservation. Now that's interesting! When was the last time a mainstream Bollywood film addressed environment conservation? Probably John Matthew Mathan's mediocre Shikhar (2005) did. Things do not end there. The clumsy Aman (Tiger) turns this waheguru-blessed desi Clark Kent whose family is clearly more excited than him possessing special powers! Honestly, this episode is harmless fun. We have a superhero who flies parallel to automobiles, follows traffic rules – thanks to his fright of heights. He also helps his mom clear cobwebs, fetches the much-hated lauki (bottle gourd) from the market. Don't miss a mother advising his child to finally accept lauki in life! "Jaake duniya bacha (Go save the world)" is our super-mother's catchphrase. Watching his first adventure on TV, she retorts "Aise koi land karta hai? (Will anyone land this way?)". Not bad!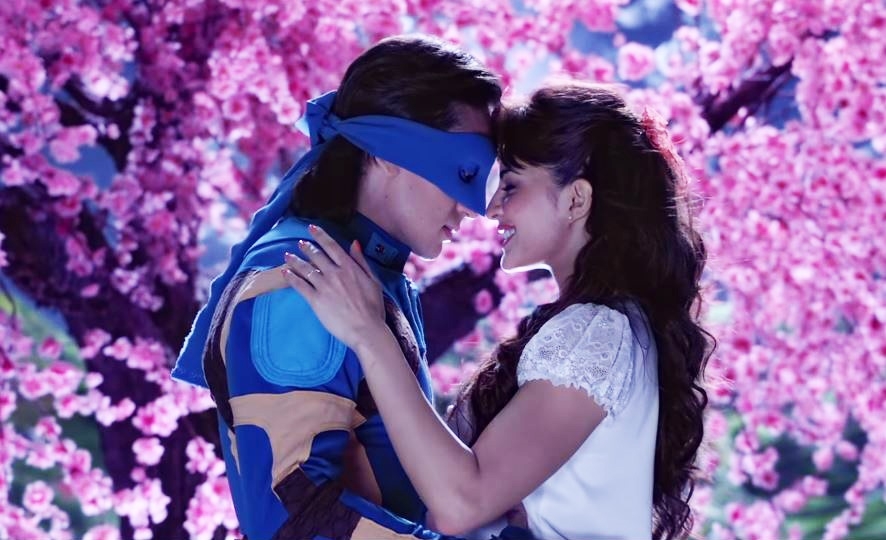 The film smoothly treads the done-to-death superhero path and there comes that massive thud – the second half. With a villain's badly done VFX, growls and repelling physicality, there is nothing much the long lineup of writers seem to explore. If that wasn't all, there's the cause behind the mayhem – pollution – that has been trivialized gloriously. The superhero saga slowly turns a joke, a preachy public service announcement that even reach the outer space, the moon and, given a chance, the sun too!
Right from the first frame, we know the film is a watered down version of its Hollywood counterparts. We don't really expect any plot marvels either. The least they could have done to A Flying Jatt was to make it a clean, unapologetic fun outing. The film is anything but that. The last 30 minutes is akin to that good manners chapter in the middle of an otherwise fun language text book in school.
The film is advertised as a low-budget superhero flick. Everything comes for a cost and, hence, the production design is highly inadequate. Sets look staged and unrealistic. VFX is inconsistent and some are plain tacky. Dialogues are neat, especially one-liners in the first half. The soundtrack (Sachin-Jigar) is just about okay and the sound design is inconsistent. The Atif Aslam-Sumedha track Toota Jo Kabhi Taara, however, is beautifully shot – very much in sync with a young kid's imagination of romancing his classroom crush.
So, Tiger Shroff is (yet again) a martial arts instructor – this time in a school. There is something unbelievably likable about this actor despite his limited abilities. Perhaps his self-awareness and the way he plays  to his skills, with loads of honesty. His recurrent peach fuzz doesn't but Tiger Shroff passes muster. Amrita Singh, in a semi-Kirron Kher mode, does a swell job and is one of the biggest positives. Jacqueline Fernandez has mastered the airhead bimbo act by now and does a pretty good job. One only wishes she had inherited the striking screen presence from her A-list predecessor, Katrina Kaif. Gaurav Pandey is quite good as Shroff's brother. Was it just me or did they look more like best friends than siblings? The cute Sunny Leone dance tribute sort of vindicates the same.
We have the ever-dependable Kay Kay Menon as a baddie, without much of a cause. The family angle further aggravates his confused characterization. Yet it is always great to see a fabulous actor ham away to hilt – with lots of assurance and (well!) restraint. Nathan Jones, the key antagonist does have a cause but his performance is akin to soda minus fizz.
We smelt something fishy about A Flying Jatt when the CBFC chief Pahlaj Nihalani gave his thumbs up on Twitter. Just as the man himself, this film is stuck in a very primitive mould. Children of today are impossible to be manipulated with insipid tricks as they are well-aware and up-to-date about their choices. While they wouldn't really mind an Indian superhero, logic behind his actions will be questioned. They do enjoy an animation series where a motorized Doreamon 'insists' Nobita to do his homework. The preach quotient ends there and they know it. Hence, despite an enjoyable first half, Remo D'Souza's A Flying Jatt  fails to soar. The director's attempt to conveying its central message will put central government's Shauchalaya-Vidya Balan TVCs to utter facepalm!
Rating: ★★ 1/2