'36 Chowringhee Lane': An Aching Ode To Calcutta, Anglo-Indians, and Old Age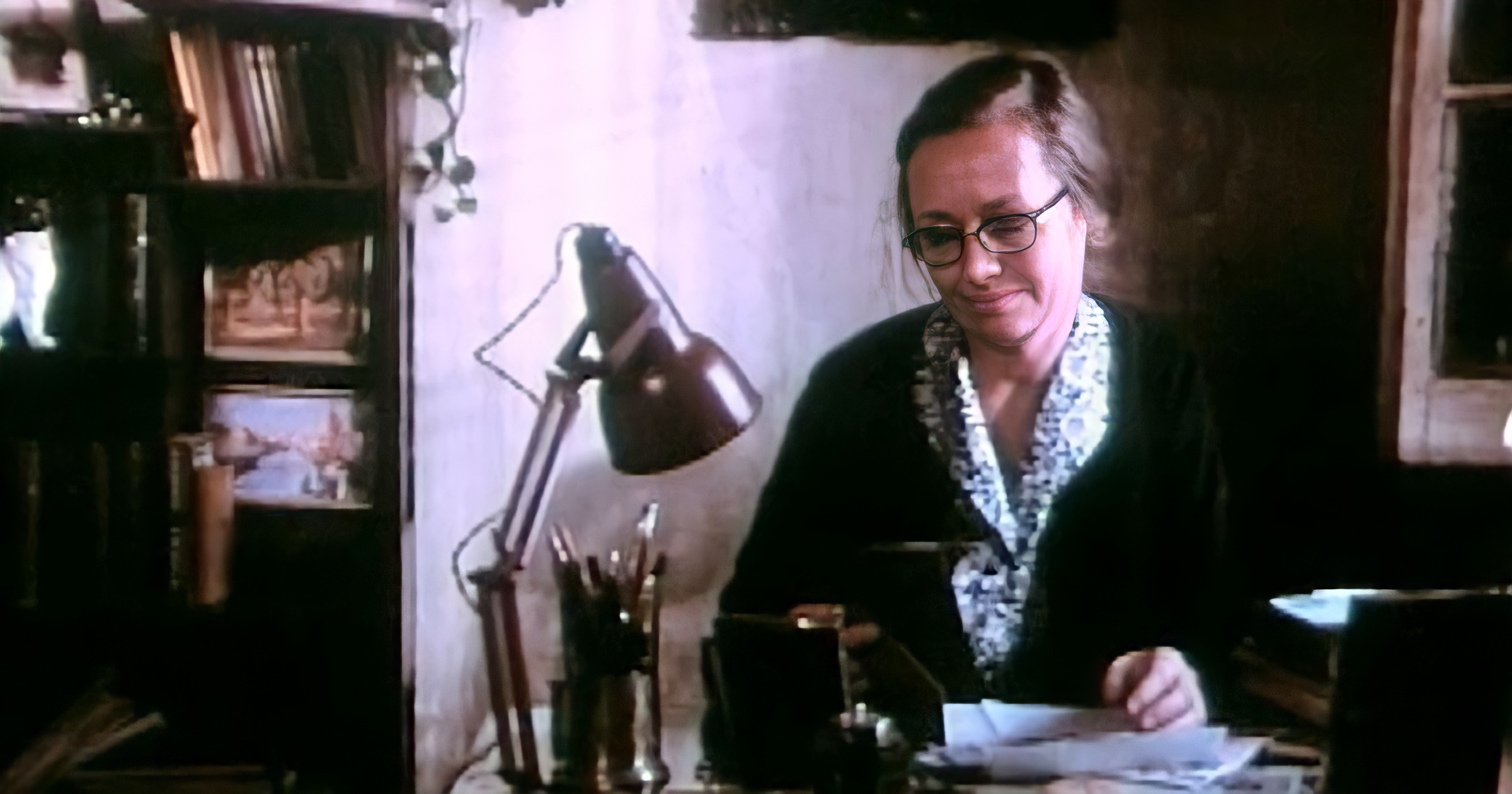 36 Chowringhee Lane which released 40 years ago was Aparna Sen's debut directorial effort. It is named after a building where Miss Violet Stoneham (Jennifer Kendal) resided. Having stumbled upon the film about two decades back, I wondered why it was named so. After all, the story was all about Miss Stoneham. Today, I realize how her tiny home is a significant pillar that holds the plot together. No better day than Mother's Day in 2021 to write about the film which traverses the life of an aged spinster who sought company in two youngsters, only to be welcomed by unpleasant realities.
36 Chowringhee Lane is set in the early '80s. Violet Stoneham who works as a teacher in a girls' high school is unmarried. She lives all by herself in a tiny two-room house in a building that is more temperamental than any of the film's characters. There are frequent power cuts, a constantly dysfunctional lift, bickering residents, and a buzzing telephone that is placed on the ground floor. One who specializes in Shakespearean literature, it wasn't a surprise why Violet named her sole companion, her beloved cat Sir Toby. The film opens with a fascinating opening credit sequence where it effectively chronicles the monotony that encapsulates Miss Stoneham's routines. With her walks to the cemetery, lonely rickshaw rides, and visits to the seafood market, Aparna Sen magnificently establishes the premise with the opening stretch.
Violet does not have too many relatives that are alive or are present in India. Her brother Eddie (Geoffrey Kendal) is housed in an old people's home. Cranky and diabetic, it would have been a tough task for Violet to take care of him by herself. She visits Eddie every Thursday without fail. She feeds him his favourite chocolate biscuits besides fetching him Archie Comics that he loves. Eddie, on the other hand, is unrelenting towards those who discarded him for better prospects abroad – one being his son Kenneth.
Though surrounded by enough Anglo-Indians, Violet is aware that they are unacknowledged remnants of the colonial era whose elitism is slowly diminishing. Their social standing linked to educational qualifications might still have been there but people from the native communities were fast catching up. The first impact that she has in her immediate universe is when a young Miss Majumdar supersedes her to teach Shakespeare in the higher classes. In a decision taken by Principal Mrs Swaminathan, Miss Stoneham was instructed to teach English grammar in smaller classes. With her privilege stripped off, the old woman has one less reason to be happy about her professional career. Her Anglo-Indian colleagues would frequently criticize these alterations that occured due to the change in the larger socio-economic scenario. But, Sen does not leave a chance to portray how Violet's displacement was also a result of her inability to adapt to evolving times. Shakespeare is great fun for ninth graders under Miss Majumdar's refreshing tutelage.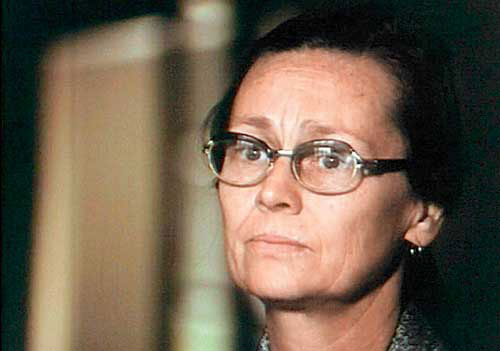 Violet lives alone. She is lonely indeed but isn't necessarily depressed about it. She has her share of regrets but she keeps herself busy so that memories and deficiencies seldom overburden her. Violet has the company of the fluffy Sir Toby and the letters she occasionally receives from her niece Rosemary (Soni Razdan) who is now settled in Australia with her husband.
Through tiny flashbacks and conversations, Aparna Sen gives us glimpses of the Anglo-Indian life in that period. Rosemary was shown to be in a relationship with a Bengali Hindu man and was all set to tie the knots. Yet, a sudden breakup – seemingly from parental opposition from the groom's side – forces her to marry on a rebound to someone of her ilk. Upon being advised against it by her aunt Violet, Rosemary is quick with a curt rejoinder – she did not wish it to live a deserted, miserable life and eventually end up in an old people's home.
In Sen's film, people constantly seek comfort. They desire companionship although in different degrees or at different junctures in life. For Violet, the wish gets activated when she meets one of her former students Nandita (Debashree Roy), and her boyfriend Samaresh (Dhritiman Chatterjee). One rendezvous leads to another, the couple becomes frequent visitors at Violet's apartment. With two youngsters who could well be her daughter and son-in-law filling the house with activity and anecdotes, the house finally becomes a home – in a conventional sense.
Violet opens up. She makes conversations that are not formal and customary in nature. She breaks into peals of laughter, she munches on Indian street food, she unpacks her rack of vintage vinyl records, and even she opens a treasured bottle of alcohol besides talking from nine to nineteen to Eddie about the duo. Violet had started going to sleep with a vivid smile on her face. But she also forgets to visit Eddie on a Thursday. She misses out on reading Rosemary's letter in one sitting. She unknowingly soils a student's book with an ice cream spill. Clearly, life has changed for Miss Stoneham in the most startling fashion. If all Nandita and Samaresh desired was a daytime stopover for their sexual romps, Miss Stoneham had made them the pivots of her life.
ALSO READ: Christianity in Bollywood – In Dire Need Of a Reality Check
Life changes almost overnight for Violet when Samaresh bags a job. Nandita's wealthy parents demand the couple get married at the earliest, which they do. As they move into a plush bungalow gifted by Nandita's parents, Violet is left with an unpleasant hangover of their absence. As is the habit, the aged teacher rings the bell at her residence in the evening – only to be welcomed by Sir Toby's meows from the other end. Nandita and Samaresh no longer stop by. It is Violet who shows up at their plush home, only to feel too small in its grandeur. Having turned into rich socialites, the couple now mingles with the city's crème de la crème – a gentry among whom Miss Stoneham would be a 'fish out of the water' as per Samaresh.
The finale of 36 Chowringhee Lane is not the most rewarding of all if we look at it from the lens of righteousness. Miss Stoneham realizes that she has been deceived. Nandita and Samaresh do not get a slice of her heart to repent over. Then again, the screenplay's decision to avoid sermons and overt sentimentality is what it primarily stuns you with. Sen doesn't make it a point to serve justice to her protagonist. Instead, she brings to us the union of two universes. If one slowly greyed and crumbled, the other blossomed and flourished. The youngsters act as oases in the desert that Miss Stoneham's life metaphorically was. When it dries up, the old woman is left bereft and heartbroken.
The beauty of 36 Chowringhee Lane lies in the fact that it is never singularly a story of Violet Stoneham's solitude. It focuses on communities. It exposes the changing face of India. It addresses materialism and class-caste differences. Most importantly, Sen's film depicts an alternate face of motherhood. Violet Stoneham never gave birth to Nandita or Samaresh. Her world was far cry from theirs. Still, she cultivated a sense of belonging in their company. She showered upon them all the motherly warmth she had harboured within. If destiny had its way, Violet would have been married to her deceased boyfriend Davie (Karan Kapoor). Staying single was a conscious choice but hiding her maternal instinct wasn't.
In what must be the film's most striking moment, Nandita welcomes Violet to her own house, "Shall I offer you tea in your own house?" she asks. Violet looks at the fine spread on her dining table which someone else did up for the first time. Her eyes well up – with gratitude and love. Backed up by a fine strain of veena, the frame lasts only for a few seconds but its impact remains throughout. To her, the invaluable feeling completed the woman she was. Violet silently relished the arrangement which was similar to what they call a family.
Besides Sen's layered screenplay which projects motherly affection in an all-new light, one must address two of the film's strongest foundations – the music and the cinematography. Set to tunes to the late Vanraj Bhatia, the soundtrack of 36 Chowringhee Lane is highly remarkable. If it is high on the piano in moments of loneliness, veena-led elaborate instrumental pieces form the background to its happy times. In the film's most jovial stretch, Sen chooses to make a splash a series of quick montages with the trio having fun all around Calcutta with Brian Hyland's Itsy Bitsy Teeny Weeny Yellow Polka Dot Bikini becoming the soundtrack. The song's lyrics that refer to a woman's reluctance to shed her inhibitions is in fact an apt allegory to Violet's state of being. Two times in the film's narrative do we witness the use of the famous Christmas carol, Silent Night, Holy Night. It reflects the quietude in Violet's life to perfection.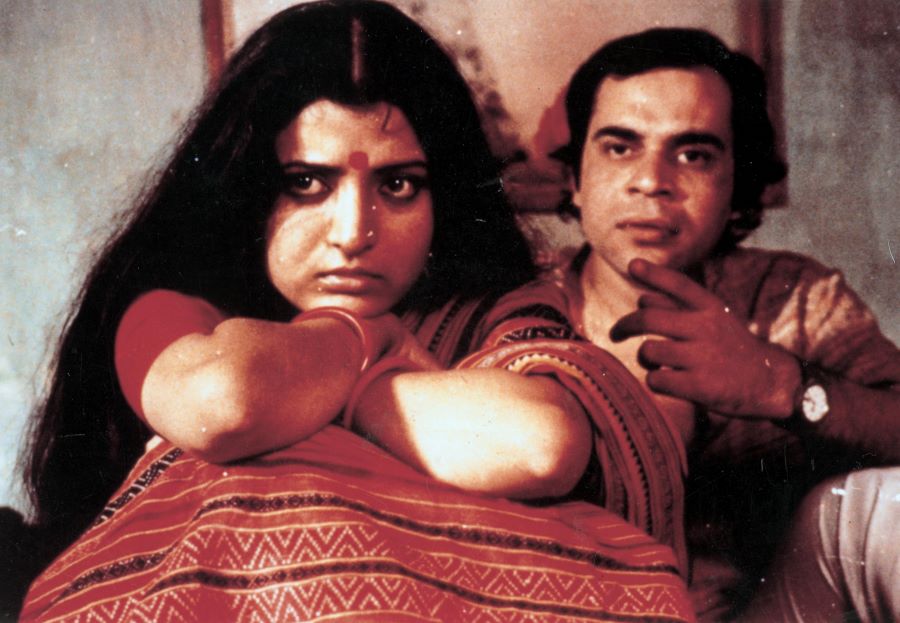 The camera wielded by the late veteran Ashok Mehta etches out a series of magical frames in 36 Chowringhee Lane. Mehta makes full use of his trademark mastery with shadows. One highlight would be an awkward moment in a rainy evening where Miss Stoneham spots Nandita and Samaresh locking lips. The DOP makes sure that the shots register the turbulence in Violet's mind while not giving them a shade of sleazy voyeurism. Another notably strong sequence is a dream that Violet sees. Having reminisced the love of her life Davie (who died in World War II) with Nandita and Samaresh, Violet dreams about him – in an event that syndicates a wedding and a funeral in the presence of her loved ones. Staying true to Sen's surrealistic writing, the Luis Buñuel-esque monochrome sequence delves deep into Violet's wounded heart.
36 Chowringhee Lane sparks a sense of disbelief when we think of it as a director's maiden film. The city of Calcutta might have been familiar to Sen but one wonders her mettle as a first-time screenwriter to delve deep into the mindscape of a single, elderly woman belonging to a marginalized community that, at the same time, was not seeking emancipation. If her individual characterizations are extremely detailed, she also scores high on the clash of ideologies and customs, the atmospherics as well as technical proficiency. While 36 Chowringhee Lane continues to be one of the greatest debut fares ever produced (Shashi Kapoor), Jennifer Kendal's central act as Violet Stoneham arguably remains the greatest female lead performance in the history of Indian cinema. Being one of the earliest woman directors in the country, making and releasing the film was said to be an arduous process for Sen – especially considering the film's high artistic merits and absolute lack of traditional commercial elements. Then again, I would earmark this incidence as an act of genesis. Aparna Sen walked so that artists such as Rima Das, Geethu Mohandas, and Anjali Menon could run.