The prima donna of Indian film music, Lata Mangeshkar (92) passed away today. With an active career spanning over 60 years, I do not possess the skills to pick a handful of her songs to term them the very 'best'. Moreover, it will take a lifetime to objectively cover her vibrant discography which contains songs from almost every major Hindi film made between the '50s and '80s.
I would rather do this – chronologically revisit Lata Mangeshkar's entry into my life. The legendary songstress, subconsciously, introduced to me Bollywood in all its vintage goodness. So, here's my mixtape of ultra-special Lata Mangeshkar songs that contributed something to my being – small or big.
1. Dil To Pagal Hai (Dil To Pagal Hai)
I discovered Bollywood in 1995, post stumbling upon Manisha Koirala in Bombay. Lata Mangeshkar had reduced her film assignments by then and the music scene was dominated by Alka Yagnik, Anuradha Paudwal and Kavita Krishnamurthy. Strangely enough, I discovered the magic of Dilwale Dulhania Le Jayenge way late in life. The first Lata song I remember being hooked to was the title track of Dil To Pagal Hai. Already into singing, I remember performing it in school along with my then-best friend (who could barely sing) wherein we wrote the lyrics on a large chart paper with the singers' names written on top using a blue marker.
2. Kuch Naa Kaho (1942 – A Love Story)
I was smitten by Manisha Koirala and I still am. So, there was no excuse to miss out on anything that featured her. My only source to older films and songs in the pre-Youtube era was television. There was limited access in Kerala to audio cassettes of films that released 2-3 years back. When I finally stumbled upon the cassette of 1942 – A Love Story, the inlay card design left me underwhelmed. The sculpture in front of which Koirala and Anil Kapoor posed was one of the most unpleasant visuals I had seen at that age. RD Burman's music, however, compensated for my idea of aesthetics and the female version of 'Kuch Naa Kaho' emerged my favourite track in the album. I watched the film several years down the line and until then I had my own little imagination on how the song would be picturized.
3. Jiya Jale (Dil Se)
A Malayali boy treated with a Hindi song with intermittent Malayalam lyrics in a film starring Manisha Koirala? Well, 'Jiya Jale' was an instant hit with me and so were Lata Mangeshkar's vocals for Preity Zinta. A R Rahman's mesmerizing fusion track blended the essence of Kerala with the singer's classic mystique to produce an iconic song. I still listen to it.
4. Jhilmil Sitaron Ka Aangan Hoga (Jeevan Mrityu)
The only film song that my father ever sang – in any language. That's the reason why it is here.
5. Kabhi Khushi Kabhie Gham (Kabhi Khushi Kabhie Gham)
I dig the soppy mother-son equation Karan Johar designed for Kabhi Khushi Kabhie Gham. So does my mother. I have lost count on how many times we have watched the grand title track (by Lata Mangeshkar) and the following sequence with tears and goosebumps. To add an eye-popping memory here, once while walking past a famous dance bar in Mumbai, I happened to overhear this song being played inside. What did I miss here?
6. Panchi Banu Udti Phiru (Chori Chori)
The first time I heard this song was in a Sony TV soap – I cannot recollect which. It was 2004 and it took me few days to track down the original version on 4Shared. Ever since I keep going back to the song which is an instant energizer.
7. Tere Mere Honthon Pe (Chandni)
Kabhi Khushi Kabhie Gham was also the film that opened me the window to Yash Chopra's songs by Lata Mangeshkar. Watching Chandni also gave me an unrealistic fantasy – to visit the Swiss Alps with a lady clad in a yellow chiffon saree and play this song to sway along mushily. While I know it is a Yash Chopra signature to have the fabric and the location recur, many of these songs wouldn't have been anything if not for Lata Mangeshkar.
So much so that I once recorded it in my voice.
8. Jaane Dil Mein Kabse Hai Tu (Mujhse Dosti Karoge)
After Saathiya in 2002, I had officially declared Rani Mukerji as my favourite actor (on an even keel with Manisha Koirala, of course). Mujhe Dosti Karoge which released a few months prior had this beautiful melody in Lata Mangeshkar's voice that is remembered by Bollywood fans to date. I choose this one over 'Andekha Anjaana Sa' as I couldn't take Kareena Kapoor's bizarre expressions in it – then and now.
9. Lodi (Veer-Zaara)
I learnt about Lata Mangeshkar's chemistry with Madan Mohan way late in life. Veer-Zaara's soundtrack prompted me to enter that unchartered territory. Of all the songs – including a standard Yash Chopra Switzerland-chiffon saree number – the one that stuck on was the playful Punjabi celebration track 'Lodi'. It also introduced me to a beautiful festival that I didn't know existed.
10. Dil Dhoondta Hai (Mausam)
Say hello to Madan Mohan entering my soul to enchant me forever. I remember buying a cassette of his assorted songs by RPG-HMV (now Saregama) and this was the song that I became addicted to. Almost around the same time, I learnt from the extra audio CD that came with Veer-Zaara that the tune of 'Tere Liye' was initially meant for this situation in Mausam.
11. Dil Ki Nazar Se (Anari)
In 2003, I watched Hrishikesh Mukherjee's Anari. In a film caked with oodles of goodness, this Lata-Mukesh number popped up to warm the cockles of my heart. If I were to list five Hindi film songs that I would take to my grave, 'Dil Ki Nazar Se' would be one amongst them. It makes me tense, eager, happy and comforted – a pattern that hasn't changed in decades.
12. Ruk Jaa Raat (Dil Ek Mandir)
Sony's music reality show Indian Idol kicked off in 2004. Being the designated singer at all school functions, the show quickly became my preferred programme on television. The prime reason was that it introduced me to the world of vintage Bollywood music that I was unaware of. This melancholic Lata Mangeshkar song was one I discovered through the show.
13. Dafliwale (Sargam)
Another song that caught my fancy on Indian Idol, I believe. 'Dafliwale' always prompted to dance somehow, although I watched the film version only in 2020 during the pandemic period. Lata Mangeshkar's pitch-perfect rendition aside, I always wondered why the lyrics made certain obvious requests. Isn't a Dafliwala designated to play the 'dafli' anyway?
14. Naam Gum Jayega (Kinara)
A song that perhaps defines Lata Mangeshkar more than any other, 'Naam Gum Jayega' had spelled magic on me, back in the 2000s. The line 'Meri Aawaz Hi Pehchaan Hai' sung using various intonations feels precious to date.
15. Chandni Re Jhoom (Naukar)
It's around the same time that came across this gem of a lullaby which Lata Mangeshkar sings with so much love. I used to play this one on my AIWA Walkman to sleep. And oh, I never enjoyed the male version.
16. Sar Se Sarke (Silsila)
Smitten by the Yash Chopra universe of cinema and music, it wasn't surprising when Silsila grabbed my attention when I watched it on Sony TV. For some reason, 'Sar Se Sarke' emerged my favourite song. I assume it's also due to Jaya Bachchan's presence whose demure, saree-clad appearances I seemed to like a lot.
17. Aap Ki Aankhon Mein Kuch (Ghar)
Another Indian Idol find for me, the song livens up the moment Lata Mangeshkar takes over. Gulzar's playful lyrics sound all the more romantic when sprinkled with her priceless expressions and an unintentional giggle (as revealed by Gulzar in his Filmfare column). This R D Burman song is one that perks my mood up at any time in a day.
18. Tum Aa Gaye Ho Noor Aa Gaya Hai (Aandhi)
A song that I used to fantasize (as a child) to sing for 'someone special' someday. Well.
19. Chhai Chhap Chai (Hu Tu Tu)
Every time I visit a beach, anywhere in the world, I sing this song aloud – without fail. Over the years, only Theerame has managed to join this list of mine.
20. Dekha Ek Khwab (Silsila)
One of the most beautiful memories of my life is linked to this song. Back in 2012 when I was briefly working in Manila, I craved for desi company and to talk in one of the Indian languages (I speak Hindi, Malayalam, and Tamil). One uneventful night, I was at 7-Eleven humming the first line which was to be completed by a Pakistani gentleman who walked towards me. Needless to say, we became friends.
21. Naino Mein Sapna (Himmatwala)
It was 2013 and I was gravitated by the kitschy 1980s Bollywood. The pots and pans, complete with Sridevi's swirling hips, Amrapali poses and Lata Mangeshkar's high-pitched voice make this over-the-top dance number super-special to me.
22. Tujhse Naraaz Nahin (Masoom)
One of the rare songs that has ever made me cry without an accompanying visual.
"Jaane kab ghum hua, kahan khoya
Ek aansu chhupa ke rakha tha"
Lata's rendition here is a super-fire recipe to make my eyes damp. Somehow, I never felt the same emotions for the Kishore Kumar version.
23. Zid Na Karo (Lahu Ke Do Rang)
In 2009, Malayalam film Neelathamara featured Yesudas' version of this song from Lahu Ke Do Rang. I discovered Lata Mangeshkar's female version and instantly thanked the mediocre Malayalam film for existing.
24.  Dheere Dheere Machal (Anupama)
Lata Mangeshkar does not merely sing this one. She acts through her voice. Not at all an overstatement because the soundtrack of Anupama (Hemanta Mukhopadhyay) is what I believe is the greatest in Bollywood history.
25. Mai Ri (Dastak)
More of an informed choice, I discovered this song in 2019. Madan Mohan's music, as usual, puts Lata's voice to marvelous use. Technically, this one might as well be one of her finest, if not the very best.
Today, as the legendary singer passes away, look at back at all these songs (and more) with gratitude. Because without Lata Mangeshkar, Bollywood would have never been what it is today.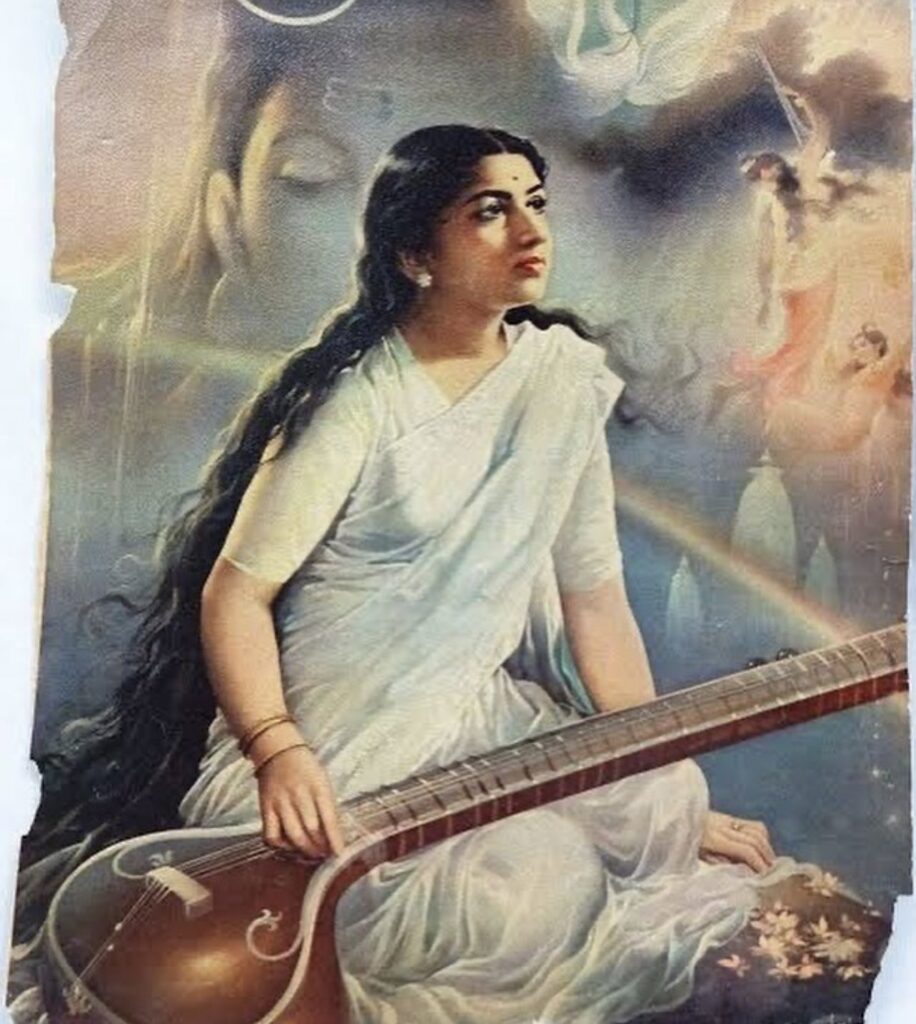 May her soul rest in eternal peace.