The 2010s called for a major narrative change as far as Hindi cinema is concerned. Besides having a good number of small, content-based films finding major box office acceptance, the decade also witnessed the paying public reject mediocrity to an unseen extent. The decade saw the emergence of a series of talented filmmakers including Vikramaditya Motwane, Abhishek Chaubey, Ritesh Batra, Shakun Batra, Neeraj Ghaywan, Dibakar Banerjee, Maneesh Sharma, Konkona Sensharma, Gauri Shinde and Sharat Katariya whereas seasoned makers Anubhav Sinha, Anurag Kashyap, Vishal Bhardwaj and Shoojit Sircar maintained their standards. Fewer commercial magnum opuses left lasting impressions while biopics began to find major patronage, even though a lot of these stories came at the cost of twisting facts.
Listed below are 25 of my favourite films from the decade gone by, in reverse order:
Director Akshay Roy's film severely underrated film might be a dark horse in this list but it indeed has cultivated a staunch cult following ever since its release. A story that is so close to our lives, Meri Pyaari Bindu despite being a rom-com is an uncomfortable watch. You do not want your hero and his heroine to end their relationship on such an ambiguous, conventionally unsatisfying note. Then again, films that reflect life with honesty is a rarity. Ayushmann Khurrana and Parineeti Chopra form an ace pair in this wonderful film penned by Suprotim Sengupta which tastefully sprinkles nostalgia on its core theme.
24. Do Dooni Chaar
The middle-class seldom get their deserved limelight in Hindi films. While one can possibly argue regarding the film's scale, Habib Faisal's debut film Do Dooni Chaar examines the simple plights of a school teacher and his close-knit family. Be it with their intimate bond or with respect to the children and their dreams, the film within its constant bickering packs a solid punch.
Dysfunctional family drama, I would say, is my favourite genre. The kinds that Hirokazu Kore-eda specializes in. However, director Shakun Batra's Kapoor & Sons is a lot more noisy. Perhaps on the lines of what Thomas Vinterberg would make on a relaxed day. The film confidently laces complex family ties on to a concept that mainstream Bollywood refuses to embrace – homosexuality. The impact is thunderous, especially in the magically edited pre-climax montage.
In his second feature film, Amit Masurkar makes sure to add subtexts and nuances aplenty. These aren't hard to notice and, in many ways, make Newton all the more enjoyable. Not a plot-driven film, Newton reinforces the lead character's state-of-mind very well before leaping into the central core. Newton cleverly addresses various social situations – child marriage, dowry, reservations, the long wait for government jobs and the very understandable fears of the common man.With his handheld camera movements and refreshing still frames, Masurkar gets his craft spot on in Newton. Painting a similar picture to Isaac Newton's one-man battle against the Church of England, the title character's name and viewpoints come out vindicated through the film's meticulously penned screenplay. Helped further by stupendous production design and background score, Newton was easily the best Hindi film that released in 2017.
Now, here is a film that's truly a director's triumph. Yes, we definitely can point fingers at Reema Kagti for trivial lack of attention to detail at various junctures. But none of this prevent her from confidently and assertively telling us the story she set out to. Kagti's directorial hands make sure to add new dimensions to her characters' deficiencies. She doesn't give us a moment to judge them for their refined accents, questionable physical disabilities or overall behaviour. Kagti rather lets their emotions speak. Their eyes vent. The penultimate scene ends up deeply gratifying us, as Surjan (Aamir Khan) makes peace with himself. A bitter, imperfect, unhappy hero with the most unheroic of moustaches on his face – only Khan could have pulled this off with great sureness. So, yes! Talaash will be remembered as an imaginative noir-mystery. If another mainstream maker dares to go a mile ahead discovering finer shades and risks, our big ticket films will get on the right track.
20. Paan Singh Tomar
Long before biopics became an overused genre in Bollywood, director Tigmanshu Dhulia directed one on Paan Singh Tomar – the story of a soldier-turned-sportsman-turned-dacoit from the heartlands who went by the same name. It is a rousing plot amplified by a consistently fine-tuned performance by Irrfan Khan and a screenplay that will keep you on tenterhooks throughout. A daring expose on the negligence of the system post-Independence, the film triggers you with the way its protagonist is constantly humiliated, leading him to take up extremism.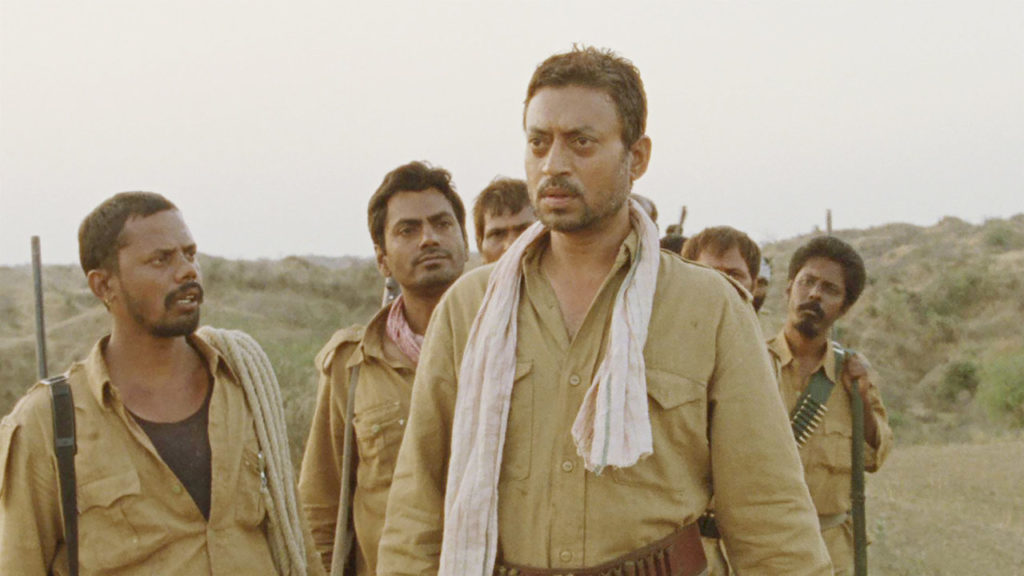 19. Barfi
There's something about movies that wear their goodness on their sleeves and is still good by cinematic standards. Director Anurag Basu's Barfi is one rare film which refuses to manipulate us with its organic syrupiness. The film follows the adventures of a deaf-mute youngster Barfi (played by Ranbir Kapoor) through a semi-Chaplin-eque storytelling style within which we are introduced to many elements and chapters in his life. The innocent humour, Pritam's beautiful songs and the ultra-vibrant frames by Ravi Varman add a great deal of freshness to the film that boasts of extraordinary performances by Ranbir Kapoor and Ileana D'Cruz.
A Sanjay Leela Bhansali magnum opus comes with certain template check-boxes to tick. However, a grandiloquent melange of a real story and the filmmaker's own imagination, Bajirao Mastani has a beating heart underneath its highly cosmetic exterior. Right from the character introductions to scenario setting, Bhansali's film with its finely melodrama quotient is a pleasure to watch. There are plenty of brilliant staged scenes and performances, with Priyanka Chopra walking away with what is perhaps the best character in the enterprise. Music (by Bhansali himself) and cinematography (Sudeep Chatterjee) are, again, among the finest of the decade as individual entities.
17. Aligarh
From very first frames, you would know this isn't a regular film you would see in Hindi language – There are still frames and silences, for starters. There is some seriously evolved writing (Apurva Asrani), production design that is extremely functional, music and sound department that lends fantastic mood. Last but not the least, Hansal Mehta's directorial abilities make sure that all these elements come together in a fashion that it affects you and deeply so. A highly important film for the time that we live in, it is Aligarh's sensitivity while handling that utterly difficult subject that we ought to applaud more than everything else.
16. Vicky Donor
Until a decade ago, it would have been awfully difficult to talk about sex in a family space, let alone specific terms such as a sperms, sperm quality and the likes. Circa 2012, came Vicky Donor, a film rated U/A by CBFC which was gleefully consumed by Indian masses. Besides the risky subject matter, it was also a film that masterfully spoke about the traditional Indian family dynamics which is in dire need of a change. The performances were unanimously marvelous as was the tight, witty screenplay by Juhi Chaturvedi.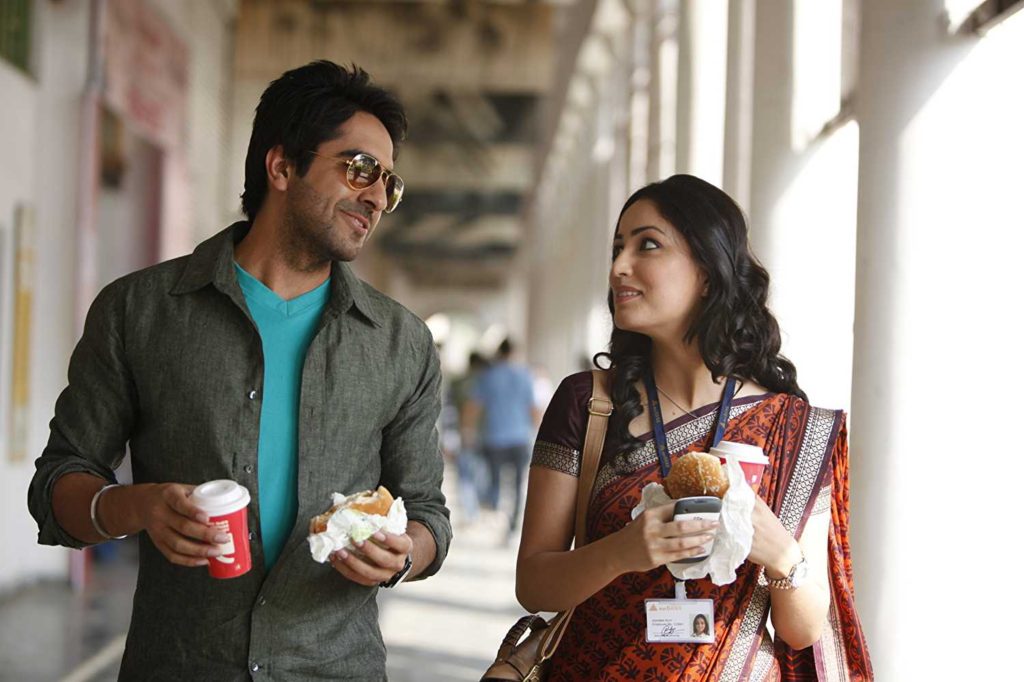 15. English Vinglish
"Why did Shashi have to learn English?", asked many. It is not as if her life or career were dependent on her learning the language. She did it so that she could feel good about herself, we eventually learn. In what might possibly be the biggest 'bitch please' moment in Indian cinema in the previous decade, Sridevi delivered a thunderous speech on relationships and the need for empathy in a family network. Not only did it lend gravitas to what the film stood for but it also exposed how the actor is easily the best we have ever had in the mainstream space. Gauri Shinde made a confident debut which was significantly notable for its innate Indianness and sharp attention to the detail.
14. Haider
Vishal Bhardwaj's Haider came at a time when it was not much of a worrisome deal to talk about Kashmir. The writer-director blends several pertinent issues of the state with Shakesapeare's landmark play 'Hamlet' and creates a finely acted and acutely observed film. The highlight, personally, would be the soundtrack and songs which makes use of lyrics and choreography to an extent that it makes us happy for Indian cinema and its default musical template.
13. Jolly LLB
Director Subhash Kapoor's 2013 comedy drama sprang one helluva surprise. One that portrays the tribulations of a lawyer in Tier-2 India, the film kicks off with a lot of humour, only to transform into a serious drama that points a finger at the nation's crooked law and order system. While the performances led by Arshad Warsi, Saurabh Shukla, Boman Irani and Amrita Rao are unanimously good, it is in the film's near-fool-proof screenplay that it fully soars. The dialogues, a lot of which have become a part of modern pop-culture, are stupendous to say the least.
Indian cinema is devoid of equivalents to what they call westerns in Hollywood. Bandits are a thing of past and our filmmakers do not feel the need to capture their fascinating stories which contain great political and social relevance. One such rare feature film set in the Chambal ravines, Abhishek Chaubey's Sonchiriya tells us that there are ways to look at dacoits. We have seen them decorating roles of great valour in poems. We have also heard of them as brutal assassins who pose severe threats to society, especially affecting the wealthy. This way, there's a sky's difference between the two definitions – baaghi (rebels) and daaku (dacoit). Largely plot-driven, Sonchiriya also manages to examine individual truths of its characters – all seeking freedom for themselves, the definition of which differs significantly for each. Beneath all, the characters cultivate the innate human tendency to protect their ilk or the ones they feel emotionally close to. A good case in point is Lakhan's (Sushant Singh Rajput) tenderness towards Sonchiriya which Indumati (Bhumi Pednekar) chooses to acknowledge, "There are good people amongst bandits too," The statement is not one of a surprise coming from a woman who has been oppressed by so-called honourable men, endlessly for years.
Lootera. A title that would otherwise have belonged to an off-kitler heist comedy from the '90s is now fondly associated with one of the most cherished love stories of our times. Starring Sonakshi Sinha and Ranveer Singh in principal roles, this Vikramaditya Motwane film is a serene reminder how one ought not to run after formula to construct cinema that appeals to a wide audience. Released in monsoon 2013, Lootera was a film of revelations. While Motwane proved his mastery in a different genre, the key artists saw themselves immersed in characters that weren't associated with their respective styles erstwhile.
The new edition of Ishqiya is all about a unique "swayamvar" conducted by Begum Para (Madhuri Dixit – Nene), the lady of Mahmudabad, a fictitious town in the heartlands of Uttar Pradesh, India. The event adjudged by Begum, with support of her aide Muniya (Huma Qureshi), is all about excellence in Urdu poetry. Circumstances bring Khalu (Naseeruddin Shah) and Babban (Arshad Warsi) to Begum's palace and sparks fly… of love, power, treachery, greed and of course gunfire!
Visually and verbally 'colourful', Dedh Ishqiya proves that Naseeruddin Shah could look sexier riding a bike than Aamir Khan in Dhoom:3. Touted as Madhuri Dixit's comeback vehicle, the film (fortunately) doesn't place her (or anyone) on the driver's seat. And not for many movies do the audience unanimously stay back for the song in end credits, unless it has Madhuri Dixit sprinkling elegance in form of a stylishly remixed 'Hamari Atariya Pe'. Hilarious, arresting and tantalizing are the words for Abhishek Chaubey's audacious second feature film.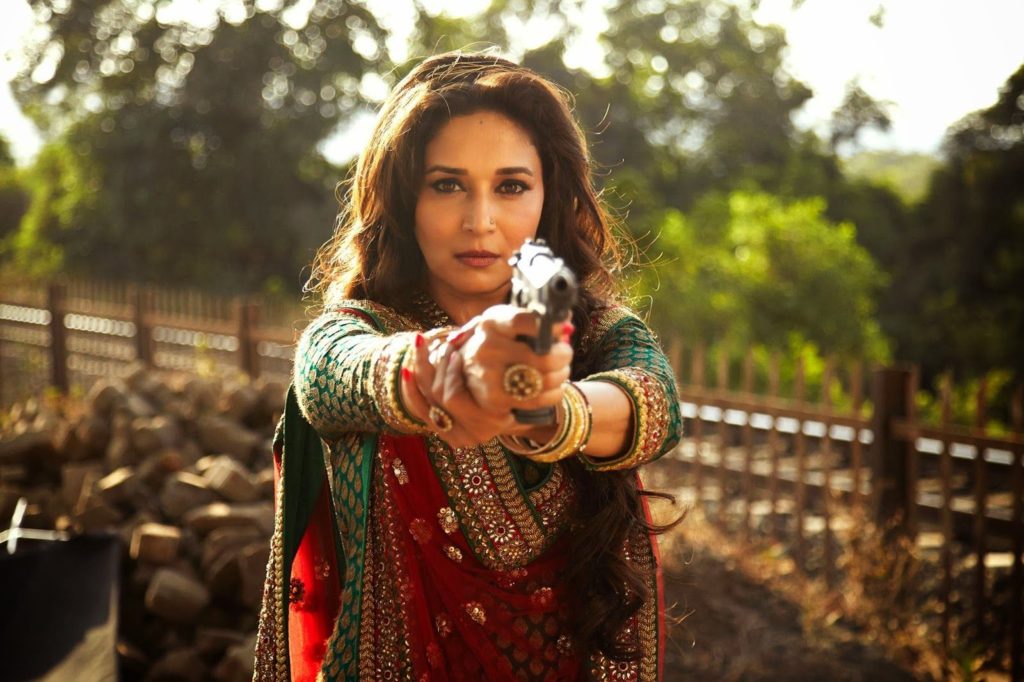 9. Masaan
A rare Indian feature to win a prize at Cannes International Film Festival, debutant filmmaker Neeraj Ghaywan's Masaan was a shocking expose on life and tribulations in small-town India. One that centres itself on a unique trope of death, the twin-tracked film is rich in subtexts that are uncommon in, say, popular Hindi cinema. The characters are rooted in their milieu and so are the incidents that the screenplay attempts to knit together. With its rustic, authentic setting in place, Ghaywan masterfully questions a lot of India's pertinent issues, be it patriarchy, casteism or premarital sex. The finale gleams with a profound sense of ambiguity that we are left marveling at the writers' thought process.
8. Kahaani
Sujoy Ghosh's film surfaced one fine day and knocked the hell out of the critics and the masses. After all, what can one possibly expect from a film with a pregnant protagonist and a title as neutral as Kahaani (which translates to 'story')? Ghosh's writing packs a mammoth surprise as it keeps us hooked throughout its run-time. Be it with the colour palette picked by the DOP or the decisive original score, the film is also a noticeable technical marvel. Performances, anchored by Vidya Balan, Nawazuddin Siddiqui and Shashwat Sinha count among the decade's best in this near fool-proof whodunit.
Konkona Sensharma's directorial debut A Death in the Gunj is set in Bihar's (now Jharkhand) sleepy McCluskieganj and the year is 1978 going '79. As much as the film projects her directorial abilities, it is also a showreel to Vikrant Massey's histrionics. Even as he clumsily sits with his legs stuck together or when he rolls the motorbike through the courtyard – Massey is a tremendous talent and it is fortunate how filmmakers are offering him lead roles. Sensharma, on her part, makes full use of the slowly blurring lines between commercial and experimental cinema. A Death in the Gunj has all intrigue of a chilling thriller (minus loud music). Some of her frames, interestingly, stay still for a maybe an extra second or two – reminding us of fine European cinema. From what (somewhat) seemed like outburst-driven dysfunctional family drama where every player makes a revelation each, A Death in the Gunj turns out delectably sober reminding us of similarly moody cinema by Xavier Dolan and Hirokazu Koreeda. A perceptive, fly on the wall account of an ordinary family vacation gone kaput, the film is confidently mellow. Not that we expected any different from you, Konkona. Legacy, as they say.
When a filmmaker of Sriram Raghavan's caliber chooses to open his film with a random single-eyed rabbit astutely escaping a gunshot, one certainly gets a hint on what to expect. The animal munches his cabbage and also gets away unscathed. Wait before you make comparisons to the film's blind leading man Aakash (Ayushmann Khurrana) because there are many more quirks that will catch you unawares in the succeeding reels. For all connoisseurs of unique stories, the film is just that and Raghavan's style of making doesn't take its layered screenplay for granted as the end product is a nail-biting sonata of music, humour, action and razor-sharp suspense. In rather dull year for Hindi cinema, Andhadhun is a one-of-a-kind film for the industry and is also a neat benchmark for the genre that it belongs to.
On occasions when the aware set of film viewers object to cinema that celebrates machismo and alpha male syndrome, I would ask them to refer to Vikas Bahl's Queen. Why do our filmmakers not make more of such cinema where there are female victories? It is less about creating a tit for tat scenario but to let the gullible Indian audience know that there could also have narratives such as this.
In Bahl's film, the innocent Rani from Delhi's middle-class Rajouri is dumped by her fiance right before the day of her wedding. A beautiful tale of self-discovery, Queen is incessantly feminist and a celebration of womanhood – that too by not trying too hard. Its simple, breezy screenplay lets us be a part of Rani's coming-of-age and it only helps that Kangana Ranaut delivers what easily is the performance of the decade as far as female actor are concerned.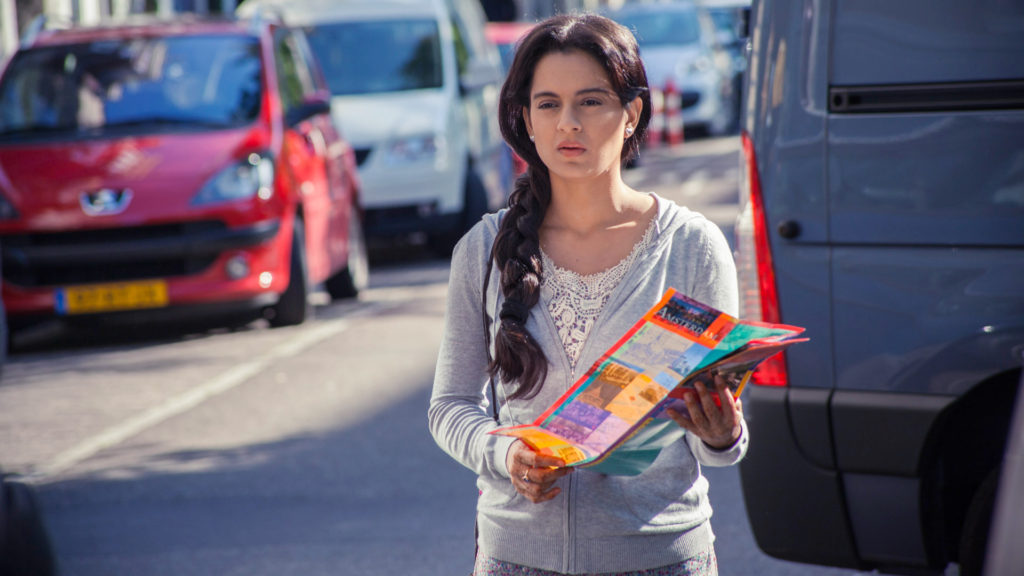 Well, when was the last time, since Jab We Met in 2007, we watched a charming Bollywood romantic comedy with some original humour? Yes, Wake Up Sid was borderline refreshing but the film had several other concerns to address than just the couple. The word "original" should be underlined for the fact that there is no scene, no dialogue, and no song that you wouldn't be able to relate or were forced into the narrative. The conversations are every day, the humour is mostly derisive or etched out of nostalgia while the situations are not make-belief. Coming to the detailing by the writer (Sharat Katariya), we see him explore the nuances of Prem's family. Prem's parents who are ever-supporting to the new bride (as her education is an "asset" to the family) while the Buaji is mostly sarcastic. In perhaps the filmiest of scenes, we have Prem and Sandhya (played with delightful confidence by Bhumi) talking to each other through film songs on the stereo. Oh yes, we had the auditorium roaring with laughter.
3. Udaan
A rare film that I would not be able to give a second shot. Vikramaditya Motwane creates a universe that is commonplace yet so unaddressed. Set in Jamshedpur, Motwane's story is so universal that we can visualize it unfolding almost anywhere. One that is a bitter lesson on parenting, Udaan is one powerful example on how to write and execute a coming-of-age film in this day and age. The progressions in the screenplay are unbelievably organic and the kind of high that the film renders as it reaches its heartwrenching finale are rare as far as Hindi cinema is concerned. Ronit Roy's performance the tyrant father is unforgettable and is also a personal benchmark for him.
2. Gangs of Wasseypur 1 & 2
Anurag Kashyap's Gangs of Wasseypur came at a time when Hindi cinema was hungry for a good gangster drama. The industry was also in dire need of genuine wit that emerged from its cinema's own skin without lacing it unnecessary, force-designed punchlines. Call it era-defining or benchmark-setting, Kashyap's twin films with an assortment of characters are gutsy and super-fun. The rivalries, the lingo and the character graphs are so fascinating that you would want the writers to expose finer details of each. The filmmaker seldom lets that balance go off and gives us a film that is uninhibited and innately Indian. Easily, Gangs of Wasseypur is possibly the most fun you would have watching a Hindi film from the previous decade and is also one that can easily and proudly represent the industry to its global counterparts.
1. The Lunchbox
"Kabhi kabhi galat train bhi sahi jagah pahuncha deti hai…" (Sometimes, even the wrong train takes you to the right destination.)
Ritesh Batra's quietly melancholic romantic drama The Lunchbox contained perhaps what is the most emphatic line to come out of a Hindi film in the previous decade. Also with food becoming the anchoring force behind its love story, Batra's film eases you into the sumptuousness of home-made delicacies. Be it with the emotions that are a little understated or with characters who are tastefully mysterious (one of them appears only in form of her voice), The Lunchbox creates intense curiosity as it waltzes towards its finale. As for the ending which is immensely satisfying, it also gives us enough food for thought to delve into an ageing man's mindscape as well as that of a middle-aged unhappy mother's. Clearly, Sajan and Ila are people amongst us. Ritesh Batra's ability to create a gorgeous human story out of its plain, everyday template is precisely what makes this widely loved film the very best from the decade gone by.
Special Mentions: Aankon Dekhi, Piku, Hamid, Tamasha, Love Sex Aur Dhokha, Ishqiya, Mardaani, Shuddh Desi Romance, Dangal